Rick Santorum Should Try Calling Donald Trump An Asshole If He Wants Any Attention
News
July 22, 2015 03:30 PM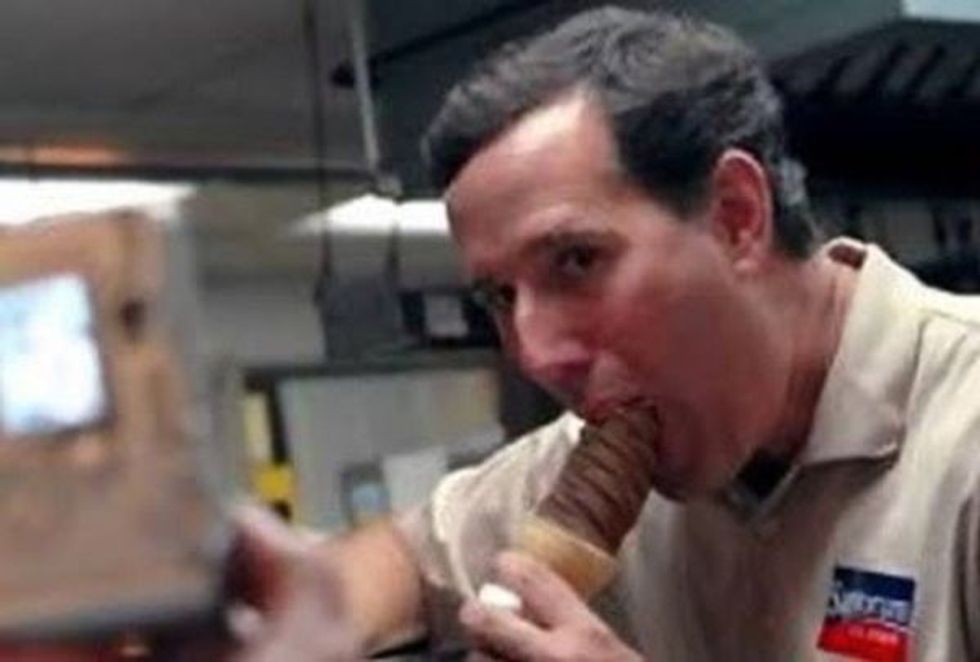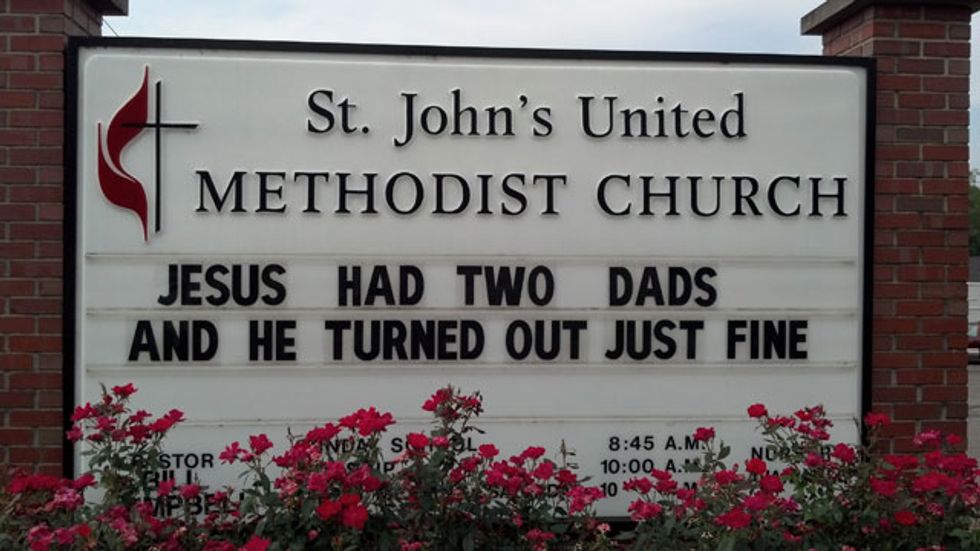 ---
Nobody is paying any attention to Rick Santorum, who is also a Republican presidential candidate, you know. Sure, an unpopular second-tier one, but still! He is running for president again, look at him, look at him, LOOK AT HIM NOW! So, having conclusively proven in his failed 2012 run that college education is only for snobs and elitists, Rick Santorum (holder of a bachelor's degree, MBA, and a J.D.) is turning his sights to the abysmal state of elementary schools, which he thinks only teach about gay families because The Creeping Gay has completely taken over Gaymerica. Take note, media, Santorum is speaking!
In an interview with Boston Herald Live Tuesday, the Frothy One complained that there's never a mention of straight people in schoolbooks anymore. It's all part of his evolving campaign strategy to say the stupidest shit possible in hopes that someone will notice him, like when he explained that the job of a president is to encourage people to get married and have babies for prosperity, instead of wasting time on trivia like global warming.
"I know in the schools in Massachusetts, in the grade school, they teach -- there are books in place that say 'Suzy has two moms,' it's okay to put a book that says 'Suzy has two moms' but you can't put a book in there saying that moms and dads and marriage is important and tell people how important it is to be married before you have children, then you're moralizing," Santorum said. "It's okay to say, 'Suzy has two moms' or 'Johnny has two dads," but you can't say that marriage is an important part of having a stable and healthy economy."
[contextly_sidebar id="JdMaHe0HJNUaLSguZsT7cypmMeNH4232"]
For one thing, it's Heather, not Suzy. For another, we're not entirely sure who's briefing Santorum about Massachusetts education policy, but we'll go way out on a limb and suggest that maybe schools still allow the occasional mention of straight people, at least on Straight People Holidays. And also, we really do want to reassure him that the Berenstain Bears books are not about that kind of bears.
Also, too, at Think Progress inconveniently reminds us, not every school district is overflowing with storybooks celebrating gay couples; they remind us that teacher Omar Curry was forced out of a teaching job -- in North Carolina, not Massachusetts -- after flagrantly reading his third-graders a sweet little story about two princes who live happily ever after. Maybe that's the kind of traditional values Santorum is into.
But it's not just a matter of the schools only presenting all those gay books that has Santorum in a lather -- he explains that to really fix the schools, we need to make sure that everyone is straight and married:
You really need, if you're going to improve the schools, talk to any teacher or any administrator and they'll say if that child comes from a stable family that emphasizes education, that the chances of them being successful is much higher than if the opposite is true. Kids from other families can do well and many are heroic and do great but the failure rate is much higher so yes emphasizing the importance of family will be an important part of this …
And lord knows, the gay families are all unstable, because they just are, and they're so busy doing homosex all the time that they're frankly incapable of emphasizing the importance of a good education. Again, Think Progress rains on the Santorum parade (for godssakes bring your umbrella) by noting that the research suggests what really contributes to good educational outcomes is the parents' economic status, the "quality of relationships among adults in the child's life," and the strength of the relationships between the adult(s) and the child. Oh, but there's more:
A complementary brief by the American Sociological Association presented research on same-sex parents that showed that for academic performance and cognitive development, children with same-sex parents have similar educational outcomes to children with different-sex parents, if not better.
No, correlation is not causation. This may have more to do with gay parents -- or out ones who make their way into sociological studies, anyway -- being a bit more economically secure, would be our educated guess. Which is a pretty evil guess, since education just makes you an unethical atheist anyway.
Update/addendum: Just how desperate is Rick Santorum? Desperate enough to be interviewed within the very Mount Doom of Liberalism, MSNBC's studios, on the Rachel Maddow Show tonight -- that's Wednesday -- at 9:00 Eastern (No, Rachel, we're not calling you Sauron). We'll have a postmortem in the morning!
[RightWingWatch via Think Progress]