Rick Santorum Such A Idiot He Can't Even Deny Science Good
Featured
May 29, 2015 02:30 PM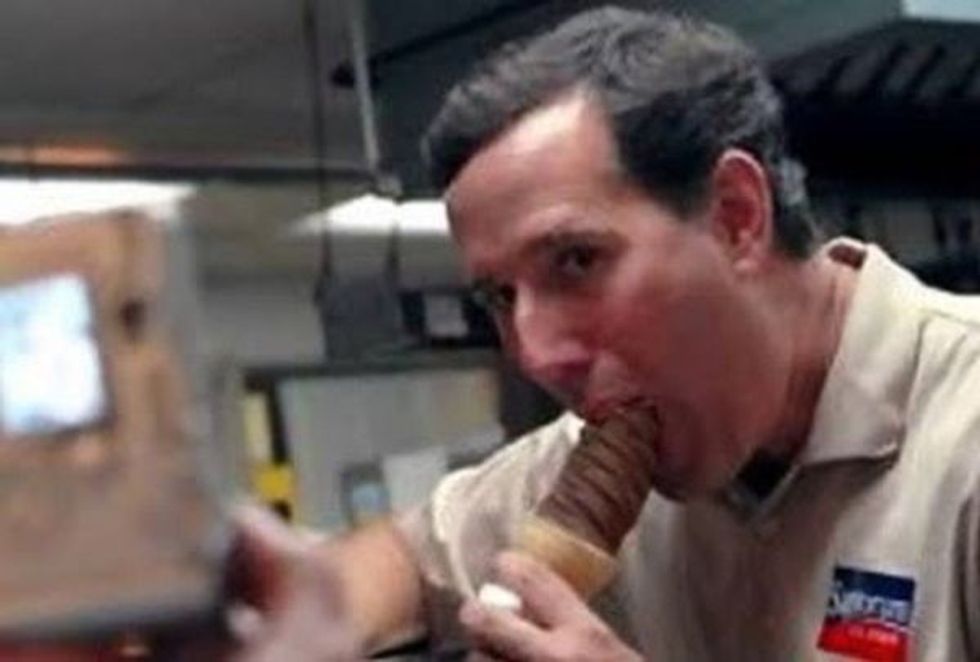 Poor ol' Rick Santorum is already having a hard time keeping up with the Conservaherd in the Great 2016 Republican Coronation Scramble. Just look at his lame, thoroughly derivative attempt to ignore climate science during a Thursday event in Des Moines, Iowa:
---
One man stood up during the event's Q&A portion, expressing concern about climate change. Addressing it, the audience member said, should be an imperative to Christians commanded by the Bible to be stewards of the Earth.

"I always have problems when people come up and say the science is settled," said Santorum, a Republican presidential candidate and winner of the 2012 Iowa caucuses. "That's what they said about the world being flat. When someone says the science is settled you're not a scientist, because scientists never say the science is settled."

He added: "The idea that the science is settled, to me, tells me that this is political science, not real science."
Yeesh, Rick, you're plagiarizing your anti-science talking points from a third-rate Louisiana legislator now? At least you didn't say that scientists used to burn people at the stake for not believing in the flat Earth, so there's that.
[contextly_sidebar id="UCafi2uTFN39aRzapC02d8ZGBatWWurp"]
Also, for the sake of pedantry, we should note that we're not sure we agree with you 100 percent on your science work there, Senator:
1) No "scientists" (a word that only entered English usage in 1834) ever insisted that the world was flat. That idea was largely discredited by Greek mathematicians, like Eratosthenes, who had already calculated the circumference of the Earth by the second century BCE. And it was the Catholic Church, not scientists, which insisted that a spherical Earth was the center of the universe, and which accused Galileo of heresy for saying otherwise.
2) While science is always being refined and clarified, it's also not such a mishmash of unknowable wibbly-wobbly stuff that nothing at all is "settled." Gravity, the speed of light, the germ theory of disease, evolution, the age of the Earth -- these have all been tested and re-tested enough that it's fair to call 'em settled, although there's still plenty more to be learned as you get into the fiddly bits. Same goes for climate science: While there's still a hell of a lot to be understood about the dynamics of how it all works, 97 percent of climate scientists agree that human activity is changing the planet's atmosphere, and that it's already having measurable effects. That's not a guess, you moron. And Ben Carson (the creationist) wonders why people think Republicans are anti-science.
[contextly_sidebar id="K5blzONav8rSZzOLwue0EE9wgfEXYgKs"]
Rick Santorum actually knows quite well that science can be "settled." He flew to Iowa on a machine that's the cumulative result of a whole lot of settled aerodynamic research, even though scientists and engineers are still discovering new ways to improve aircraft design and propulsion. But there is 100 percent agreement that the shape of the plane's wing is what gets it up in the air -- no one's going to suddenly discover that it's really the collective brainpower of the passengers that psychically lifts the machine, a fact easily proven by the fact that no plane carrying Rick Santorum has ever fallen out of the sky.
Frankly, Ricky, you disappoint us. Where's the college-educated guy who boldly declared wanting people to go to college "snobbish"?