Rightwing Zealot Ginni Thomas *Miiiiight* Have Also Been Active Jan. 6 Coup Plotter
January 6
February 22, 2022 02:23 PM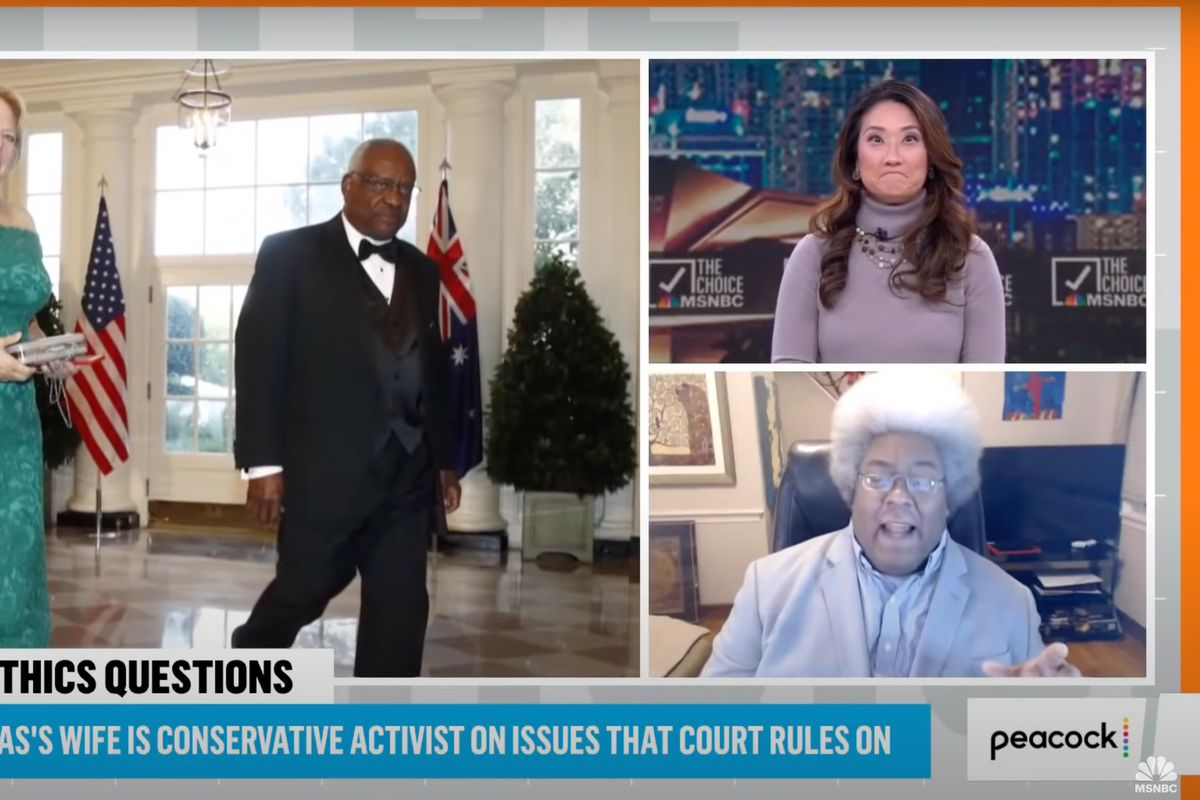 The New York Times Magazine has an in-depth profile this week of Washington DC power couple Clarence and Ginni Thomas, both of whom are dedicated to imposing authoritarian rule. It's nice when couples share mutual interests.
Clarence Thomas is, regrettably, a Supreme Court justice, and Ginni Thomas is a rightwing political activist who might've helped stage a coup. Ginni Thomas reportedly insists that she and her husband operate in "separate political lanes," which is BS. Shifting the nation further right through the courts is a longstanding conservative strategy, and the couple's worked in tandem to weaken abortion rights and dismantle affirmative action. It's the same damn lane on a one-way street.
REMEMBER? Trump Hosted A Happy Hour With Ginni Thomas's Conspiracy Kook Funtime Gang
The Times gullibly promotes the narrative that "Supreme Court justices do not want to be perceived as partisan" and "they tend to avoid political events and entanglements." Maybe that's for common liberals, but the conservative justices are openly partisan. Neil Gorsuch spoke at a closed-door Federalist Society event in Florida, and Amy Coney Barrett whined about people calling her a "partisan hack" while standing next to GOP Senate Leader Mitch McConnell at an event hosted by the University of Louisville's Mitch McConnell Center.
But Ginni Thomas probably makes even these guys look askance.
---
She's leveraged her spousal relationship to gain access to the grifter circus Donald Trump was running at the White House. Her "insistent policy and personnel suggestions" reportedly pissed off aides, one of whom called her a "wrecking ball." This is the Trump administration, so Ginni Thomas must've been a true agent of chaos to distinguish herself so quickly.
Thomas was also an active participant in Trump's coup efforts after he lost the 2020 presidential election.
New reporting also shows just how blurred the lines between the couple's interests became during the effort to overturn the 2020 election, which culminated in the rally held at the Ellipse, just outside the White House grounds, aimed at stopping Congress from certifying the state votes that gave Joe Biden his victory. Many of the rally organizers and those advising Trump had connections to the Thomases, but little has been known about what role, if any, Ginni Thomas played, beyond the fact that on the morning of the March to Save America, as the rally was called, she urged her Facebook followers to watch how the day unfolded. "LOVE MAGA people!!!!" she posted before the march turned violent. "GOD BLESS EACH OF YOU STANDING UP or PRAYING!"
I'd love it if the media would stop treating an attempted coup as a slightly unorthodox post-election strategy. Trump and his stooges weren't trying to break a tie during sudden-death election overtime. They were trying to break democracy.
REMEMBER? Might Be Fake Trump 'Electors' Time In The Barrel
Ginni Thomas serves on the board of C.N.P. Action, the political advocacy arm of the rightwing Council for National Policy. This group pushed Republican state lawmakers to challenge the Electoral College result with "fake" electors. According to the Times, "a number of longtime friends and associates of the Thomases were involved in efforts to overturn the election results, or helping plan the Jan. 6 rallies."
Trump was outspoken about wanting the Supreme Court to rule in his favor on his baseless election suits. The Court generally laughed in his face, but at no point did Thomas consider recusing himself or even disclose the obvious conflict. Even if he wasn't a decisive vote, the principle remains.
After the January 6 Capitol attack, the Council for National Policy published a memo in its newsletter that outlined strategies for whitewashing the insurrection:
"Drive the narrative that it was mostly peaceful protests," a leading member of the group advised, according to a copy reviewed by The Times. "Amplify the concerns of the protestors and give them legitimacy."
Thomas has also joined the MAGA purge effort: She signed a letter demanding that House Republicans expel Liz Cheney and Adam Kinzinger from their conference because they're members of the House select committee investigating January 6. This also highlights the major conflict of interest for the Thomases: The Supreme Court ruled 8 to 1 to allow the release of records from the Trump White House related to the January 6 attack, and Clarence Thomas was the lone dissenter. There are countless reasons why he should've recused himself. His wife is neck deep in this shit.
The Times profile includes this sentence that's both horrific and possibly true: "The man who succeeded Thurgood Marshall, becoming the second Black justice, may end up with a legacy just as consequential." Trump's far-Right picks have helped shift the Supreme Court in Thomas's radical direction. It seems like the Thomases are operating at two ends of the same coup.
Follow Stephen Robinson on Twitter.
Do your Amazon shopping through this link, because reasons.
Yr Wonkette is 100 percent ad-free and entirely supported by reader donations. That's you! Please click the clickie, if you are able.
Stephen Robinson
Stephen Robinson is a writer and social kibbitzer based in Portland, Oregon. He writes make believe for Cafe Nordo, an immersive theatre space in Seattle. Once, he wrote a novel called "Mahogany Slade," which you should read or at least buy. He's also on the board of the Portland Playhouse theatre. His son describes him as a "play typer guy."