Robert Mueller Ready To Throw Somebody In Fucking JAIL, Y'ALL!
Russia
October 27, 2017 09:20 PM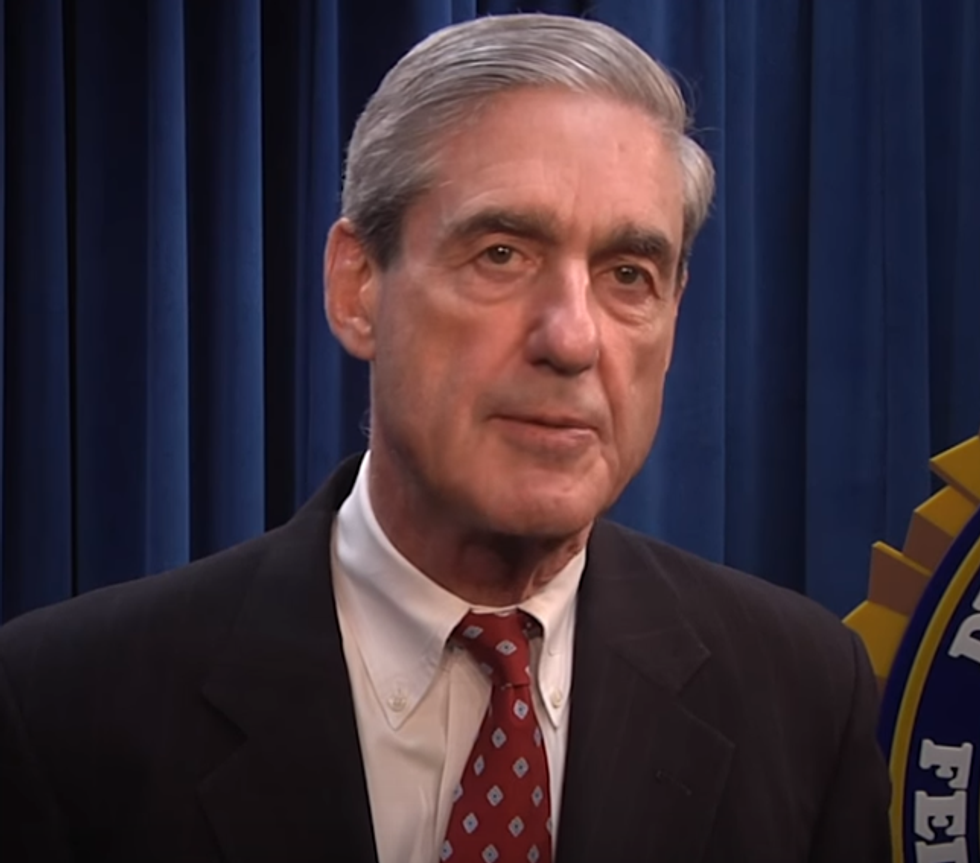 Mama said knock you out
---
Earlier tonight, we learned that it was the wingnut Washington Free Beacon who paid Fusion GPS before DEMONCRATS took it over and hired a FAKE BRITISH SPY to say Donald Trump is a fucking gross Russian intelligence asset. We did not come back on a Friday night to tell you that, because PFFFFFFFFT IT DOESN'T MATTER WHO PAID FOR THE FUCKING DOSSIER, YOU FUCKING ASSHOLES. All that matters is if it's true or not, and as far as we know, ain't shit in there been debunked.
But we did come back on a Friday night to tell you this:
A federal grand jury in Washington, DC, on Friday approved the first charges in the investigation led by special counsel Robert Mueller, according to sources briefed on the matter.

The charges are still sealed under orders from a federal judge. Plans were prepared Friday for anyone charged to be taken into custody as soon as Monday, the sources said. It is unclear what the charges are.
OOOOOOOH WHO IS IT WHO IS IT WHO IS IT? (Say in the comments if it comes out after we post this and go to bed.)
Rachel Maddow just said on TV that there's no reason to wildly speculate about who it is, which is just flat out incorrect. Journalism is not journalism unless you WILDLY SPECULATE ABOUT EVERYTHING, according to Wonkette.
So is it Paul Manafort?
Is it Michael Flynn?
Is it Paul Manafort?
Is it Michael Flynn?
Is it Junior?
Is it some random person we've never heard of?
Is it Fake Melania?
PFFFFFFFT THIS IS FAKE NEWS CNN, IT'S PROBABLY NOT EVEN TRUE. Let's switch over to Fox news to see Sean Hannity bouncing on a Trump-shaped dildo while he screams about Hillary and uranium. OH SHIT, OUR EYES! Why did you dicks let us change the channel like that?
Everybody's been saying the Donald Trump Bullshit Factory seemed to be going warp speed the past week, with all the blah blah blah about who bought the dossier and the literally fake news Hillary uranium shit. National security expert Juliette Kayyem went as far as to predict based on the current level of hysteria in Trump World that Mueller will likely make heads roll by Thanksgiving, which would truly be a Christmas miracle.
Anyway, it is Friday and we are not at work, but we wanted you to know this breaking news. If you happen to be drinking alcoholic beverages tonight, drink a toast to Robert Mueller, may he live forever and bring all these motherfuckers down, in Jesus's name, AMEN.
Follow Evan Hurst on Twitter RIGHT HERE.
Wonkette salaries, servers, and all of the things are fully funded by readers like you! If you love us, click here to fund us!
Evan Hurst
Evan Hurst is the managing editor of Wonkette, which means he is the boss of you, unless you are Rebecca, who is boss of him. His dog Lula is judging you right now.
Follow him on Twitter RIGHT HERE.