Robert Mueller's Been Looking Up Cambridge Analytica's Dress. Wonkagenda For Thurs., March 22, 2018
Russia
March 22, 2018 09:00 AM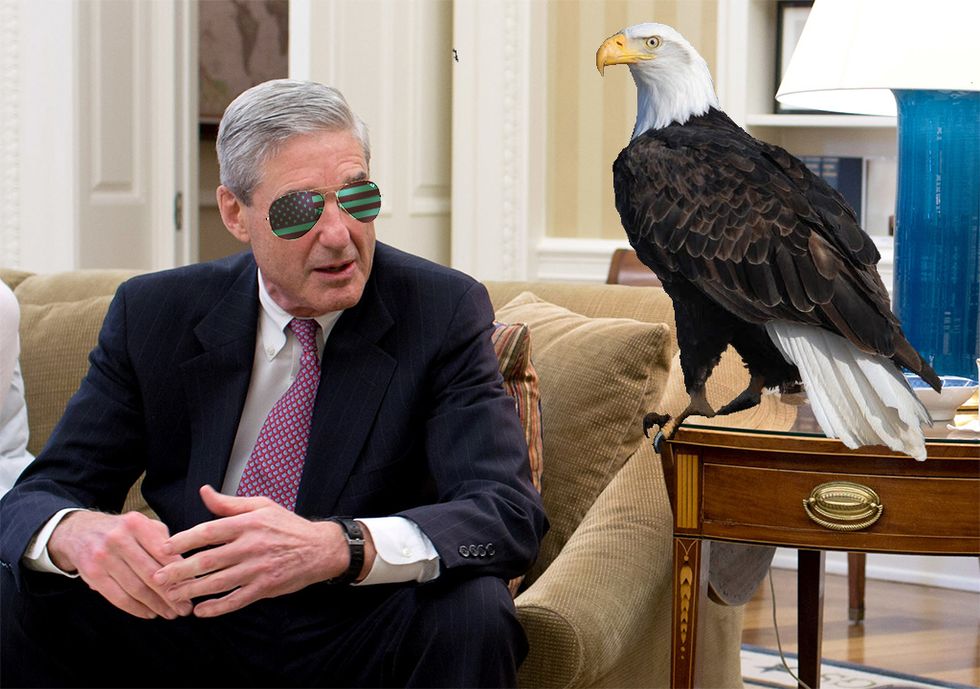 Morning Wonketariat! There is another FIREHOSE of news this morning, but NEW YORK! Remember to meet your editrix at Grindhaus, in Red Hook, Brooklyn, from 7 to 9 TONIGHT! Now here are some of the things we may be talking about today.
---
Just before he was "You're Fired," Andy McCabe was looking into whether or not Jeff Sessions lied during his congressional testimony last year. What a coincidence!
Robert Mueller is apparently taking his magnifying glass to the links between Cambridge Analytica, the RNC, and the Trump campaign. A spokesman for the Trump campaign has told reporters that there was no collusion, no collusion, no collusion.
Mark Zuckerberg climbed out of his tech bubble to talk about Facebook's massive fuckups, whining that it's going to cost him more money to investigate and clean-up the fallout from Cambridge Analytica, adding that he'd be happy to testify before Congress "if it's the right thing to do."
George Nader, the UAE/Saudi adviser busted for kiddy porn in the 1990s, spent a year schmoozing RNC money man Elliott Broidy, in order to push policies favorable to the UAE and Saudi Arabia, like getting REXXON "You're Fired." For his sake, it's a good thing Nader has immunity. [Morning Maddow]
Trump's congratulatory call to dictator Vladimir Putin and praise on Twitter has caused White House aides to come down with serious butthurt, even as some congressional Republicans bitch about "leaks."
Jared Kushner's ignorance is raising very serious national security concerns after reports that Saudi prince Mohammad bin Salman boasted about having Kushner "in his pocket."
Old Handsome Joe Biden has again said that he would like to "beat the hell out of" Trump; naturally Trump ran to Twitter and bitched like a little bitch.
There is a bloody fight inside Trump's White House to replace Hope Hicks as his minions run to the press and try to decapitate one another.
While you were sleeping, Congress dumped a $1.3 trillion omnibus spending bill that includes a "Fix NICS" provision to incentivize states play nice with FBI National Instant Criminal Background Check system, and allow the CDC to "conduct research on the causes of gun violence."
Though Trump bitched about the spending bill not having enough money for his wall, it does give billions for defense spending, as well as some money for infrastructure, NIH, school safety, and money to combat the opioid crisis. So...compromise?
Ethics watchdogs are wondering why grifty bastard Ryan Zinke and his wife brought a security detail for their two-week vacation in Not America.
Senior Republicans are joining Trump to kvetch about the appointment of moderate Cindy Hyde-Smith to replace Sen. Thad Cochran after a recent poll showed Hyde-Smith losing to a generic Democratic candidate.
Devin Nunes is facing questions from the FEC about excessive campaign contributions, and they want his mom to respond by April 24 since she holds his coin purse.
There's growing concern that California's jungle primary may oust viable Democrats before November even as some candidates start bowing out of crowded races.
Rick Saccone FINALLY admitted he's a loser, and that Conor Lamb is the better man in Pennsylvania's 18th.
The restaurant for the super-rich in Chicago's Trump Tower will close and reorganize so it can make food for the riff-raff roaming about the urban wasteland.
According to a new investigation, the environmental damage left in the wake of Hurricane Harvey is far greater than the public was told. Do you think Houston Democrats can use this in the election?
Trump is expected to drop $50 billion worth of annual tariffs on China later today, so don't be surprised when your phones and clothes get more expensive.
Former French president Nicolas Sarkozy is under investigation for allegedly taking millions of euros from Ghost Muammar Gaddafi to finance his campaign.
Cambridge Analytica whistleblower Christopher Wylie has a new interview where he reveals he spoke with Corey Lewandowski, and is suspicious about how Russia got Facebook data to engage in election fuckery.
The March for Our Lives is this Saturday in cities across the country. DC organizers are expecting as many as 500,000 people (that includes us!), so plan ahead, and don't forget join us for pizza tomorrow night!
And here's your morning Nice Time! MEERKATS!
We're 100% ad-free and reader-supported, so kick us some cash for coffee!
Dominic Gwinn
Dominic is a broke journalist in Chicago. You can find him in a dirty bar talking to weirdos, or in a gutter taking photos.