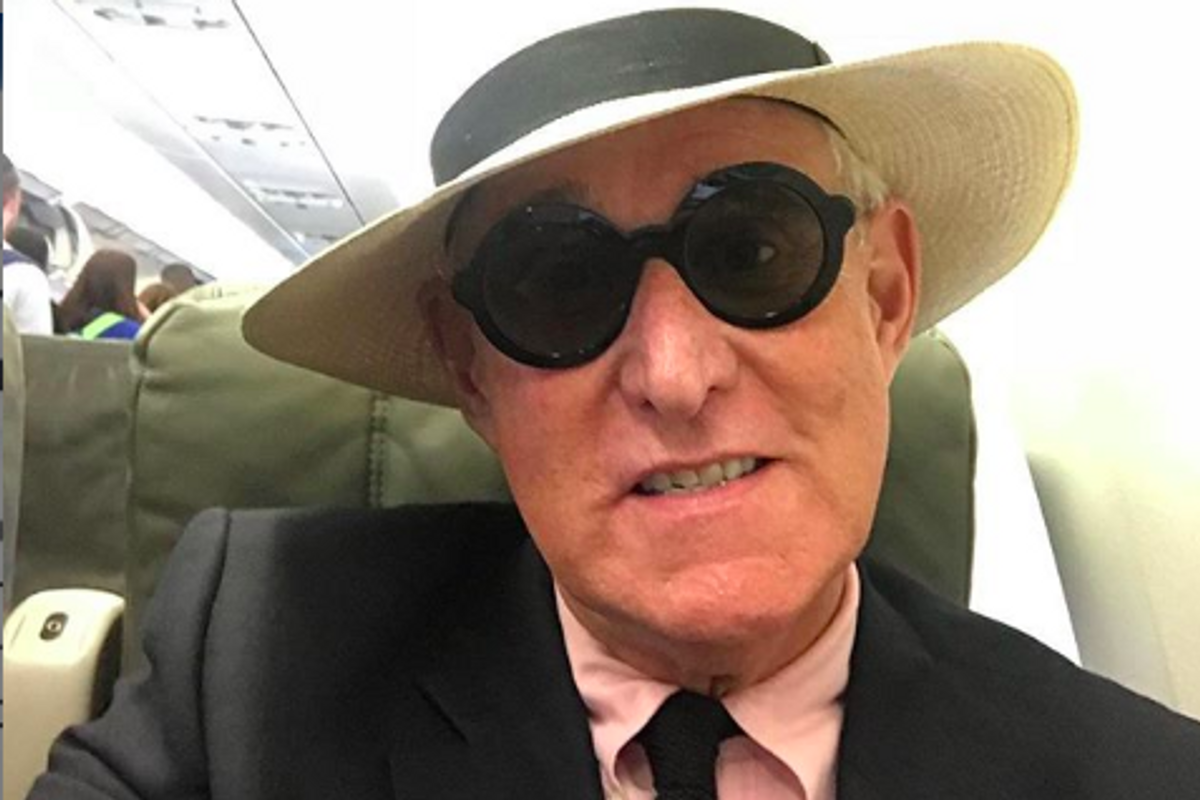 Roger Stone Instagram
We're going to get to Roger Stone in a hot second, but before we do ... what the actual fuck is wrong with Florida? We've just gone all the way down the rabbit hole with local Florida paper The Miami New Times, and now we know where Stone finds that inexhaustible well of bigoted little shitposting keyboard weasels. Apparently, Florida colleges function as a feeder system for the racist wingnut-o-sphere. College Republicans is the gateway drug, then they're on the harder stuff at Turning Points USA (TPUSA). And once Charlie Kirk gets through with the kids, they're mainlining fascism with the Proud Boys. Because who better to defend "Western Civilization" than Florida Man, right?
At Friday's court hearing in DC, Roger Stone apologized for posting a picture of Judge Amy Berman Jackson with a crosshairs next to her head, oh, sorry, "Celtic cross." You know, just like the one he posted to his own Instagram feed in August.
---
Stone testified that he didn't know who'd posted the image of Judge Jackson to his Instagram, or where it came from. So many fine young volunteers have access to his social media, you see, so how even can he be responsible if they post threats to the judge in his case?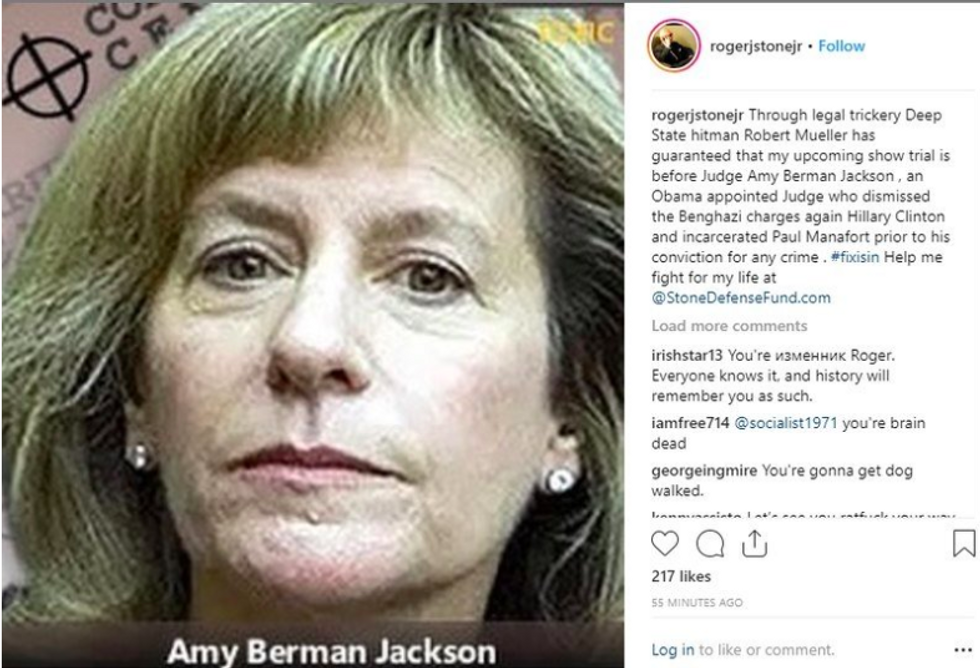 That argument fell flat with Her Honor, who expanded the gag order on Stone. She also ordered to him to give up the names of his volunteer social media "managers" on the stand. As BuzzFeed pointed out, Stone's four named assistants, Enrique Tarrio, Tyler Whyte, Jacob Engels, and Rey Perez, are all associated with Florida's Proud Boys, the racist, nationalist gang whose members were arrested in New York this fall for for beating up peaceful anti-fascist demonstrators. Here's Roger hanging with his Proud posse, most of whom are flashing the white power "okay" sign.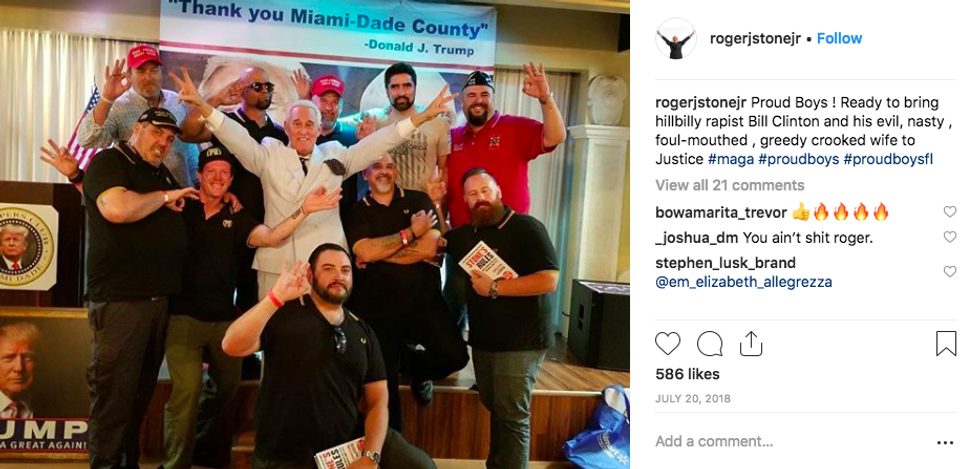 Subtle, fellas. No one will ever know you're a pack of racist losers.
The Daily Beast did a profile of Jacob Engels earlier this month, describing the 27-year-old as "Roger Stone's Mini-Me." (No word on whether he's also a swinger who posts personal ads describing his wife's genitalia to prospective partners.) He did, however, have lots to say about the Florida ballot recount. Flanked by Tyler White, founder of the Florida Proud Boys, Engels led protests outside the Broward County elections office during the 2018 vote tabulation, shouting for former elections supervisor Brenda Snipes to, "Come out, you old hag." He seems nice.
Here's Enrique Tarrio sitting behind Donald Trump at a speech last week. He took over as head of the Proud Boys after Gavin McInnes resigned upon learning the FBI had characterized the group as white nationalists. Tarrio was at the Charlottesville Nazi protest, but don't worry, you guys, he left before people started beating the shit out of black dudes and running over peaceful protesters.
Looks like Enrique Tarrio, head of Miami's Proud Boy chapter, is seated right behind Trump on camera https://t.co/RqmY4DaMHU

— Jerry Iannelli (@Jerry Iannelli) 1550527382.0
The New Times points out that a video from the day of Stone's crosshairs post about Judge Jackson shows Rey Perez appearing to take credit for it, saying, "I manage his social media accounts, send his emails, things like that." Perez seems like a lovely fellow, whose parents are undoubtedly proud of their son's association with TPUSA and the white nationalist Proud Boys.
The New Timesreports:
It is on Minds [an un-censored web platform] that [CV] Vitolo-Haddad, [a] Wisconsin-Madison researcher, gained access to a private Proud Boys group. Though all four Proud Boys interviewed by New Times said they oppose racism and disavow white supremacists, screenshots Vitolo-Haddad shared with New Times from the private group show something very different.

"Zuckerberg is a Nigger-faggot!" one Proud Boy named Adam Richard declared this past October 30. The next day, another group member, who goes by Joey the Rhodie, posted a photo of a Hasidic Jewish man dancing. It was captioned, "When the UN adds another million to the Holocaust death toll." On November 2, KaiserW shared a photo of Elliot Rodger — a violent misogynist who killed six people and himself in Isla Vista, California, in 2014 — captioned, "Believe in something. Even if it means sacrificing everything."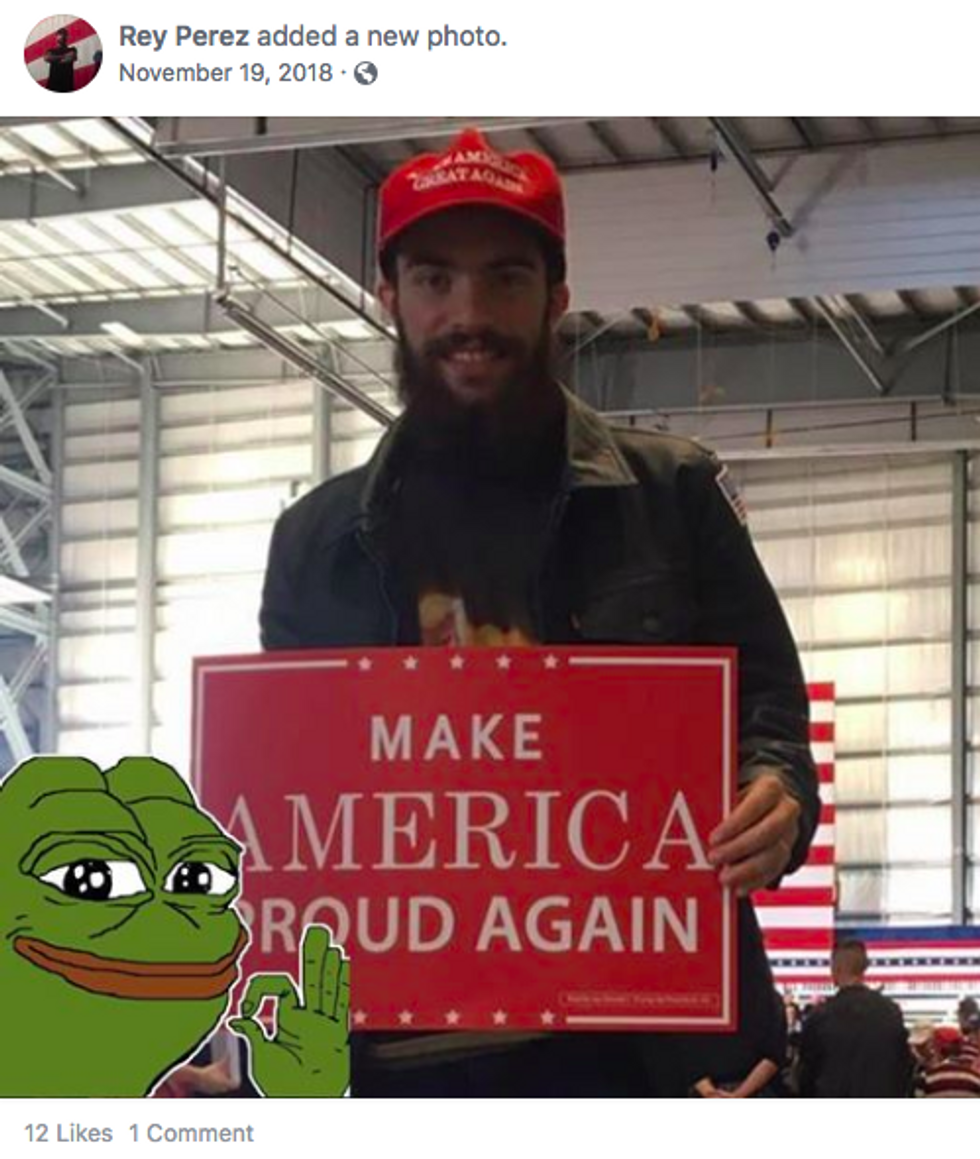 Gosh, we're starting to think Stone's friends are maybe not that nice after all! So, if these guys are acting as Stone's megaphone, can he be held responsible for their posts on his behalf? As of today, Perez, Engels, and Tarrio's Twitter accounts appear to be suspended. SAD! But before that happened, on Friday, Perez tweeted, "As much as the liberal media want to spin #RogerStoneArrested into evidence of #RussianCollusion, it only shows our innocence and their evil deeds, what a bunch of sore losers." And if these dipshits are acting as proxies for Stone and pushing his bullshit out under their own names on Instagram and Facebook, then perhaps Ol' Roger's time in the hoosegow will be coming soon. Because if he's found to have violated the gag order, Judge Jackson promised to LOCK HER UP Roger Stone for good.
Fingers crossed, kids!
Oh yes, and also OPEN THREAD, kids!
[Miami New Times / Miami New Times, again / BuzzFeed / Daily Beast]
Follow your FDF on Twitter!

Please click here to help your Wonkette sterilize our browser after looking at this filth FOR YOU!
Liz Dye
Liz Dye lives in Baltimore with her wonderful husband and a houseful of teenagers. When she isn't being mad about a thing on the internet, she's hiding in plain sight in the carpool line. She's the one wearing yoga pants glaring at her phone.