Romney Campaign Consultant Definitely Not Deluded About What The People Want
Elections
February 13, 2023 01:20 PM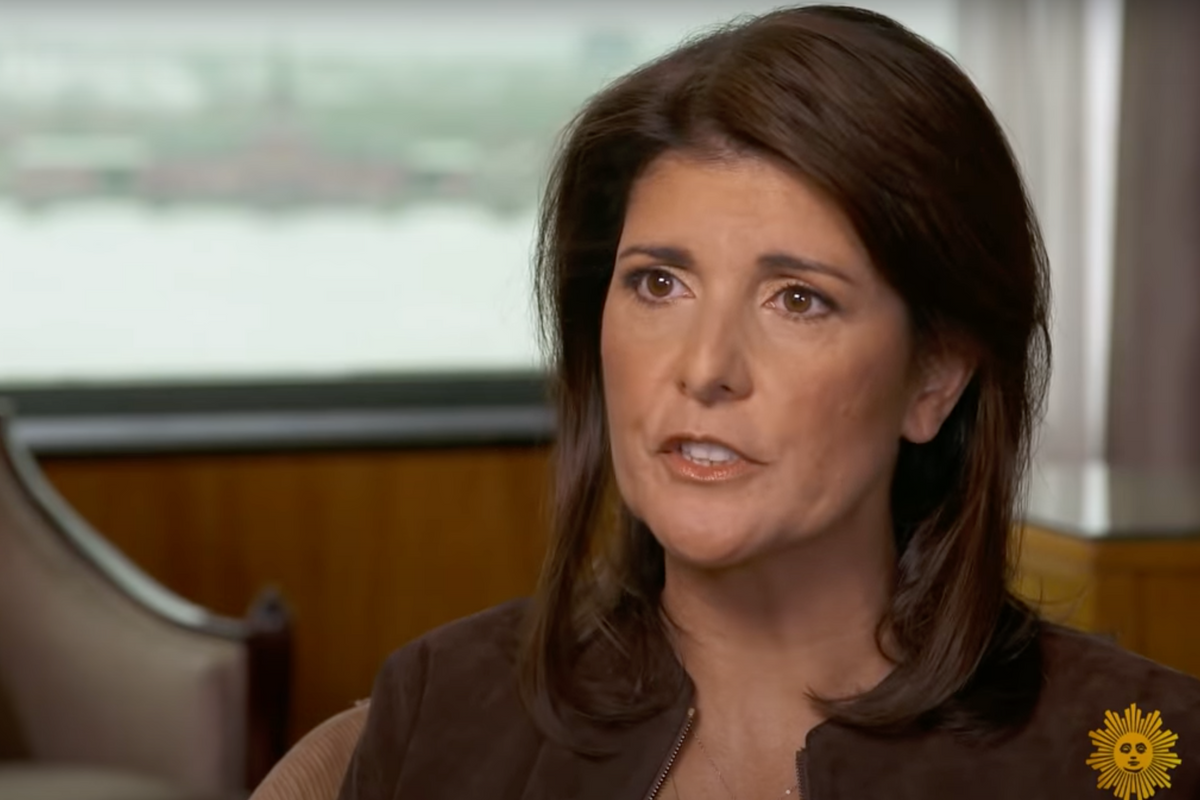 .
When I think of people who really have their pulse on what it is that people are into these days, my first thought is something along the lines of "consultant on Mitt Romney's failed 2012 campaign." This weekend, Never Trumper/Lincoln Project guy Stuart Stevens penned an op-ed for The New York Times lamenting the way he believes Nikki Haley, who is supposed to announce her 2024 Presidential run this week, threw away her political future by bending the knee to Trump.
No political figure better illustrates the tragic collapse of the modern Republican Party than Nikki Haley. There was a time not very long ago when she was everything the party thought it needed to win. She was a woman when the party needed more women, a daughter of immigrants when the party needed more immigrants, a young changemaker when the party needed younger voters, and a symbol of tolerance who took down the Confederate flag when the party needed more people of color and educated suburbanites.

This would be very poignant if Republicans did not hate immigrants before Donald Trump or had any interest at all in electing someone who would take down the Confederate flag or if conservatives were not doing a bang-up job of recruiting young fascists like the Groypers. It would be very on target in a world where John McCain and Mitt Romney won their presidential elections, or in an alternate universe where everyone is the sort of person who might find themselves at a cocktail party with Stuart Stevens.
The pundit class was at one point, after all, very fond of talking about how tough it would be to beat Haley were she to run for president. It was a piece of common wisdom, like the incredible terror Elizabeth Warren struck in the hearts of the kind of everyday Americans they imagine must live in the midwest states they have never actually been to or met anyone from, or how one had to admit that Paul Ryan was a real numbers guy.
---
Mr. Trump has a pattern of breaking opponents who challenge him in a primary. Ms. Haley enters the race already broken. Had she remained the Nikki Haley who warned her party about Mr. Trump in 2016, she would have been perfectly positioned to run in 2024 as its savior. But as Ms. Haley knows all too well, Republicans aren't looking to be saved. The latest Morning Consult poll shows Mr. Trump and Gov. Ron DeSantis of Florida together drawing 79 percent of Republican primary voters. Ms. Haley is at 3 percent, one percentage point more than Liz Cheney.
I've read this sentence 16 times and I am still very confused about where all these votes for 2016 Nikki Haley would be coming from. Stevens admits that Trump and DeSantis are what Republicans want, so the idea that Haley would be in a better position to challenge them had she not put on MAGA airs does not quite add up.
There is no question that the Haley of 2016 would be the absolute dream candidate for much of the upper class, regardless of party affiliation. She was the first female governor of South Carolina, attractive in a safe, non-threatening, newscaster-y, not going to steal your husband or anything sort of way, and known to occasionally take decorum-based "stands" on a lot of things that would not really materially affect anyone. She was a Republican who would behave herself at a cocktail party or as a co-host of "The View." A Republican who dresses appropriately and does not have the kind of speaking voice the pundit class tends to worry will frighten men. (Though can Republican women even have that? You never hear about it.)
This, however, is a far smaller portion of the US electorate than a lot of people are willing to admit. Republicans have realized that they don't have to settle for McCain and Romney-esque "least offensive"-type candidates, who clearly were not winning anyway, and who were/are hated by their party. There is absolutely no chance they are going back to that. Why would they when they are getting what they actually want? They want candidates who satisfy their id and stand up for their terrible beliefs, who will advocate for and make a case for their most repulsive policies, who are going to hurt the people they want to see hurt.
Even though Nikki Haley — ever the opportunist — has taken a sharp right, pro-Trump turn rhetorically, they don't like her because they don't see her as authentically one of them. They know she's not, and it's extremely clear she knows the words but not the music. Stevens understands and admits this, and yet for some reason he can't shake the idea that her political future was somehow not going to be in jeopardy either way. There is no math or time machine that is getting to Nikki Haley being the Republican nominee in 2024. Maybe if she took a time machine back to 2016 and convinced herself not to go MAGA and then ran as a centrist Democrat, but that would involve a lot of hypotheticals.
The female star of the current Republican Party isn't the daughter of immigrants taking down the Confederate flag. It's Marjorie Taylor Greene, who sells "Proud Christian Nationalist" T-shirts while becoming arguably the second-most powerful member of the House in little more than one two-year term. If Mr. Trump wins the Republican nomination (and I think he will), he may well choose the election-denying loser Kari Lake as his running mate, not the woman who twice won governor's races the old-fashioned way: with the most votes once the ballots were counted.

There is a great future behind Nikki Haley. She will never be the voice of truth she briefly was in 2016, and she will never be MAGA enough to satisfy the base of her party. But no one should feel sorry for Ms. Haley. It was her choice.
Stevens just keeps getting so close and then missing the point entirely because he's so married to the idea of this 2016 Nikki Haley just rocking everyone's world so hard. Perhaps this is the problem with "conventional wisdom" — people repeat it so often that they still believe it, even if it's refuted by all available facts and reason.
Wonkette is independent and fully funded by readers like you. Click below to tip us!
Robyn Pennacchia
Robyn Pennacchia is a brilliant, fabulously talented and visually stunning angel of a human being, who shrugged off what she is pretty sure would have been a Tony Award-winning career in musical theater in order to write about stuff on the internet. Follow her on Twitter at @RobynElyse