Romney Supporters And Syria's Assad Have Thing In Common: Nails Girls
News
July 12, 2012 08:25 AM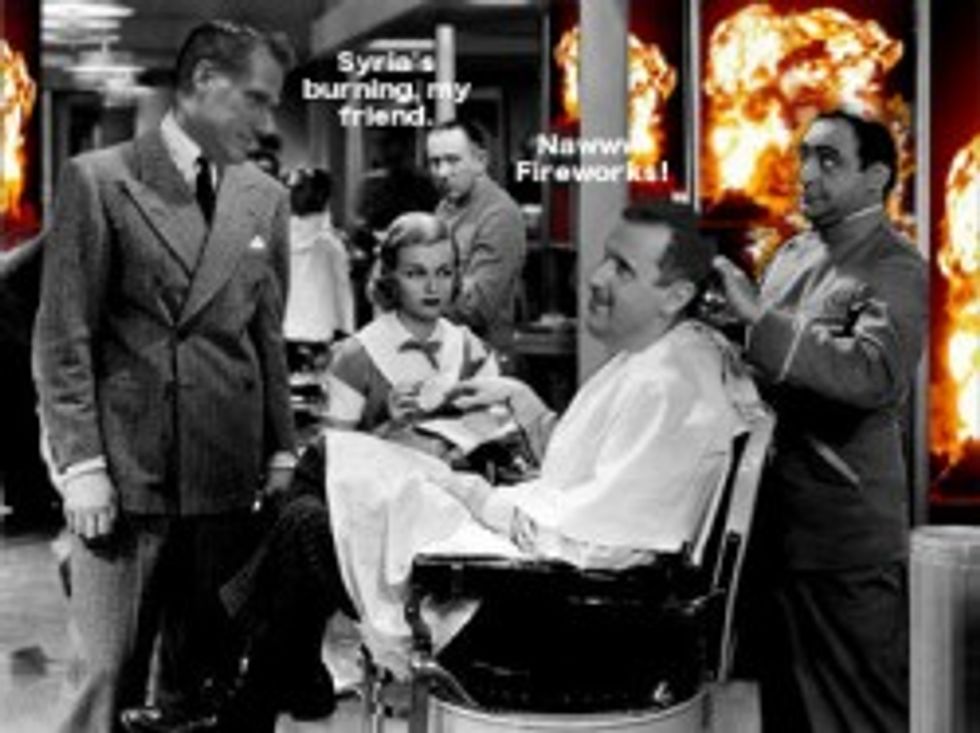 While the uneducated, common people in America are completely unaware of "how the systems work," they are now SO relieved to have Romney supporter woman-in-Range-Rover telling them what's what. "Nails Girls" across our freedom nation listen with bated breath, while buffing elite nails until they bleed (OOPSY!), for directions from their betters on how to cast their vote.
---
Meanwhile, across the seas in exotic Syria, the poors who aren't too busy being slaughtered by their dynamic dictator, Olive Oyl G-Man Bashar al-Assad and his British-born steel-spiked-Louboutin-wearing dominatrix "I am the real dictator" wife, have a job to do. (Nails! It is nails!)
In tony Damascus, Syria's largest city and Assad's stronghold, wealthy Assad-loving hipsters party soldier on, tanning themselves by the pool, while smoke rises outside the safety of their 5-star hotel and "men silently load the mangled bodies of 50 government soldiers—disfigured and broken by car bombs, explosives, bullets, and shrapnel—into simple wooden coffins." Late for an appointment with their Nails Girls, bronzed beauties speeding past the gas lines and closed shops (No More shops? OMG!), are too busy texting their besties to find out where the party will be that evening to know there's a civil war. In a valiant attempt at bravery, they focus on what really matters, looking good:
"I have more work than ever," says Dima, a television star who was being elaborately made up to be photographed by Gala Magazine. "I would love to work in Lebanon or the United States, of course, but at the moment, there is a lot of shooting here." She laughs and lets the makeup artist—the best in Syria, she points out—apply another layer of purple eye shadow and tease her long, dark hair into a high chignon. [...]

"Look," says one golden girl, "I still get my hair done when I go to a big party, which is about twice a week. I still get a manicure every week. I am still alive! Either you choose to be afraid all the time or you choose to live."
But it seems that the common Nails Girls may not be as dumb as the rich seem to think. Evidenced by the quote above, journalists, when trying to find out what's really going on in Syria, head for the beauty salons. The New York Times also reported in February of this year, long before the uprising entered Damascus, that beauty salons in Damascus were almost deserted. Probably because those common, uneducated manicurists and hairdressers were smart enough to see the blood splatters on the wall and get the hell out of Dodge. And in America, this Obama-supporting manicurist had the nerve to rise above her nail station and become a lawyer. The rich and famous worldwide should take precautions (i.e. wear condoms) when interfacing with the common people. There may be some dangerous "critical thinkers" out there.