Rudy Giuliani, Your Bus Awaits
News
December 09, 2019 04:19 PM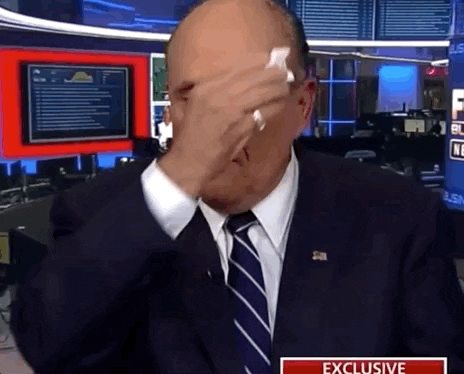 It could just be a coincidence that the Washington Post and the New York Times both dropped long stories about Rudy Giuliani's corruptionpalooza last night. It's entirely possible that Jim Dwyer and Josh Dawsey both happened to get a load of dirt on Rudy's shady-ass clients at the same time and raced each other to get them into print. Maybe this isn't a concerted move by every sane person in Trump's orbit to get him to ditch his pro bono lawyer before that lunatic gets himself arrested for violating the Foreign Agents Registration Act (FARA). But maybe it is, since even Trump's Kurvy Kouch Krew asked Kellyannne Conway this morning, "Is Rudy Giuliani representing the president in the Ukraine, and is the president going to use that material to bolster his case, or is he acting on his own?"
So, what did we learn about America's Mayor from this conveniently timed news dump? Well ...
Rudy's Got a Big Monthly Nut To Satisfy
Hey, Big Spender! The Times reports that Rudy needs $2.75 million a year for housing and golf expenses, before he buys his first stogie.
A third marriage has fallen into divorce court ruins, revealing monthly expenses of $230,000 for six homes and 11 country club memberships. By taking President Trump as a client, he lost a position at a law firm in 2018 that paid him $6 million annually, according to court filings. In October, he broke with a partner in a security consultancy, a former police officer who had been at his side for three decades. He was so badly hurt in a fall two years ago that his wife put off divorce plans and looked after him for a while. She laments that before he appears in public, no one tells him that dye has given his hair an orange tinge.
And that's post tax income, which means he has to earn about $6 million out of the gate. Besides which, he has alimony payments and is in the middle of a hideous divorce. No wonder this guy is desperate for cash and willing to get in bed with just about anyone to get it.
---
NO FARA VIOLATION: Turkey!
After thirty seconds of vetting his foreign business contacts, the Trump transition team nixed Giuliani's bid to be secretary of State. So instead, "[h]e became a one-stop human bazaar for the trade of money, favors and influence, certain that he was incorruptible," the Times reports.
He lobbied the Trump administration to drop charges against Turkish gold trader Reza Zarrab, who busted sanctions to help Turkey buy Iranian oil, and trade him for an American held by the Turkish government.
The Times and Post both report that Rudy tried to fulfill another wishlist item for Turkish president Recep Tayyip Erdogan by persuading the Trump administration to extradite Muslim cleric Fethullah Gülen. It's unclear how much that action item was worth, but the Turkish government offered Michael Flynn $15 million to make it happen in 2016, which buys a whole lot of whore diamonds.
Giuliani has denied lobbying for Gülen's extradition, telling the Post, "can't comment on it that would be complete attorney client privilege but sounds wacky."
Indeed, it does!
NO FARA VIOLATION: Qatar
In 2017 and 2018, Counselor Buttdial, who had to get the Apple store to unlock his phone, had a cybersecurity contract with the government of Qatar. Because sure, why not. Giuliani claimed to have completed that contract before he told the Trump administration to withdraw the nomination of career Foreign Service officer Mary Catherine Phee to be ambassador to that country and put forward recently defeated Republican Congressman Scott Taylor in her place.
The Post reports:
During a night at a cigar bar in Friendship Heights in December and a lunch meeting the following day at the Trump hotel, Giuliani described a plan to promote Taylor for the job, the person said.

During the conversations, Giuliani told Taylor that he had done work in Qatar, but it was unclear why he was interested in shaping the ambassador pick.
Yeah, it's totally unclear. But the Senate never voted on Phee, and she wasn't renominated. Taylor wandered off to go lose to Senator Mark Warner in 2020, and so the position remains vacant.
NO FARA VIOLATION: Romania
If Rudy insisted on dropping Qatar as a client when he became Trump's personal lawyer, he had no such scruples when it came to Romania. In 2018, former FBI director Louis Freeh's lobbying firm hired Giuliani to write a letter to Romanian officials encouraging them to grant amnesty from corruption prosecution, which would have benefitted Freeh's client.
In August 2018, Giuliani sent a letter to the Romanian president, expressing his concern that "excesses" by the nation's anti-corruption agency were resulting in the prosecution of innocent people. Giuliani called for an amnesty for people convicted under the system.

Giuliani told The Post at the time that he was hired to send the letter by Freeh's firm. He declined to say on whose behalf Freeh's firm was working or how much he was paid.

But Freeh has said he was hired in July 2016 to conduct a review of the conviction of Gabriel "Puiu" Popoviciu, a Romanian real estate executive sentenced to seven years in prison for fraud.
Freeh's office has since been subpoenaed for information on Rudy's Romanian work by the SDNY. Womp womp.
NO FARA VIOLATION: Venezuela?????
We had been given to understand that socialism is BAD and it's just a hop, skip and a jump between Medicare For All and Venezuelan bread riots. So imagine our shock at learning that Rudy met in the summer of 2018 with Venezuelans trying to open a back channel between the White House and the Maduro regime, which Trump was promising to depose. The Post reports:
In the months after Giuliani joined Trump's legal team, he began discussions with a group interested in influencing U.S. policy in Venezuela.

In the summer of 2018, over cigars and whiskey at New York's Grand Havana Room, Giuliani met with Parnas and two American business executives with investments in the country seeking his advice on how to open a back channel of communication between Trump and Venezuela's socialist leader, Nicolás Maduro, according to people familiar with the gathering.
Wait, what the hell was Lev Parnas doing there? And HEY JOHN BOLTON!
Weeks later, he told the group that he had met with John Bolton, the president's national security adviser, to discuss the idea.
So weird that guy refuses to testify, huh?
DEFINITELY NO FARA VIOLATION WHATSOEVER: Ukraine
There aren't enough pixels on earth to cover Giuliani's Ukraine fuckery. Giuliani has been simultaneously selling access and trying to drum up lies about Joe and Hunter Biden from the the absolute dregs of Ukrainian society. But when you lie down with dogs, you wake up with fleas. Here's someone telling the Post about Rudy's pitch to "a prominent Ukrainian political figure," probably disgraced former prosecutor Yuriy Lutsenko, with whom Rudy was negotiating in spring of 2019 to get facetime with the DOJ for the low-low price of $200,000-300,000.
In one meeting with a prominent Ukrainian political figure in early 2018, Giuliani was explicit that hiring him would provide a route to the president, according to a person in attendance.

"It was just so clear what he was peddling. He was pushing for business, and his pitch was, 'I'm close to the White House, I'm close to Trump. If you want to get in there, I'm your guy,' " the person said. In that case, the Ukrainian did not hire Giuliani.
And Lutsenko never got the meeting. Because in Trumpland, the swamp drains you.
Rudy Giuiani Is the WORST Date Ever
Hey, baby, want to go hang out with some war criminals? They've got an open bar and everything!
Trying to dazzle a woman on a date, he took her to a reception on the rooftop of the Hay Adams Hotel thrown by a lobbyist for the Democratic Republic of Congo. The Congolese, who were hoping to get America to back off sanctions, wanted his advice on how to please the Trump administration.
Wait, where are you going? There's a rumor Kim Jong Un is hosting an afterparty in Georgetown.
The Wheels On the Bus Go ROUND AND ROUND
Sadly for the ladies of a certain age in New York and DC, it appears that the most eligible bachelor may soon be unavailable to squire them to the latest dictator's cocktail hour. Even Bill Barr is reportedly telling Trump that Rudy "has become a liability and a problem for the administration." You hate to see it! By which we mean ...
LOCK. HIM. UP.
And with that it is your OPEN THREAD!
Follow Liz Dye (FKA your FDF) on Twitter!
Please help keep your Wonkette snarky and ad-free!
Liz Dye
Liz Dye lives in Baltimore with her wonderful husband and a houseful of teenagers. When she isn't being mad about a thing on the internet, she's hiding in plain sight in the carpool line. She's the one wearing yoga pants glaring at her phone.