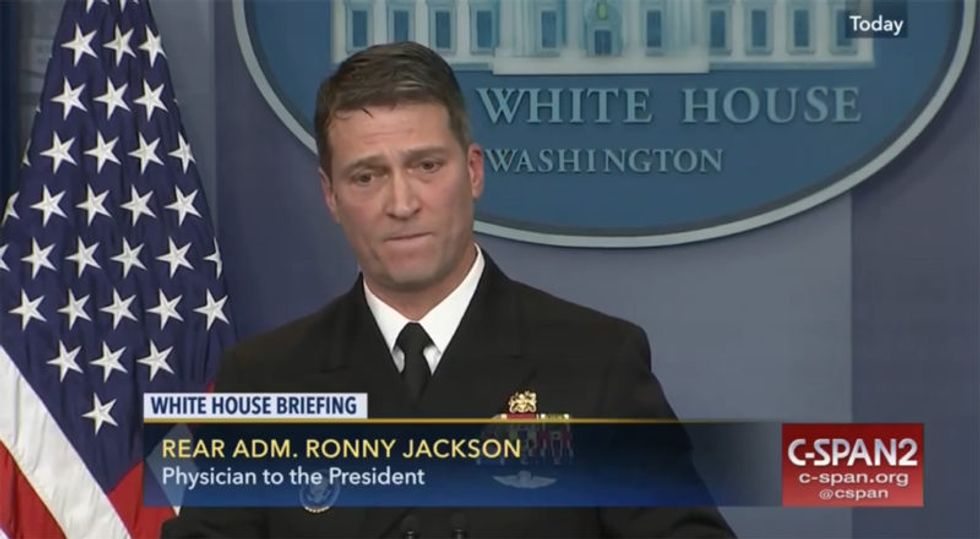 He can TOO be serious
---
Morning Wonketariat! Here's some of the things we may be talking about today.
Flight records, social media posts, and Trump's own bodyguard show Trump spent more time in Russia than previously disclosed, suggesting he had more than enough time to take a golden shower, and that Trump may have consciously tried to throw James Comey off the yellow trail. [Morning Maddow]
The Cambridge Analytica whistleblower, Chris Wylie, will meet with Democrats on the House Judiciary and HPSCI committees today and tomorrow.
Prosecutors are defending the searches of Paul Manafort by saying they had all their paperwork in order. Good thing too, because Mueller has the testimony Manafort gave during his civil suit with Russian oligarch Oleg Deripaska.
Rear Adm. Ronny Jackson's confirmation hearing to be VA secretary has veered off a cliff over vetting issues that are RUMORED to include drinking, improperly dispensing medication, and creating a hostile work environment. The doc either liked to party, or he is/was a huge asshole.
Trump started railing about "caravans" of immigrants on Twitter (again), so Sarah Huckabee Sanders defended Trump's allegation that sanctuary cities were a "breeding concept" with passive aggressive non-answers.
Scott Pruitt wants to change EPA standards on acceptable science, allowing the EPA to kill policies governing air pollution and pesticides. Hurray...
Behind the scenes, Trump's White House is telling Republicans not to defend Pruitt now that there's a coal lobbyist waiting to take his place. Hurray...
Scott Pruitt's crooked friends are about to kill their anti-Earth lobby now that Pruitt isn't around to guide their schemes.
Betsy DeVos is too busy to go looking for discrimination in public schools (it's a matter of efficiency!), so ProPublica's Annie Waldman went to Texas and did the work for her.
In the interest of fairness, conservative news outlets want you to know DeVos did not order globes "flattened like God made it 6,000 years ago."
A new poll finds 78 percent of Americans don't think teachers are paid enough, and 50 percent are willing to pay more in taxes in order to give teachers a raise.
A judge has ruled that a monkey who took a selfie after snatching a camera does not own the copyright because, "We have no idea whether animals or objects wish to own copyrights or open bank accounts to hold their royalties from sales of pictures." [Archive]
Congressional Republicans and military brass have acknowledged that all the military aircraft falling out of the sky pose a serious problem, but stopped short of actually doing anything about it.
Mike Pompeo cleared his first major hurdle after the Senate Foreign Relations Committee approved his nomination thanks to some last minute bureaucratic bullshit, and dark money ads that convinced Rand Paul to puss out. Following the vote, a weepy Sen. Bob Corker praised their bipartisanship.
A number of Senate Republicans are opting not to attack Democratic incumbents who are up for reelection, which isn't as strange as it sounds.
A new poll shows super-rich convicted criminal and coal baron Don Blankenship's Senate chances are fading fast. Fox News will host a debate between West Virginia's gun-humping Republican Senate candidates tonight.
West Virginia's Republican Secretary of State has called in the Air National Guard to safeguard elections from Russian fuckery, echoing similar moves in other states.
Paul Ryan FINALLY found someone other than an anti-Semitic white supremacist to run for his seat! For more on the race, read our analysis!
A court has ruled that Colorado Republican Rep. Doug Lamborn failed to qualify for his own primary ballot. He couldn't collect 1,000 signatures! LOLOL
Citing Hurricane Harvey disaster recovery efforts, Texas Republican Gov. Greg Abbott has been given the green light to set aside state laws and hold a special election to replace super gross ex-Rep. Blake Farenthold.
Arizonans will go to the polls today for a special election to replace piece of shit Trent Franks. The race is being closely watched by both Democrats and Republicans, and there's a chance the blue wave could seep through. Catch our analysis here.
There's an effort to smear teachers involved in the Arizona teachers strike, and many of the perpetrators have ties to Republican Gov. Doug Ducey.
Maine Republican Gov. Paul LePage is refusing to green light an expansion to the state Medicaid program, instead telling 80,000 poors to fuck off until November.
Five black women are claiming discrimination after the cops were called to the golf course because they were "taking too long to play."
Here's a LONG thing about constitutional sheriffs in fly-over country who have their own interpretation of the law.
The Treasury Department is considering easing sanctions on Russian aluminum company Rusal, which is owned by Oleg Deripaska. Is that weird?
The US is weighing sanctions against Kaspersky Labs, a Russian cybersecurity company, over its sketchy ties to the Kremlin.
The EU is telling the UK to get its Brexit bullshit together.
Hannity is calling his handouts from HUD "investments," and trying to blame it all on Obama.
ICYMI: New York Times reporter Amy Chozick wrote a piece about covering Hillary Clinton and HER EMAILS, and the personal regrets she has as a reporter in hindsight.
Gretchen Carlson will host a series of documentaries profiling the stories of everyday working women dealing with sexual harassment.
Yuppie Youtube douchebag Logan Paul is being sued for $2.5 million for trashing his last house; the plaintiff is using his vlogs as evidence.
Apple and Facebook are awful companies who exploit you for profit, and their petty squabbling amid looming regulations is a distraction.
LOL, somebody figured out how to steal Bitcoin from computers that aren't even connected to the Internet. So much for the magic blockchain!
A soldier maimed by an IED received the world's first penis and scrotum transplant. The anonymous soldier commented, "I feel whole."
And here's your morning Nice Time!

We're 100% ad-free and reader supported because people like you get a guilty feeling in their stomach, then send us money for coffee and snacks.
Dominic Gwinn
Dominic is a broke journalist in Chicago. You can find him in a dirty bar talking to weirdos, or in a gutter taking photos.