Russia Did It, Y'all. And Nobody Fucking Cares.
Elections
February 08, 2018 12:55 PM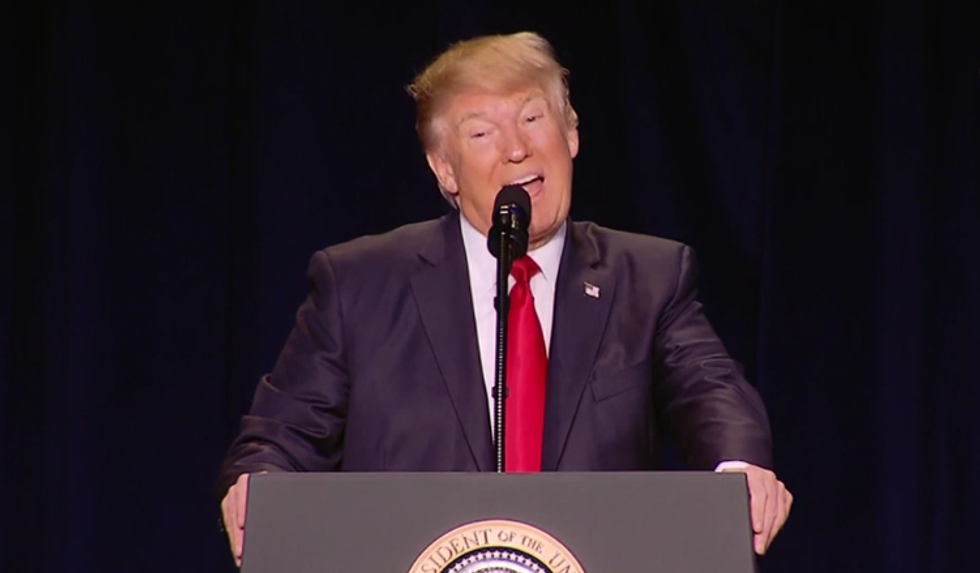 No Russia. No Russia. YOU'RE THE RUSSIA.
---
In 2000, George W. Bush won the election by negative 450,000 votes because the Supreme Court stepped in and made Florida stop recounting, because it was very unfair to not go ahead and install Bush as president. The Republic depended on it! In 2004, George W. Bush won because he actually won the popular vote that time, and also because some hinky, still unexplained shit happened in Ohio.
In 2016, we are just now officially learning in February 2018, the Russian government very much did successfully hack into the voting systems, but it was only a handful of states, so no big deal, right? Were they able to affect the vote counting? Oh, that's a scary question, let us not ask it!
The U.S. official in charge of protecting American elections from hacking says the Russians successfully penetrated the voter registration rolls of several U.S. states prior to the 2016 presidential election.
"Several."
In an exclusive interview with NBC News, Jeanette Manfra, the head of cybersecurity at the Department of Homeland Security, said she couldn't talk about classified information publicly, but in 2016, "We saw a targeting of 21 states and an exceptionally small number of them were actually successfully penetrated."
Russia moved on our systems like a bitch, but it couldn't get there, except for in an "exceptionally small number" of states. Can't imagine that's a problem, especially in an election where the "loser" beats the "winner" by almost three million votes.
Which exceptionally small number of states? Shhhhhhhhhh, let's not get into that.
And it definitely was the Russian government that did this? "No doubt," says Jeanette Manfra.
But don't freak out:
There is no evidence that any of the registration rolls were altered in any fashion, according to U.S. officials.
NO EVIDENCE. As Wonk pal Charlie Pierce points out, this could mean anything from "we haven't seen anything specific" to "OMG WE ARE SCARED TO FIND THE ANSWER TO THAT QUESTION, BECAUSE FOR REAL THEN WE WOULD HAVE TO GRAPPLE WITH THE FACT THAT RUSSIA LITERALLY STOLE THE ELECTION FOR ITS ASSET DONALD TRUMP."
It's cool, though, because the best people at the top agencies are working like busy bees to fix this problem, LOL just kidding no they aren't:
... [Former Homeland Security Secretary Jeh] Johnson told NBC News he is now worried that since the 2016 election a lot of states have done little to nothing "to actually harden their cybersecurity."
In response, Jeanette Manfra, mentioned above, said NUH UH.
Secretary Of State Rex "ZZZZZZZZ" Tillerson said this week that actually Russia is already hard at work to fuck with the 2018 midterms, and that we're not ready, so that's comforting. But he says the reason we're not ready is that Russia is such a silly trickster it keeps changing its tactics:
"I don't know that I would say we are better prepared, because the Russians will adapt, as well. The point is, if it's their intention to interfere, they are going to find ways to do that. We can take steps, but this is something that, once they decide they are going to do it, it's very difficult to pre-empt it."
Oh my fucking God.
IDEA: What if we actually implemented the sanctions Congress passed by a margin of 66 million to a handful of fucking morons, the sanctions the Trump administration was supposed to start implementing but decided not to because Congress is not Donald Trump's real dad? What if we actually punished the fuck out of the nation that's stealing our democracy? Hahahahahahahahahaha, we are so silly and naive, Donald Trump wouldn't be president if it weren't for the Russians, and they probably are blackmailing him, so it's never going to happen.
OTHER IDEA: How about maybe, just this once, we get some Virginia-style paper ballots? That may not help with the voter rolls, but wouldn't it make you feel a whole lot better about the ACTUAL VOTE?
Got anything to say, popular vote loser George W. Bush? Something about how whoa hey, his own elections were fucked the fuck up, but this shit is scary?
"Whether (Russia) affected the outcome is another question," Bush said. "It's problematic that a foreign nation is involved in our election system. Our democracy is only as good as people trust the results."
That's right, that's CRAZY LIBERAL CONSPIRACY THEORIST George W. Bush, saying it's "problematic" how Russia is registered to vote in the tiniest handful of states, and saying it's still an open question whether Russia actually successfully rigged the 2016 election. What a Code Pink Occupy Democracy Now liberal George W. Bush is being, to even ask that question!
They did it, y'all.
And nobody in a position to fix it cares.
We are so fucked.
Follow Evan Hurst on Twitter RIGHT HERE.
All our salaries and servers are bought by YOU! Buy us some salaries!
[NBC]
Evan Hurst
Evan Hurst is the managing editor of Wonkette, which means he is the boss of you, unless you are Rebecca, who is boss of him. His dog Lula is judging you right now.
Follow him on Twitter RIGHT HERE.