Russians? What Russians? No Russians Here! Wonkagenda for Mon., July 17, 2017
Elections
July 17, 2017 09:26 AM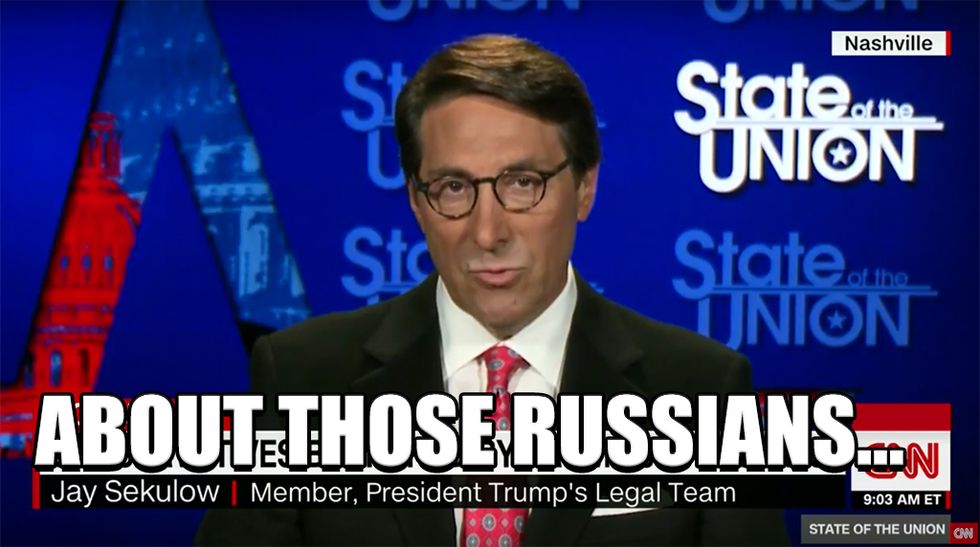 Happy Monday, Wonketariat! Here's some of the things we may be talking about today.
---
Trump's campaign committee was paying for Little Donnie's lawyer weeks before he tweeted out his emails. Looks like SOMEBODY forgot all about those obnoxious FEC filings!
Jay Sekulow made a complete ass out of himself on TV (again) as Trump and Co. try to defend Little Donnie and his one and only meeting with a room full of Russians.
Trump lawyer/grifter Jay Sekulow tried to drag the Secret Service into the mess only to be reminded that Little Donnie didn't have Secret Service protection at the time of the meeting.
The Senate will delay the vote on McConnellCare while Sen. John McCain recovers from surgery, and many Republicans in the Senate are quietly voicing their concerns.
The CBO score on TrumpCare/McConnellCare will not come out today, but as the bill is worse than hot trash, the CBO score isn't expected to affect the outcome that much.
TrumpCare/McConnellCare would give Alaska $1.8 billion in kickbacks in order to secure the vote of Republican Sen. Lisa Murkowski, who is semiregularly not a terrible person and shouldn't be one now.
Tom Price went on teevee to tell insurance companies that "all they have to do is dust off how they did business before Obamacare." Pretty sure that the playbook for denying coverage to the elderly, sick, and dying is gathering "dust" for a reason, but I'm not an expert.
The Senate Judiciary Committee rammed through the nomination of John K. Bush to the 6th U.S. Circuit Court of Appeals, and he now faces a full Senate vote. Bush is famous for being a gay hatin racist who hid behind his blog so he could safely trash people anonymously.
In their ceaseless attempts to divert attention from important issues, Trump's White House announced three new theme weeks that everyone will more than likely ignore except to laugh at Trump calling something "Made In America" week.
Betsy DeVos is going to take a more hands-off approach to the Dept. of Ed's Office for Civil Rights, so that the OCR remains "neutral" despite the resurgence of racism, sexism, and anti-semitisim. What could go wrong?
Republicans are wishy-washy on their $1 trillion spending bills so GOP leadership is offering kickbacks and hand jobs in an effort to get to 50 votes.
FCC Chairman Ajit Pai thinks your defense of net neutrality is useless because he is beholden to a high corporate-controlled power, not the will of the people.
Jeff Sessions's statements on sanctuary cities is bullshit.
Trump is lagging in the appointments of key positions compared to Obama, and I think we're all OK with that. The less they do, the easier it is to clean up the mess.
Disapproval ratings for Trump are up 17 and 18 points, respectively, according to two new polls that show his disapproval rating at 56 percent. LOLOLOLOL.
The fate of Prince Kushner's security clearance rests in Trump's tiny hands, so you can stop worrying about who he ALLEGEDLY colluded with during the election.
Somebody broke into Nevada Republican Sen. Dan Heller's Las Vegas office last night, but it's not exactly clear what, if anything, was stolen. Weird!
Trump's White House is taking a huge dump on Jeff Flake for jumping off the Trump train, and they're already talking to potential primary opponents.
The Presidential Advisory Commission on Election Integrity published the names, phone numbers and email addresses of citizen comments and Mike Pence, who is leading the F-Troop, thinks there's nothing wrong with doxxing private citizens who make public comments.
The federal Job Corps program is under scrutiny for not being able to protect students and some Republicans are bucking calls to fix the program that helps young people avoid gangs by training them for good gigs.
Qatari government websites were hacked by someone inside the United Arab Emirates back in May, which makes the whole scandal between the Middle East's super-rich oil economies even more ridiculous.
The battle of bullshit on the Internet is being fought a little differently in Germany as Facebook faces steep fines by the government for its failure to stop fake news.
Prince Kushner has "You're Fired" Jamie Gorelick, or the other way around, from Trump-Russia stuff because reasons.
John McCain's surgery may actually be for something worse than just a simple blood clot. The rumor mill runs the full spectrum, from a stroke during the Comey hearings, to cancer, but we just want him to rest up and get back into the fight.
Ann Coulter started mean-tweeting Delta airlines employees and passengers after the airline moved her seat, but not only did Delta call out her bullshit, it pointed out the financial value of her pettiness was only $30.
Trump went to the US Women's Open to brag about his stupid golf course and continue his never-ending series of ethics violations.
And here's your morning Nice Time! It's Fiona!
Freedom isn't free, but 'Yr Wonkette is! Throw us some Ameros so things stay that way!
Dominic Gwinn
Dominic is a broke journalist in Chicago. You can find him in a dirty bar talking to weirdos, or in a gutter taking photos.