Sad Confederates Demand Right To March In Enemy Nation's Veterans Day Parade
Post-Racial America
November 09, 2015 04:30 PM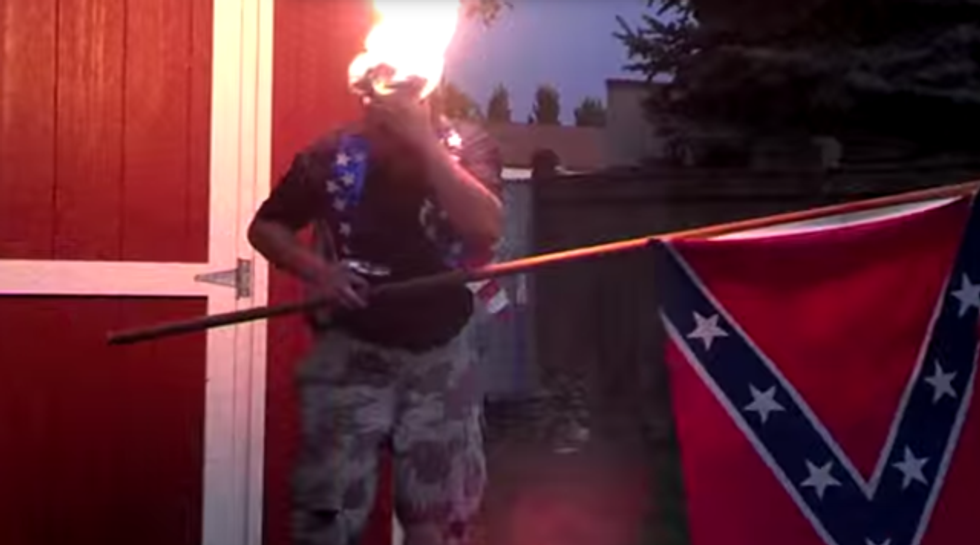 Won't someone think of the poor spanked snowflakes?
---
Some idiot Confederate flag-humpers are feeling very, very oppressed after being denied a place in the Veterans Day parade in Tulsa, Oklahoma. So they've filed a discrimination complaint against the city for hurting their fee-fees. The group, which calls itself "Confederate Veterans Lives Matter" (and which is apparently unaware that no Confederate veterans have existed since 1959 at the latest), had its application denied on the grounds that not only did the group violate parade guidelines, but also that they submitted their application late. In crayon, probably.
According to
local TV station KOTV
(which so prefers to be known as "News on 6" that its call letters are hidden away on its
Legal Notices
page), the group formed last summer after South Carolina
removed the Confederate flag
from its statehouse grounds, and planned to use the parade to make its public debut. Never mind that Veterans Day honors living veterans of the armed forces of the United States of America, which defeated the now-defunct Confederate States of America in 1865.
The parade's organizers are falling back on a bunch of hateful discriminatory excuses designed to keep the South from rising again, apparently:
For one, the group tried to submit an application merely a week before the parade, much too late. On top of that, the committee said it does not allow any group that pushes its own personal agenda, and it believes "Confederate Veterans Lives Matter" is a political message in itself.
The geniuses in the protesting group contend that they deserve a parade permit since another "political" group, the Council on American-Islamic Relations, was given a permit. Why does Tulsa hate its traitorous Confederate veterans, who are all dead?
"Why approve another group and then deny us, when the Confederate is a Civil War thing? They're veterans within itself," [group member Arlene] Barnum said.
We're going to guess there actually are Muslim veterans of the U.S. Military, and CAIR is a recognized nonprofit group, while Schmucks In Grey Uniforms is not, and, as we may have mentioned, barring the presence of any time travelers, there's literally no such thing as a "Confederate Veteran."
Also, too, even though racist assholes are a vibrant part of Tulsa's history, having completely burned out the city's wealthy black district in the 1921 riots, you'd think few people would be quite so eager to celebrate the legacy of slavery and Jim Crow as symbolized by the Treason Flag.
Members of the Confederate Idiots Group vowed to show up in their cosplay traitor uniforms and wave their flags anyway, so thank god for the First Amendment. Normal human beings are strongly advised to ignore them, as you never know how contagious Pure Shitheadedness may be.