Who Among Us Hasn't Sold Hoohoo-Peener Pics Of Our Sister And Jeff Bezos To The National Enquirer For $250K?
News
March 04, 2019 03:23 PM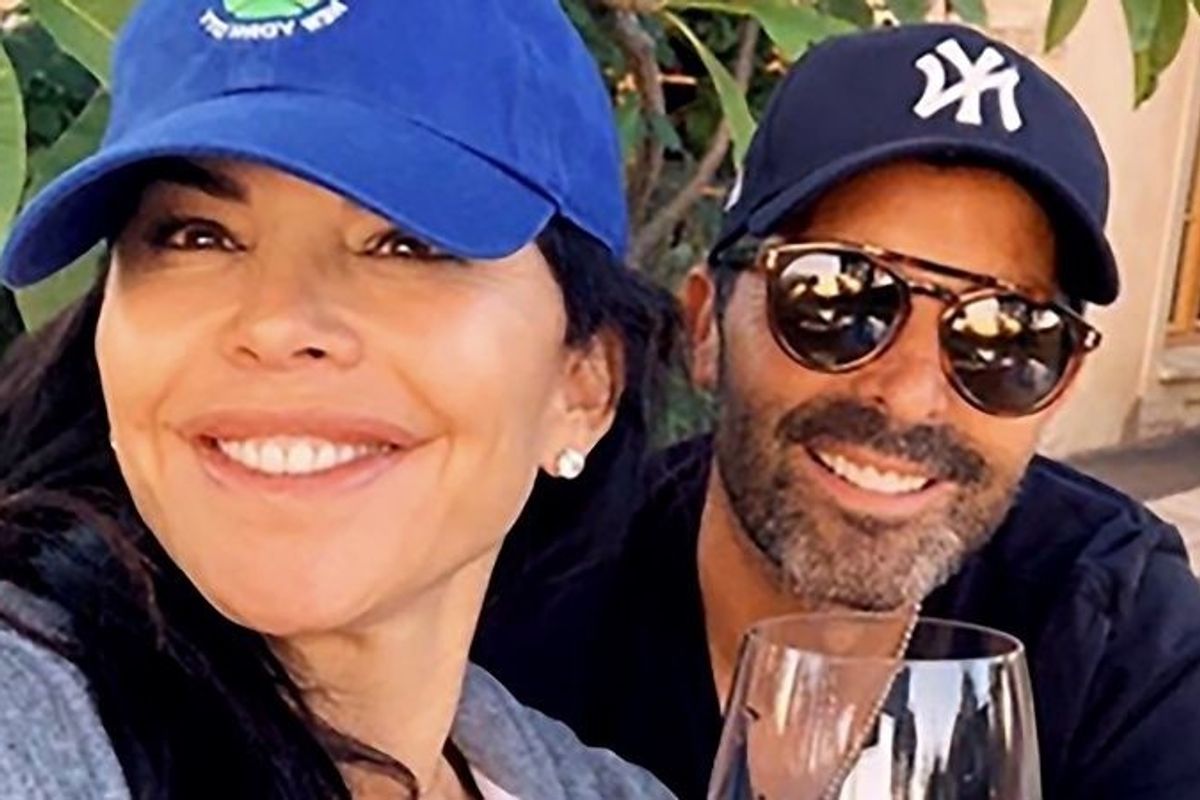 Michael Sanchez Twitter
If Jeff Bezos's wandering dick winds up taking out Trump, it will be the surprise ending we all deserve. We elected a tabloid president who likes to play footsie with murderous Saudi dictators. Trump's pals at the National Enquirer also like to rub up against the Saudis and their giant money bags. Enquirer publisher David Pecker seems to have bollixed his attempt to neutralize America's richest man, possibly in an attempt to suck up to Saudi prince Mohammed bin Salman and Donald Trump. And now Jeff Bezos is reportedly threatening to bring the whole sordid edifice crumbling down with a "90-page investigative report that will make the case that the Enquirer published the Bezos exposé to curry favor with Saudi investors." U-S-A! U-S-A!
Vanity Fair's Gabe Sherman has been talking to Lauren Sanchez's brother Michael since the story broke in January. When last we left the Trash Twins, Michael Sanchez had been confirmed as AMI's source for both the texts and the photos of his sister and her boyfriend Jeff Bezos. Although he was originally coy as to who might have leaked the texts, Sanchez had previously insisted to Sherman that he didn't send pictures of his sister's crotch to the National Enquirer.
"I'm not saying I didn't do something. [...] Until I go under oath, what I can tell you now is that ever since April 20, when I met Jeff, my only goal has been to protect Jeff and Lauren."
---
In fact, Sherman reports that AMI paid Brother of the Year Michael Sanchez $250,000 for the photos of what In-House Poisonous Adder Dylan Howard referred to as his sister's "nether regions" and Bezos's "semi-erect manhood." VF reports:

A person close to A.M.I. said the source was Michael Sanchez. The person, who says they viewed Michael's communications with the Enquirer, told me A.M.I. paid Michael $250,0000 for Bezos's texts and more than a dozen dick pics. Enquirer editor Dylan Howard told [Bezos's security guy and international security expert Gavin] de Becker in a phone call that the Enquirer "paid a lot" for the Bezos story, according to a person briefed on the conversation.
Which gibes perfectly with reports that Howard was apoplectic with rage when Bezos announced his divorce before the Enquirer could run the stolen texts -- the publication ran $72 million in the red for fiscal year 2018, and he'd just forked over a quarter million dollars for a story that wasn't going to move product. So Howard and Pecker hatched a new plan, ALLEGEDLY, to monetize the dick pics by offering to withhold publication if Bezos would rein in the Washington Post on its criticisms of the Saudi regime and make a public statement exonerating the Enquirer of using its publication to lobby for Saudi interests. Whether this amounts to extortion in the legal sense, or just colloquially, remains to be seen. The Southern District of New York (SDNY) is apparently investigating if Howard's and Pecker's shenanigans violate the plea deal they signed in the case against Michael Cohen for conspiring with the company to launder the Stormy Daniels and Karen McDougal hush money payments for Donald Trump. So if this crisis does wind up taking out Trump, you know he'll claim that his own mushroom dick did all the work, with Bezos trying to take all the credit.
And speaking of shit talkers, Michael Sanchez, representative of such D-list luminaries as Carter Page and Scottie Nell Hughes, laid it on thick for Sherman, describing his sister's relationship with Bezos as "a legendary romance that will blow your mind as to just how in love they are."
UH HUH.
The couple discussed with Michael what would happen if their love affair leaked, Michael said. "The three of us had discussed before that, at some point, this was going to be a scandal. My advice was, 'Let's get to the other side.' Our analogy was always that they were landing a 747. I told them, 'You're both pilots, and you've never landed a 747, but that's what we're trying to do here.'"
Forgive us, but we're having just a wee spot of trouble buying that the richest man in the world turns to some two-bit celebrity whore who's deep in bed with the tabloids for advice. Love makes people do crazy shit, but no one could be dumb enough to trust this guy with your deepest, darkest secrets.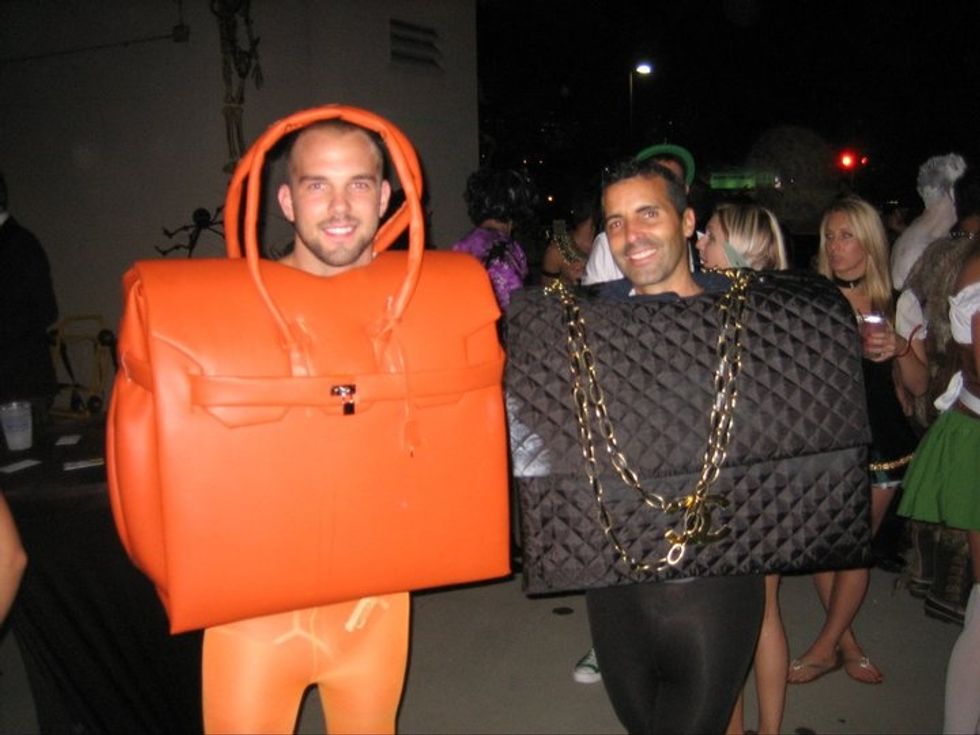 Michael Sanchez (R) with his husband Casey Ashby (L), Halloween 2017Michael Sanchez Instagram, via LA Mag
In Sanchez's telling, he's a trusted consigliere doing battle with the evil interloper Gavin de Becker, and the nationally recognized security consultant is trying to cover up his own failure to protect Bezos's texts with a concocted story about Saudi Arabia and a ham-handed effort to get Bezos and his wife Mackenzie back together.
Michael said de Becker's judgment is clouded, because he has been trying to break Sanchez and Bezos up to protect MacKenzie Bezos, a close de Becker friend. Sanchez says De Becker told Bezos to agree to a 30-day physical separation from Sanchez, and encouraged Bezos and MacKenzie to undergo couples therapy with celebrity therapists Rae and Judy of Maui Intensives Inc. (Weekly fees start at $12,500, according to their Web site.) "Once Judy and Rae were hired," Michael said to me, "I told Lauren, 'Watch out. We're fucked. Gavin is going to get Jeff back together with MacKenzie.'"
Which we're sure makes perfect sense if you live in California. But we can't help noticing that Mr. Sanchez refers to himself and his sister as "we." As in "we're fucked" if Bezos drops his sister and reconciles with the mother of his four children. How Mr. Sanchez would personally be "fucked" if Bezos broke up with his sister is ... unclear. But if Sanchez told us it was Monday, we'd seek a second opinion. The East Bay Times reports that Lauren Sanchez is currently not speaking to her brother, to which Michael counters, "Even when she and I have had fights when we were kids, in college, or whenever, if anyone says a word against her, I defend her and protect her to the end. That's the essence of my relationship with my sister." Riiiight.
Let the record reflect that the witness is FULL OF SHIT.
[VF / East Bay Times]
Follow your FDF on Twitter!

Please click here to support your Wonkette, who keeps up with these garbage people just in case they're the next Stormy Daniels. But it's nasty, so MONEY US!
Liz Dye
Liz Dye lives in Baltimore with her wonderful husband and a houseful of teenagers. When she isn't being mad about a thing on the internet, she's hiding in plain sight in the carpool line. She's the one wearing yoga pants glaring at her phone.