Sandra Fluke To Slut Up Your Congress. Be Careful Out There, Congressmen.
News
February 04, 2014 12:01 PM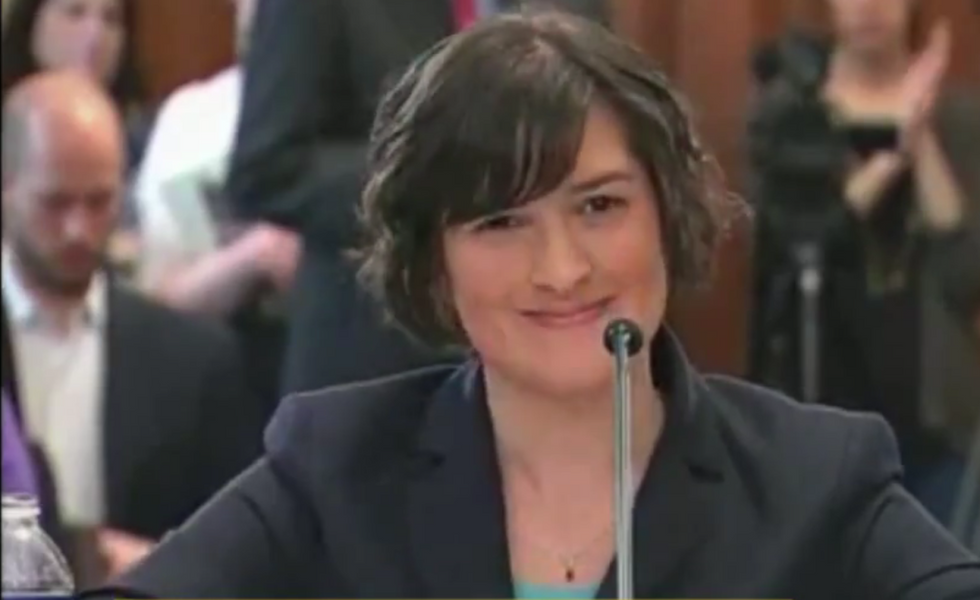 ---
Hey ladies. How you doing? With your uncontrolled libidos, we bet you are slutting it up all over the place, so thank the Spirit in the Sky that you can get free government slut pills so you can be as slutty as you wanna be! But maybe you whoring whoremonsters need some representation at the highest level of government, to make sure that your silly little "rights" are protected from Neanderthals who view modern women as 'sluts' and 'prostitutes.'
Where, oh where, will we find a heroine who will be able to articulate the need for women's equal access to healthcare, perhaps one who has already faced about as much criticism from the batshit crazy right as would be possible? Well, wonkeroos, open your legs wallets for Sandra Fluke, who has officially filed to run for Congress in California! 
You all remember Sandra Fluke, right? She was the one who tried to testify before Congress when she was a law student at Georgetown. Rep. Darrell Issa (R-Satan's Bunghole), who is notorious for being a giant assclown of unlimited proportions, said no, because she was not qualified to discuss the issue. Instead, the Republicans listened to a panel of ALL MEN. Look at the sausage-fest photo: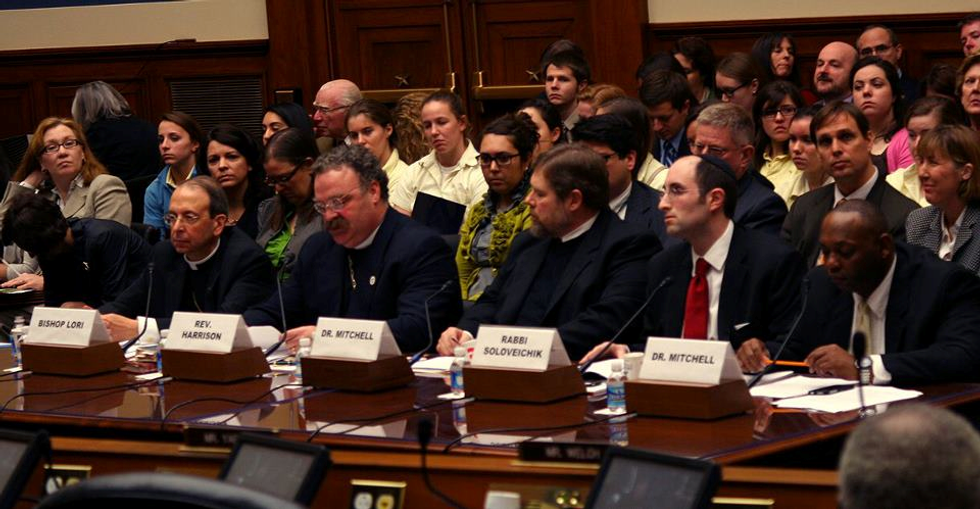 Yes, they all look more qualified to talk about birth control for women, especially the priests.
Well, because she was a young lady who wanted to talk about birth control, Rush Limbaugh made the completely logical inference that she must be a 'slut' or a 'prostitute.' Because why else would a single lady want to use birth control? And the right wing, clearly not able to form independent thoughts on their own, jumped on the bandwagon of demonizing this young woman, who only wanted to give her view to Congress as to why "church-affiliated" institutions, like Georgetown, should not be able to cram their religious views down her throat and deny her the ability to have the same access to birth control as other people. (Then Rush Limbaugh, facing about eight billion dollars worth of advertiser pullouts, was "sorry.")
Well, Fluke faced the criticism like a champ, and even received a phone call from President Obama thanking her for speaking out on an important topic, which of course made the right go even more bonkers than normal, with several sightings of RWNJs literally frothing at the mouth.
Now Fluke would like to take a more active role in creating policy, and has filed to run in California to fill the seat being vacated by the retiring Henry Waxman. According to Politico, "Two other candidates have filed to run and three others are considered potential candidates," but Politico could not be bothered to list their names, because maybe the internet is running out of space? (Angelenos, they are Wendy Greuel and Ted Lieu.)
Whoever wins Henry Waxman's seat should be able to hold it for the next 40 or so years, so choose wisely, Los Angeles. And by "choose wisely," we mean send Sandra Fluke all your monies, just as soon as she gets a campaign page up.
[Politico]
Follow DDM on Twitter (@Wonksplainer), because he is a slutty whoremoster just like you.