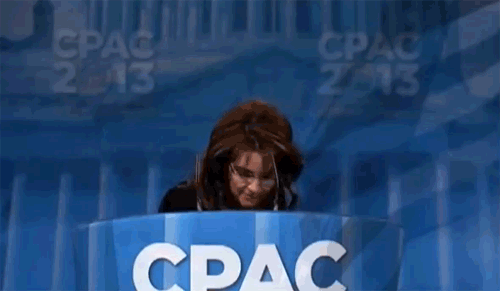 Giphy
Well here's a nice story for ya from Wasilla where the air is cold and it's moose bonin' season, when the moose bone each other all the live-long day!*
Sarah Palin was sittin' up there in Alaska and she heard, dontcha know, that Joe Biden, AKA Squirrelly Joe, picked Kamala Harris to be his VEEP, AKA his VEEPEE, AKA his Mama Grizzly, just like John McCain picked Sarah Palin to be all those things!
And she thought, well, maybe I should go get a Big Gulp and put a coupla squeezes of squeezable Boone's Farm in it,** ya know? and after that, she just thought, ya know what? Ya know what? Ya know? Ya know.
So she got her ghostwriter on the Zoom (she's been stayin' at home because of the Covid) and said hey ghostwriter, ya know? Ya know? Ya know. We should write somethin' nice to Kamala Harris, because as I always say, to everything there is a season, and right now, I feel like it's the season to be nice and give Kamala some real good advice, Mama Grizzly to Mama Grizzly, about the upcomin' campaign!
(YOU KNOW I STILL WANT 'EM TO LOSE, HONK HONK, said Sarah Palin, honkin' the joke horn she keeps by her Zoomin' couch for these occasions. Bristol gets mad 'cause it wakes up the new twins Scoundrel and Wombat*** but that's not Grandma Grizzly's problem now is it.)
They wrote the nice message on the Instagram, which we'll place here so you know we aren't fake newsin':
---
Congrats to the democrat VP pick. Climb upon Geraldine Ferraro's and my shoulders, and from the most amazing view in your life consider lessons we learned:

1) out of the chute trust no one new;

2) fight mightily to keep your own team with you - they know you, know your voice, and most importantly are trustworthy;
OK now some people might be thinkin' Sarah Palin is bein' a Mean Jean here, because some people say Kamala Harris's sister tanked her campaign, but in reality Sarah Palin has not read that article. Sarah Palin is just still real PO-ed at Nicolle Wallace and Steve Schmidt, who said mean things about Sarah Palin on the 2008 campaign and were very disloyal to John McCain and his favorite veepee Sarah Palin.
Know who Sarah Palin's not gonna be nice to? Nicolle Wallace and Steve Schmidt. Why, every time Sarah Palin goes shootin' wolves from airplanes, she gives each one a name, and it is "Nicolle," every last one of 'em, and every time she watches a man — Todd? Nope. Not unless he's comin' around here uninvited, dontcha know — grind a turkey to death headfirst for the Lord's feast of Alaskan Thanksgiving, she calls it "Steve the Turkey."****
Anyway now they're basically DEMOCRATS. Just like Kamala Harris. Who we're bein' nice to right now. Wait, where were we? Let's get back on track.
3) don't get muzzled - connect with media and voters in your own unique way. Some yahoos running campaigns will suffocate you with their own self-centered agenda so remember YOU were chosen for who YOU are. So stay connected with America as you smile and ignore deceptive "handlers" trying to change you;
Yep, this one's about Nicolle 'n' Steve too, Sarah Palin appears to have gone off on a wee oopsie of a tangent. Hey! Hey! Hey there. Ever wonder what would happen if you put Easy Cheese directly into a Boone's Farm squeezable?
OK, Sarah Palin, FOCUS.
4) some fun terms you may learn:
"OTR" - an orchestrated campaign stop that's meant to look un-orchestrated where you "normalize" in front of voters. (I'd remembered not packing my running shoes, they turned it into a whole campaign stop with media detailing my every move trying on shoes.) OTR's get bizarre (try eating in front of vultures looking for the "gotcha" shot!) but my team made OTR's the second most fun thing!

"Ropeline": thee MOST fun thing!
theeeeeeeee MOST!
Every single handshake and holler and hug and smile melted my heart, energized my soul, and gave me the utmost hope in the greatest country on earth! The ropeline is often the only way to literally touch those whom you wish to serve, so be sincere in looking in their eyes, understanding why they're there, never forgetting they represent the innumerable Americans putting their trust in you to serve for the right reasons. It's who and what they represent that is all that matters!
'Specially durin' pandemics. All the hugs 'n' hollers!
5) don't forget the women who came before you;

6) have fun! This IS the greatest country in the world and hopefully you'll be blessed beyond belief, like I was, with meeting new people from all walks of life and see just how great it is!

more to come... including one of the funniest things in my life, right before my debate with Sen. Joe Biden... stay tuned!

- Sarah Palin
Well that just ended very nicely. Maybe Sarah Palin read that article about how she was the only woman to experience sexist treatment in 2008 and was determined not to let THAT happen again in 2020.

Or maybe she didn't even read that article.
OH AND ONE MORE THING: Remember, Kamala Harris, if at first ya don't succeed, try and try ag ... you can always go back to bein' a senator and then quit halfway through your term. Or like three-quarter way. Just wherever ya are in your term.
You know? You know? You know.
*We do not know if it is moose bonin' season.
**We do not know if Boone's Farm comes in "squeezable," or if it is available at the Wasilla supermarket where Sarah Palin shops.
*** Wonkette does not know if Bristol Palin is a new parent lately again, but "Scoundrel" and "Wombat" are good guesses.
****Don't know if Sarah Palin's been wolf-shootin' lately, or if she names them from the sky.
Follow Evan Hurst on Twitter RIGHT HERE, DO IT RIGHT HERE!
Wonkette is fully funded by readers like YOU. If you love Wonkette, WE NEED YOUR LOVE GIFTS TO KEEP US GOING.

Evan Hurst
Evan Hurst is the managing editor of Wonkette, which means he is the boss of you, unless you are Rebecca, who is boss of him. His dog Lula is judging you right now.
Follow him on Twitter RIGHT HERE.