Sarah Palin To Use Gawker-Suing Expertise As Next Commander-In-Chief
News
November 29, 2010 04:15 PM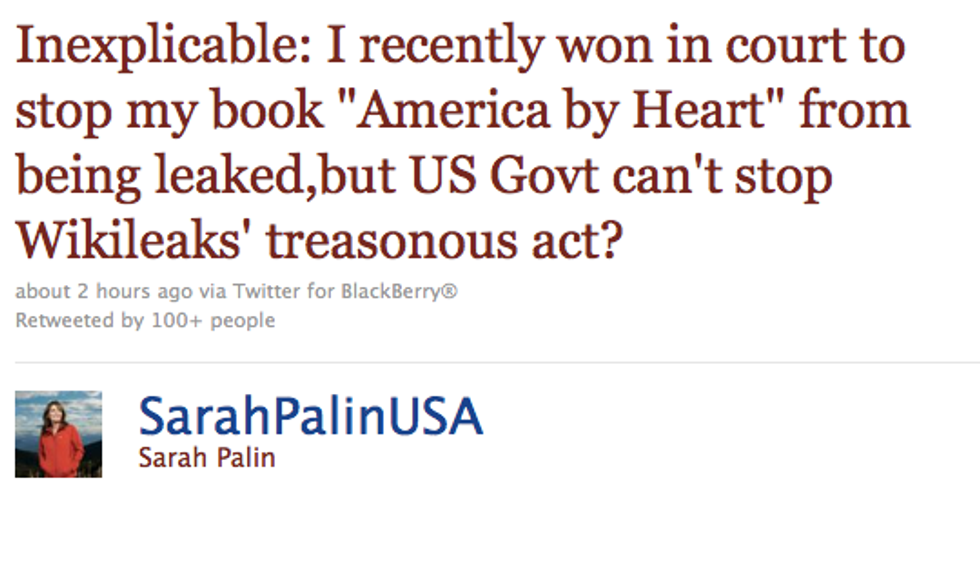 Why can't the U.S. military stop every single one of its soldiers from sending sensitive documents to Wikileaks? Because Sarah Palin is not currently commander-in-chief, of course. She, UNLIKE OBAMA, knows how to sue blogs.
---
What's the mark of a true journalist? Being able to turn a Palin tweet into a full news story:
Sarah Palin was able to get a federal judge this month to stop a website from publishing unauthorized excerpts of her book. Now, she wants to know why the White House couldn't put the breaks on Sunday's WikiLeaks document dump.
See, if you just repeat in a newspaper the same logic she attempted on Twitter, it almost makes sense!
Let this woman be in charge of our wars overseas and she will sue Gawker. It's a campaign promise we can all get behind. [Politico]