Sarah Palin's Posse Grabs White House By Pussy, And It Is Classy As Fuque!
Culture
April 20, 2017 10:10 AM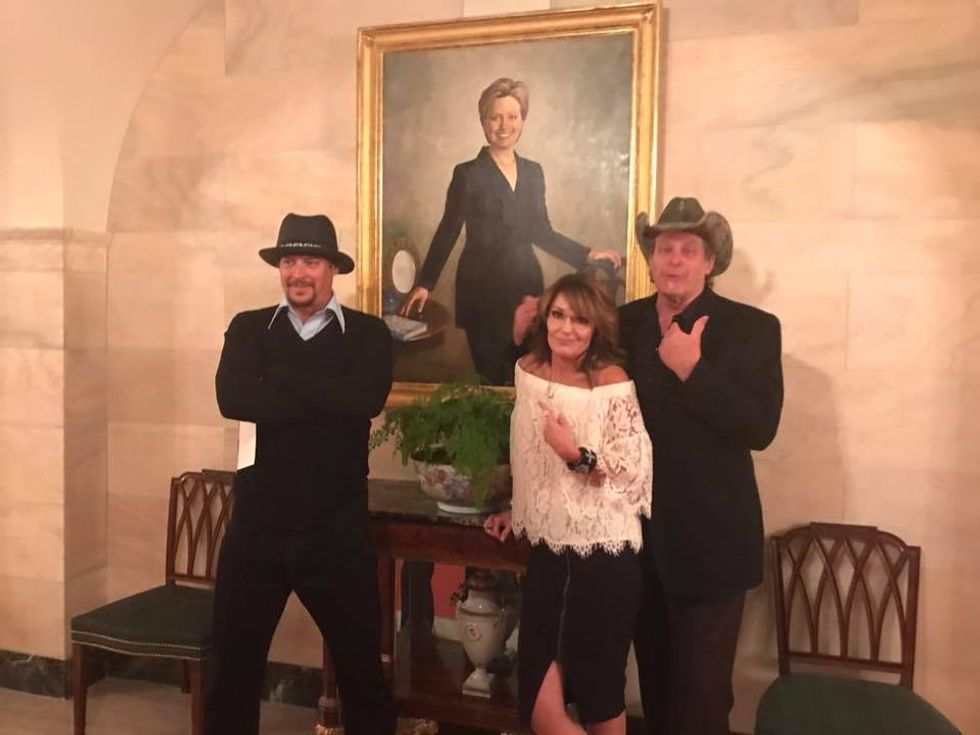 Classy
---
UPDATE: Guys. We fucked up and said Sarah Palin brought her daughter BRISTOL to the White House, and then proceeded to make a bunch of jokes about Bristol. All those jokes are still valid, but it turns out it was WILLOW Palin, who is 22 and looks just like BRISTOL now. So we apologize for how we can't tell Palins apart. Anyway, now you may proceed with this post ...
When President Barack Obama invited people to dinner, it was always lame dorks like Oprah and Beyoncé and a bunch of dorkass so-called "Nobel Prize winners," probably. But now a new, classy president is in the White House, which means the dinner party guest list is also new and classy. So it was that Wednesday night, Sarah Palin, Ted Nugent and Kid Rock descended upon the People's House, and proceeded to fuck shit up like meth-addled Juggalos.
In case you're not familiar, Sarah Palin is the former half-term quitter grifter governor of Alaska, whose current job is telling her ghostwriter to put things on Facebook while she takes shots of Boone's Farm; Ted Nugent is a "musician" who's always threatening to murder Hillary Clinton and Barack Obama, and he currently has Cat Scratch Fever, on his penis; and Kid Rock is this guy who used to date Sheryl Crow before she came to her senses. Like we said, CLASSIEST GUEST LIST.
Nugent brought his wife Shemane, Kid Rock brought his beloved fiancée Audrey, and Sarah Palin brought her daughter Bristol WILLOW!, because we guess Todd Palin is in the doghouse for failing to trap enough moose to keep the family fed for the year. Or maybe his fanny is still broked from his snowmobiling accident. Regardless, Bristol WILLOW was there, being pregnant or not pregnant or whatever she's up to these days.
As you can see above, the crowd of party animals took time to pose in front of the White House portrait of Hillary Clinton. "Make a funny face, momma and you boys," Bristol WILLOW probably said as she tried to figure out how to take a picture without putting our her Capri Menthol 120. So Sarah and the Nuge did their best "doy doy doy!" faces, while Kid Rock looked away from the camera.
Don't worry, they also took a "serious" picture: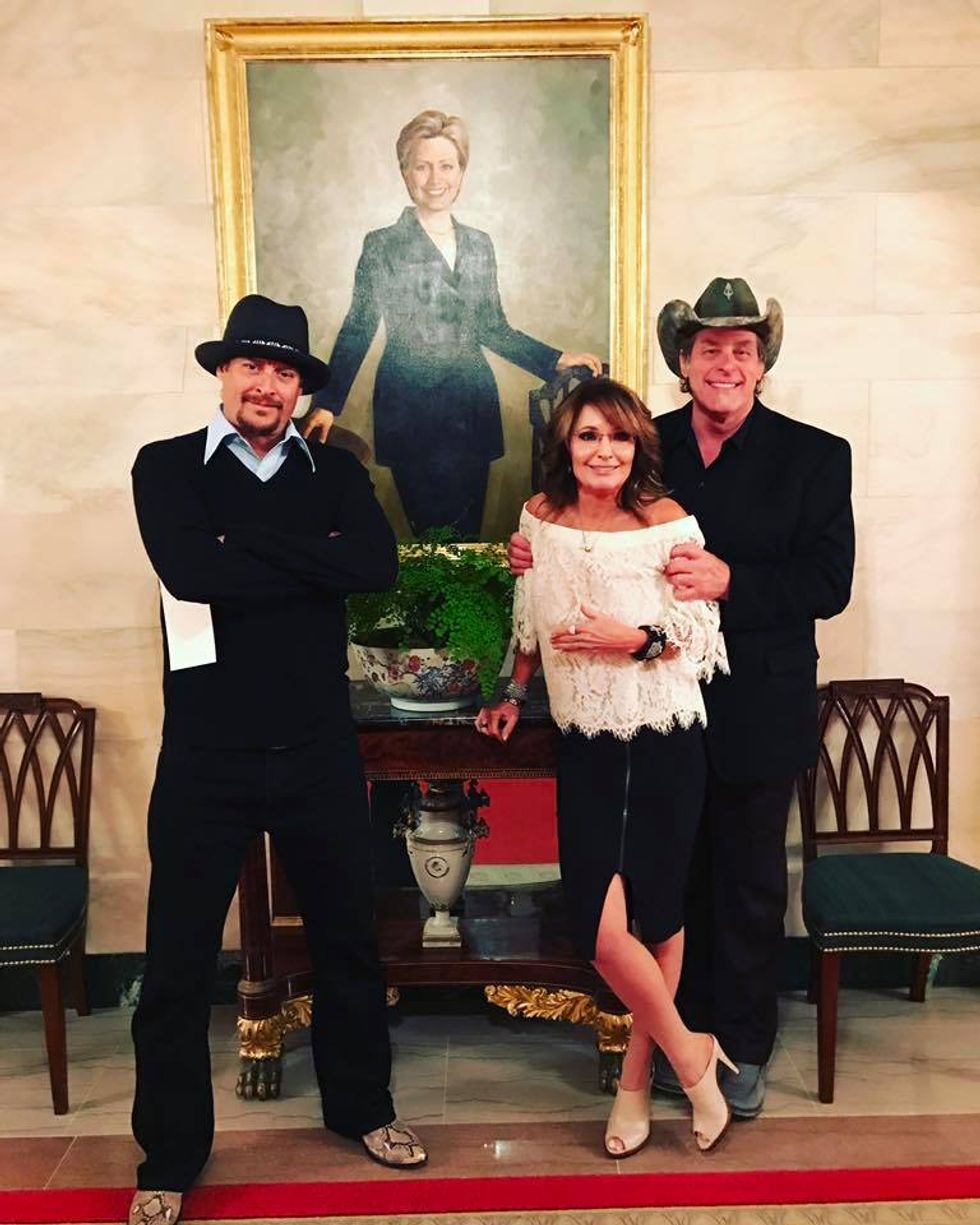 At some point during the evening, probably between appetizers (6 PM) and White House Pussy Grabbin' Free-For-All Hour (7-8 PM), everybody visited "President" Trump in the Oval Office so they could see where he does his "work."
For this picture, Bristol WILLOW likely said, "OK, everybody stand around Mister President and led him read you something important," to which Sarah probably replied, "Oh honey, President Trump doesn't know how to read." But everybody gave it a good try while Trump "read" his latest "presidential briefing paper" to them, which said "watermelon watermelon yooge watermelon the most tremendous watermelon, so many watermelons you're gonna get sick of watermelons."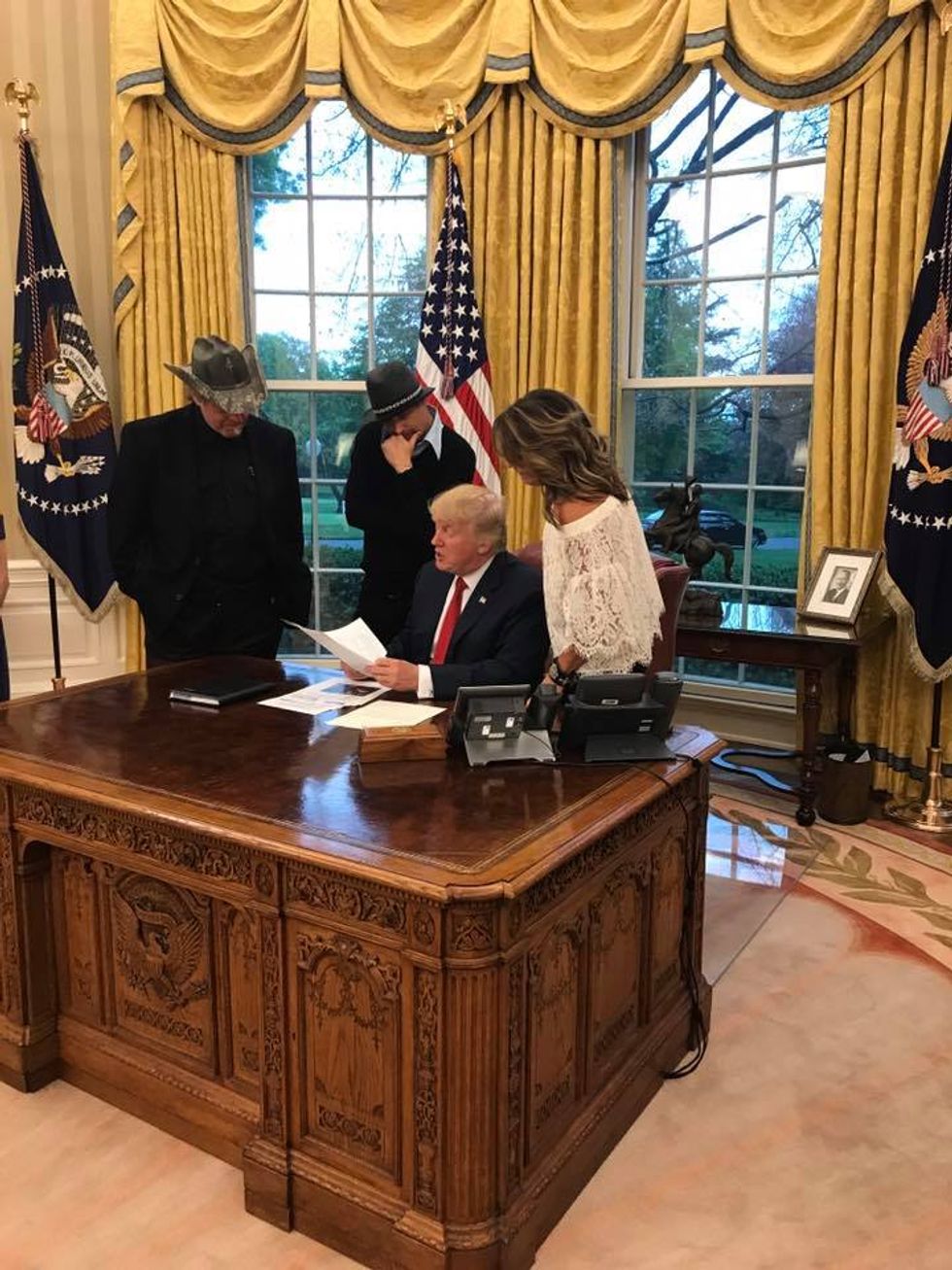 Sarah Palin got to have her own one-on-one shot with Trump, while she reassured him that if presidenting gets too hard or it gets too hot in the kitchen, it's COMPLETELY acceptable to quit things halfway through: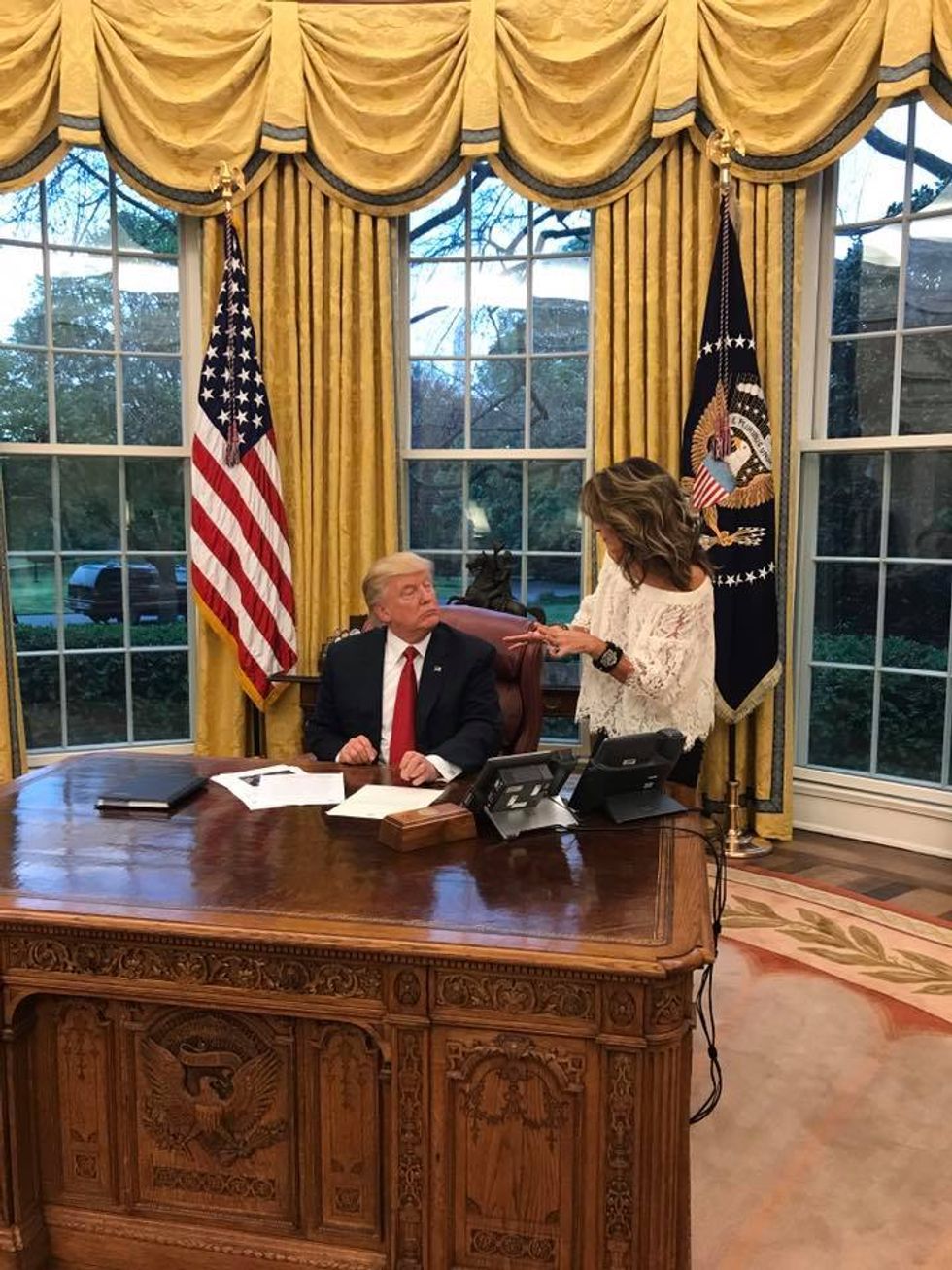 At last, Trump got a phone call from his real boss Vladimir Putin, so Sarah snucked over for a little nookie nookie with Jared Kushner. Now, we don't LITERALLY mean Sarah tried to do nookie nookie to Jared, but she might have, if only to send Bristol WILLOW a subtle message that "HANDS OFF, THIS ONE IS FOR MOMMY":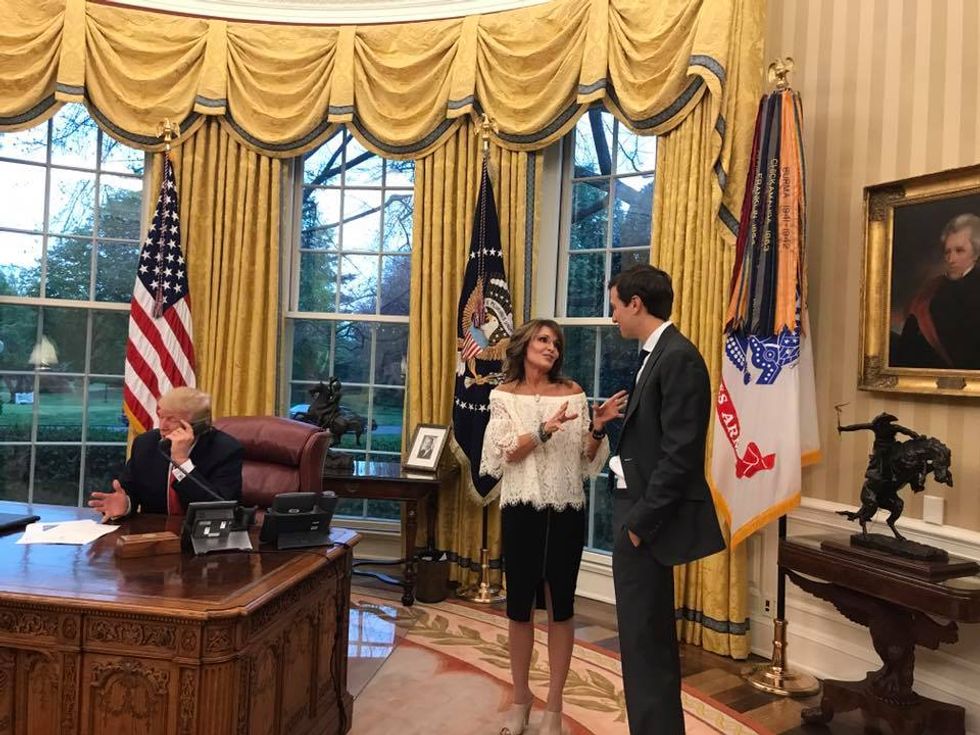 Finally, it was time for a group portrait, to commemorate how there were literally more IQ points in the Oval Office at that one time than there had EVER been. Bristol WILLOW ... we guess she is still the photographer? Jesus, Sarah, why did you even bring her?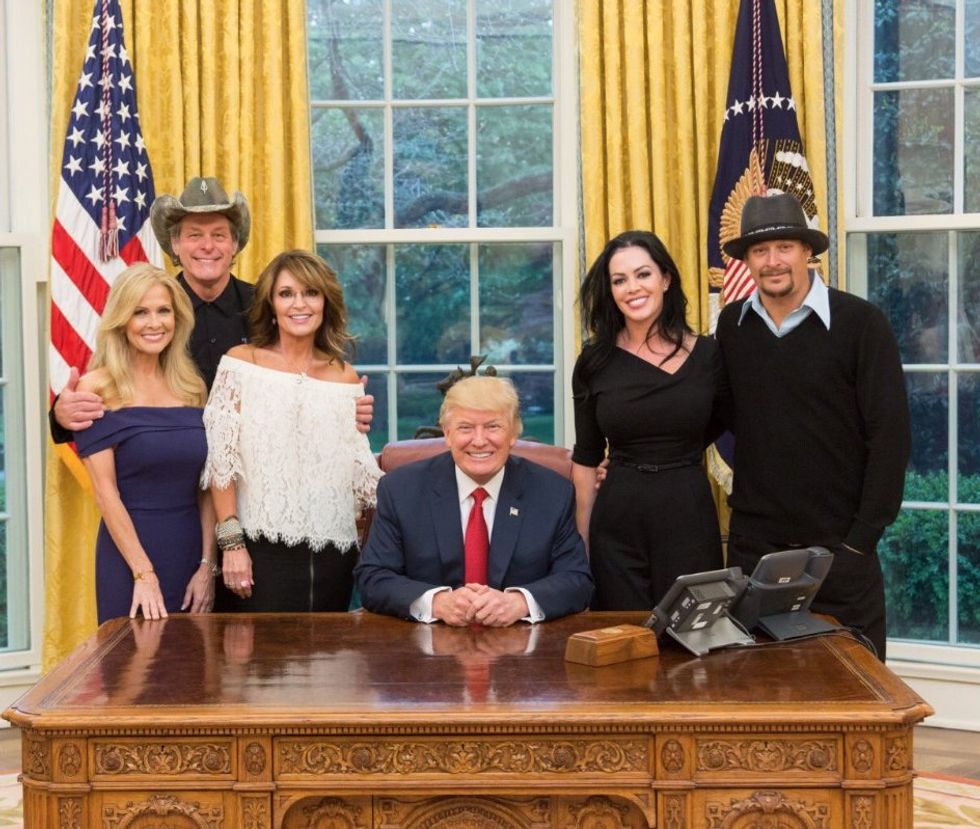 OH LOOK HERE IS BRISTOL WILLOW OR WHATEVER HER NAME IS! We guess they finally found Kellyanne or Spicey to take a picture of everybody. We don't know who the people on the right are, and we don't care.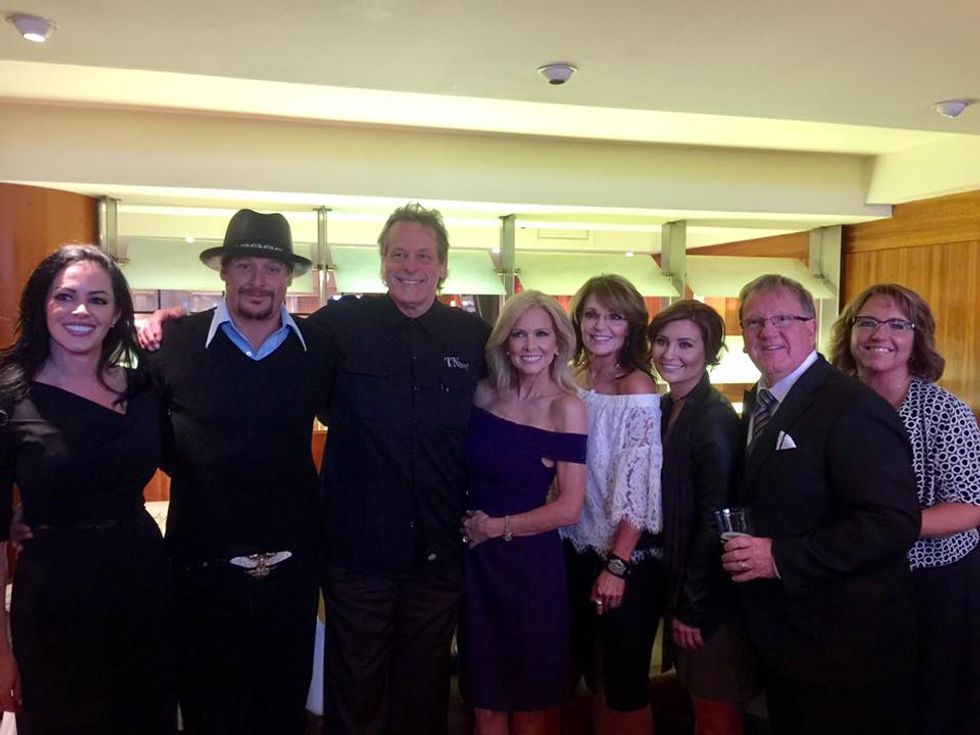 And then they ate a dinner of meat chunks and Doritos, and talked about bombs and pussy and grizzly bears, until finally everybody passed out in a redneck puppy pile until Trump's "Get up and play Twitter" alarm went off at 3 AM.
It was a very good night.
Wonkette is fully funded by readers like you! If you like this post, click below, to fund us!
Evan Hurst
Evan Hurst is the managing editor of Wonkette, which means he is the boss of you, unless you are Rebecca, who is boss of him. His dog Lula is judging you right now.
Follow him on Twitter RIGHT HERE.