Scott Brown's Facebook Fans Are FURIOUS At Scott Brown Again
News
July 17, 2010 02:32 PM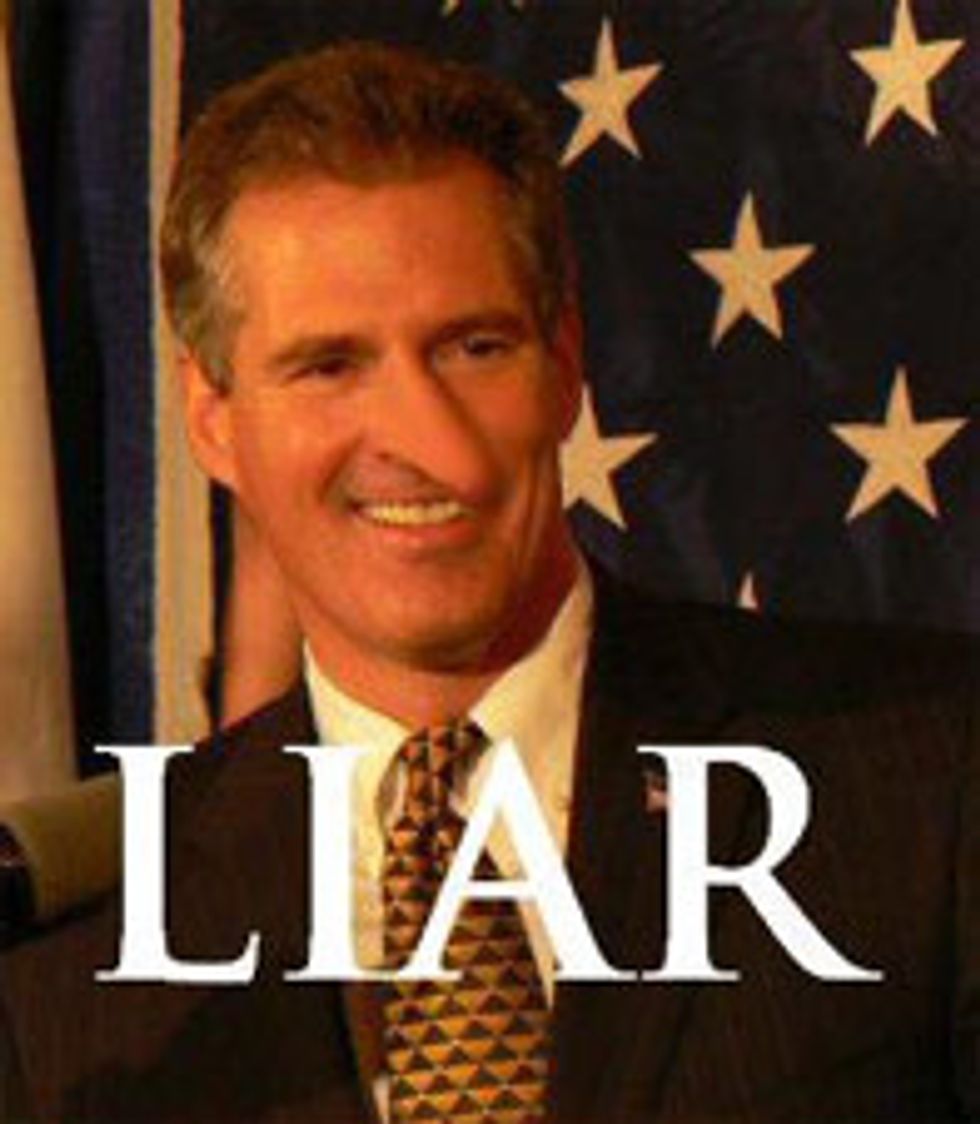 America's new Ted Kennedy, Senator Scott Brown, just can't stop himself fromenraging the tri-corner Internet lamers who rallied nationwide to help him defeat some Democrat lady who didn't even really try to win. Brown's latest treachery was voting to stop Republicans from preventing passage of the middle-of-the-road Financial Regulation bill. HOW COULD HE DO THIS WE THOUGHT HE LOVED THE REAL PRO-AMERICA AMERICA, etc. Let's see how his "Facebook Wall" is standing up to the great patriotic Internet Lamer assault of July 2010.
---
Here is Scott Brown's Facebook page, which might as well be written in Kenyan, right??!?
You lie!
Shame on you Senator Brown. I sure hope you are reading this board. Here's the thing that should be glaring at you: The people who supported you and voted for you are disgusted with you, BUT !!!!!!! The people who voted against you and for Ms. Coakley are thrilled with your vote. That should speak volumes to you.
What do you expect? You listen to mainstream media like FAUX news and this is what you get. I heard Hannity AND Rush call this guy a "real conservative" for WEEKS! Pull your head out of your a** America and start making decisions for yourself.
You're the biggest disappointment in a generation. You're done! Good luck on your re-election...you'll need it.
I'LL BET I KNOW WHAT BARNEY GAVE YA!!!!
I sent money to you, during your campaign because I thought you would be a big help--and I live in Florida--I wish now that I didn't--you sure fooled alot of us--How could you vote for a bill when Dodd said it will affect every aspect of our lives--and no one will know how it actually works until it is in place? I am ...not surprised that your other 2 cohorts voted with the libs---hopefully their days as polititians are numbered--unfortuantely--we have to wait 5 years for the end of your term!!!!
Just looking at your lying face makes me want to regurgitate....gotta' go now...find a toilet!
Mr Scott Brown - I want my 50.00 back that I sent you. You lied to us, you are a liar.

Please send me my money back ASAP.

SCOTT BROWN LET LUS DOWN. hE IS A FANATICAL LIB. I COULD REALLY CRY. THIS IS A SAD DAY INDEED FOR THE PEOPLE OF THIS COUNTRY. YOU ARE A TRAITOR.

Thanks for nothing Brown!!!!! What a total dissappointment you are!

Dudes in the park pulling 3 card monty aint got nothin' on you!! You fleeced all of New England AND the American people! You are the worst joke pulled on us besides that bafoon Obimbo. If you had 1 ounce of self respedt left, you would resign and hand ...your spot in congress over to someone who actually has the courage to not to be a Bama lap puppy.

You sir, are a marxist Tool now
Thanks a hell of a lot ass hole.....I knew you were a rhino....Anyone for Mass. has to be a closet liberal.....
RINO is all I have to say!!!!!!!!!!!!!!!!! Thanks a bunch to you the new Mr. Spector!!!!!
I think the only time you showed our true colors was when you posed nude for Cosmo. "The People's Seat????"....indeed! There will come a day when the people will want it back.
[Facebook via Wonkette Operative "JoeWo"]