Scott Pruitt, Superfund Site! Wonkagenda For Fri., April 6, 2018
Elections
April 06, 2018 09:08 AM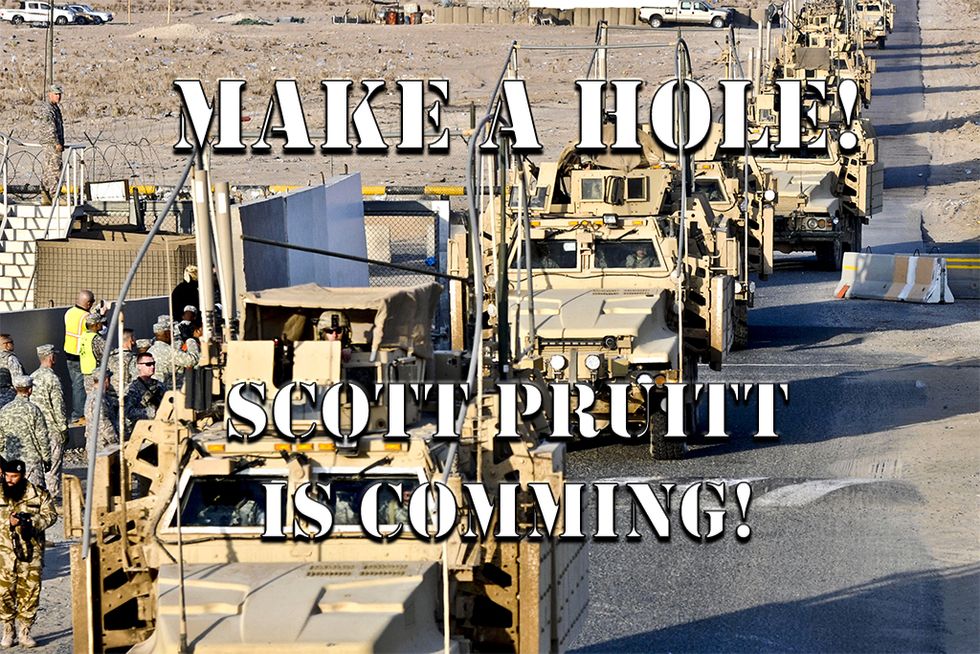 Morning Wonketariat! Here's some of the things we may be talking about today.
---
Even though he was warned, Robert Mueller is REALLY interested in the Trump Organization, Michael Cohen, and their business in former Soviet states. Mueller is also crawling deeper into Paul Manafort's ass for cell phones and emails "that are not the subject of the current prosecutions involving Manafort."
Early this morning, The Treasury Department sanctioned, "7 Russian oligarchs, 12 companies they own or control, 17 senior Russian officials & a weapons trading company and its bank," including Oleg Deripaska, Viktor Vekselberg, Andrei Skoch, Igor Rotenberg, Kirill Shamalov, Suleiman Kerimov, and Vladimir Bogdanov.
Corey Lewandowski didn't want to answer any "fucking" questions by Democrats on the HPSCI, telling reporters that he felt Democrats were grabbing him by the pussy, adding, "The language they used in the committee was appalling...I've never heard such language used before."
A freelance national security journalist has come forward with Twitter DMs discussing DCCC document dumps from Guccifer 2.0 back in 2016. After the reporter asked for some of the cache to post on a non-profit Internet archive, she was told to fuck off by Guccifer and Wikileaks/Julian Assange, as "other media groups are very likely to take a stupid initial angle," like blaming Russians, "because they don't properly verify prior to publication..."
Devin Nunes is up to his same old bullshit, demanding unredacted copies of the documents that triggered the FBI's initial Trump-Russia investigation. You know, the documents that reveal how George Papadopoulos got drunk and bragged to an Australian diplomat in a London bar about getting "dirt" on Hillary Clinton from Russia?
Trump wants to impose an additional $100 billion in tariffs on Chinese goods, and congressional Republicans are starting to vent to the press about the effects on US farms and industry.
Multiple EPA officials were "You're Fired" or reassigned after they bitched about EPA administrator Scott Pruitt's reckless spending that included a bullet proof SUV, a $70,000 pair of office desks, expanding the number of bodyguards, and a special motorcade and siren to run red lights. In addition to ALL OF THAT, there's reporting on sketchy trips to Paris, and that former White House aide Rob Porter has been orchestrating Pruitt's demise after Porter's ex-girlfriend told the White House about his past penchant for punching women. WHOOAATTT THE FUCK, if true! [Morning Maddow]
BUT WAIT, THERE'S MORE! Trump has considered replacing Jeff Sessions with Pruitt as recently as this week; aides have warned him that Pruitt is about as toxic as a Superfund site, which Scott Pruitt will no longer clean up.
Even though he built his political career railing against government spending, Mick Mulvaney has given at least eight political appointees salaries upwards of a quarter-million dollars a year, with other employees receiving significant pay raises over their predecessors for no discernible reason.
People on the Hill are wondering what's the deal with John Huber? Is he a second special counsel? Is he just window dressing? Is this just one of those weird Mormon things, courtesy of Orrin Hatch?
Trump said he doesn't know about the $130,000 payment Michael Cohen made to Stormy Daniels to STFU about their sex-capades, and Michael Avenatii is absolutely beside himself with joy.
No longer shackled by the constraints of elected office, Trey Gowdy tells Vice News that he was put on the House Intel Committee because of his nonpartisan bonafides, and congressional investigations are, in essence, a load of malarkey. He also noted that he "doesn't like" the job, and the Republican party only cares about elections. #HesRunning2020 [Video]
Conservatives are absolutely grief-stricken after California Democratic Sen. Kamala Harris went on Ellen and dodged questions about 2020, and then quipped about being stuck in an elevator with Trump and Jeff Sessions. Oh, the humanity.
Montana Democratic Sen. Jon Tester is going to have to roll up his sleeves this summer after the Green Party qualified for the November ballot (with a little assist from a GOP signature firm).
As Tronc gets ready to vacate the iconic Tribune Tower in downtown Chicago, the real estate asswipes who bought Tribune Tower are suing to keep the paper's name on the building, claiming a legal right to buy any "roof installation" for $1 as the building could be "irreparably harmed."
Hundreds of New Yorkers took to the streets to protest the killing of Saheed Vassell, who was shot 10 times by police for pointing "a pipe with some sort of knob on the end of it."
The Pentagon wants to make sure that your ass is ready for a motherfuckin' SPACE WAR! PEW PEW PEW!
The EU may be rotting from the inside as neo-fascists rise in political power some 14 years after the downfall of the Soviet Union, and actively campaign against the EU.
The attempted assassination of former spy Sergei Skripal and his daughter Yulia took an even more insane turn overnight after Russian state-news aired an ALLEGED phone call between Yulia and her cousin, with Yulia stating that she and her father are fine. British authorities released a statement reportedly from Yulia a short time later. This happens on the heels of a robust social media campaign by the Russian government Twitter accounts trolling the UK Foreign Office for a series of blunders by UK Foreign Minister Boris Johnson.
The Times of London is reporting that the poison used on the Skripals originated from a secretive facility in Shikhany, Russia, quoting a former commander of Britain's Chemical, Biological, Radiological and Nuclear Regiment familiar with the evidence that there was now no doubt of Russia's culpability, adding, "The Russians are scrubbing [the facility] down as we speak."
Facebook COO Sheryl Sandberg is attempting to mitigate the fallout of the Cambridge Analytica scandal, and it hasn't exactly gone well. Sandberg is suggesting users may have to pay to opt-out of targeted ads, and that more data breaches are "possible." Remember, Facebook already admitted that every user has likely had personal information stolen by cyber criminals utilizing their tech in the same way as Cambridge Analytica, AND that Facebook actively monitors private communications.
BUT WAIT, IT GETS WORSE! Facebook has been talking with hospitals and medical groups to share anonymized patient data as recently as last month, but the program has been put on hold while it deals with the Cambridge Analytica clusterfuck. Surely they were trying to make the world a better place.
Tucker Carlson went on a long-winded rant about a conspiracy to abolish the Second Amendment, noting that he "spent 48 years not becoming a conspiracy-minded nut," before implying that banks and local governments are trying to take your high-powered, semi-automatic and fully customizable assault weapons and high-cap magazines.
The fancy suits in the upper echelons of Fox News are freaking out over Laura Ingraham, though Rupert Murdoch thinks everyone is being whiny pussies for not backing Ingraham as advertisers continue to bail.
As Dame Peggington stared into the swirling, murky abyss of her gin cocktail, she pondered the "obnoxious" Parkland youths and the responsibility of adults. She yearns for the days when the negro wore suits and aspired to overcome unfortunate racial handicaps instead idolizing figures like Mark Zuckerberg, and "literally dressing as a child, in T-shirt, hoodies and jeans--soft clothes, the kind 5-year-olds favor." [Archive]
At 80, former Secretary of State Madeleine Albright opines on Trump's embrace of fascism and dictators, noting that the exporting of fascism as the American brand has dangerous ramifications for the safety of global society. Albright concludes the press is protector of the people, and that America is at its best when it defends and supports the indigent and oppressed.
Michelle Obama was talking at a leadership conference and joked that our beloved B. Barry Bamz was the good parent who makes you eat your veggies, and Trump is the shitty one who lets you eat candy, screw around, and stay up late.
And here's your morning Nice Time! OTTER PUPS IN A TUB!
Freedom isn't free, but Yr Wonkette is! Throw us some Ameros so things stay that way!
Dominic Gwinn
Dominic is a broke journalist in Chicago. You can find him in a dirty bar talking to weirdos, or in a gutter taking photos.