Special Counsel Investigating Scott Pruitt Because It's Just Another Monday
News
June 25, 2018 11:50 AM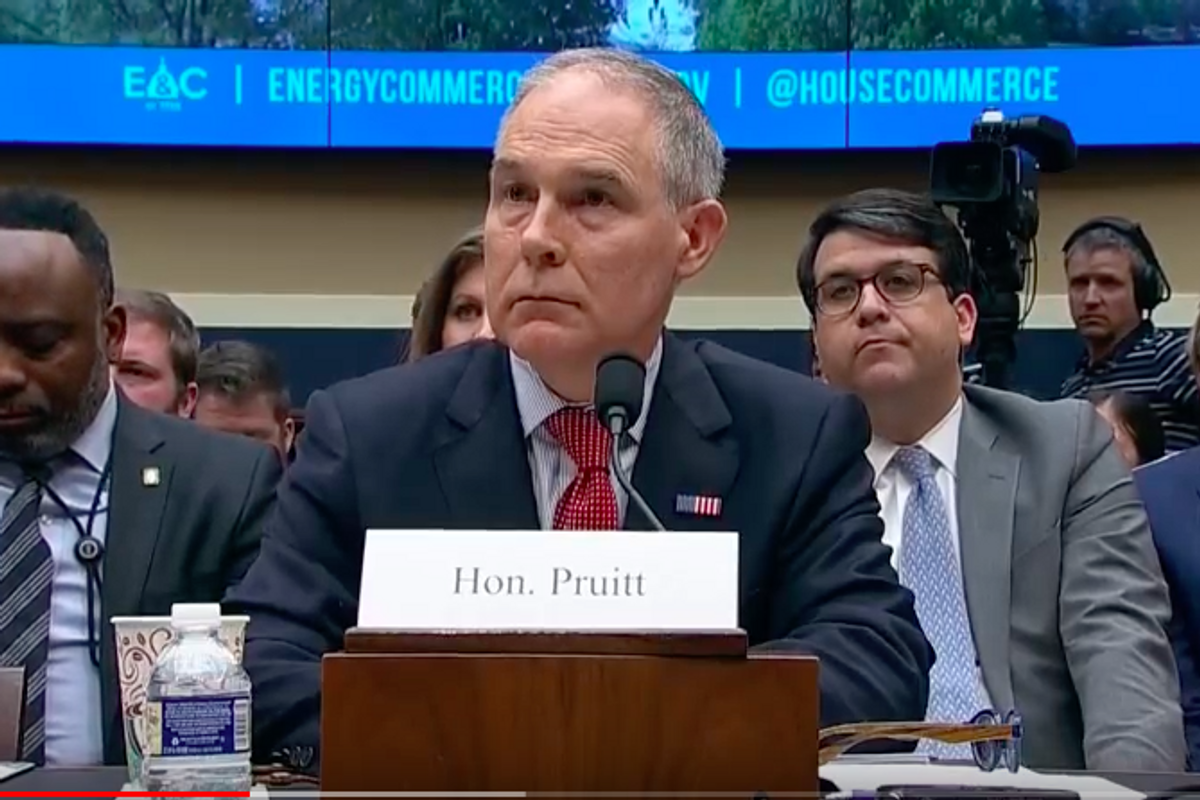 Scott Pruitt has been busy crooking up a storm since he became head of the Environmental Protection Agency, which he has dedicated his life to destroying. He's managed to stay under the radar somewhat because he works for an administration that kidnaps children, which is a bold but effectively distracting front for his grifting. It also helps that Congressional Republicans, including House Speaker Paul Ryan, routinely claim ignorance of his existence.
Unfortunately for Pruitt, the Office of Special Counsel is very much aware he exists.
---
The U.S. Office of Special Counsel is reviewing claims that Environmental Protection Agency Administrator Scott Pruitt retaliated against a handful of employees who pushed back against his spending and management, according to three people familiar with the process.

At least six current and former agency officials were reportedly fired or reassigned to new jobs, allegedly for questioning Pruitt's need for a 24-hour security protection — which has now cost at least $4.6 million — as well as his other spending and practices. OSC is in the process of interviewing some of those employees, according to the sources, although an OSC spokesman said the agency cannot comment on or confirm any open investigations.
Seems some EPA staffers objected to Pruitt's plan to devote more resources to his own protection than to the environment's. Pruitt likely also moved quickly to staunch a potential mutiny over his perfectly normal hobby of collecting used mattresses.
The previously unreported review by OSC adds to the roughly dozen other inquiries into Pruitt for seeking job opportunities for his wife, using aides to do personal tasks for him, and receiving sweetheart deals on a condo rental and exclusive sporting event seats from a lobbyist and a coal industry executive.
Earlier this month, Pruitt had explained away setting up his wife with a Chick-fil-A franchise with the stammering ease of someone found standing over a dead body, covered in blood and holding multiple murder weapons in his hands.
I asked Scott Pruitt a quick question about the reports he tried to help his wife become a Chick-fil-A franchisee.… https://t.co/h0DxuHZj5S

— Jessica Smith (@Jessica Smith) 1528307654.0
But I guess the heat is still on. The failing New York Times reported Sunday that the "sweetheart condo deal" (apparently an official legal term because everyone seems to refer to it that way) might've been scuzzier than we ever imagined.
Scott Pruitt, the head of the Environmental Protection Agency, discussed hiring a friend of a lobbyist family that owned a condominium he was renting for $50 a night, newly released emails suggest. The files also show communications involving the lobbyist's client interests that have not previously been disclosed, suggesting a closer relationship between the lobbyist, J. Steven Hart, and the agency than previously known.

The emails, released as part of a lawsuit filed by the Sierra Club, an environmental group, contradict early assertions by Mr. Pruitt and Mr. Hart that Mr. Hart hadn't lobbied the E.P.A. last year after concerns arose that Mr. Hart's wife had rented the condo to Mr. Pruitt.
Sheesh. Pruitt, master grifter he is, thought paying $50 a night for a room in a swanky townhouse would avoid the appearance of a bribe, even though that figure is roughly what you spend in drinks and pizza as a thank you for crashing at a friend's place on a lumpy guest bed mattress. The alibi weakens further when it's discussed in emails what could be exchanged for what is obviously not a bribe.
The potential hiring of Mr. Hart's family friend was discussed in emails between Mr. Pruitt's chief of staff, Ryan Jackson, and Mr. Hart, who was chairman of the Washington lobbying firm Williams & Jensen and whose wife, Vicki Hart, rented the condo to Mr. Pruitt. Other subjects discussed during and after Mr. Pruitt rented Ms. Hart's condo included refrigerant chemicals, which was raised on behalf of Coca-Cola, and the Paris Agreement — the global climate pact to address climate change — discussed on behalf of the global bank HSBC.

The emails also show that Mr. Hart suggested other potential hires to the E.P.A., including one person who he emphasized was a Republican and an African-American, on behalf of an executive of the philanthropic arm of the pork giant Smithfield Foods.
Clarence Thomas already has a gig. Ben Carson is set up at HUD. That leaves basically Herman Cain, I guess.
Coca-Cola has been promoting its "climate-friendly" HFC-free units, but despite that, Hart thought Pruitt should "give HFC a chance."
Some large U.S. companies like Coca-Cola have to make long-term investment decisions relating to their refrigerated beverage machines," Mr. Hart said. "There are all sorts of technical issues that arise when you get rid of HFCs. One is consumer safety. I kept hearing that the replacement technology had some problems — exploding vending machines. Thoughts?"
Not that Hart asked me but one thought I had is that Pruitt is a crook who should be fitted for striped pajamas.
Your daily reminder that @EPAScottPruitt remains a national embarrassment. Also, did Scott Pruitt do favors for a… https://t.co/2lF7l8Ingx

— Ted Lieu (@Ted Lieu) 1529883531.0
We'll learn this week if the Times story motivates actual Republicans to demand Pruitt step down or if he'll continue grifting along while protecting the nation from exploding vending machines.
You love Wonkette very much, yes? Make donations to pay for our JOURNALISM!
Stephen Robinson
Stephen Robinson is a writer and social kibbitzer based in Portland, Oregon. He writes make believe for Cafe Nordo, an immersive theatre space in Seattle. Once, he wrote a novel called "Mahogany Slade," which you should read or at least buy. He's also on the board of the Portland Playhouse theatre. His son describes him as a "play typer guy."