Secretary Of State Rex Tillerson Thinks Trump Is Total Fucking 'Moron,' And He's Not Wrong!
News
October 04, 2017 10:18 AM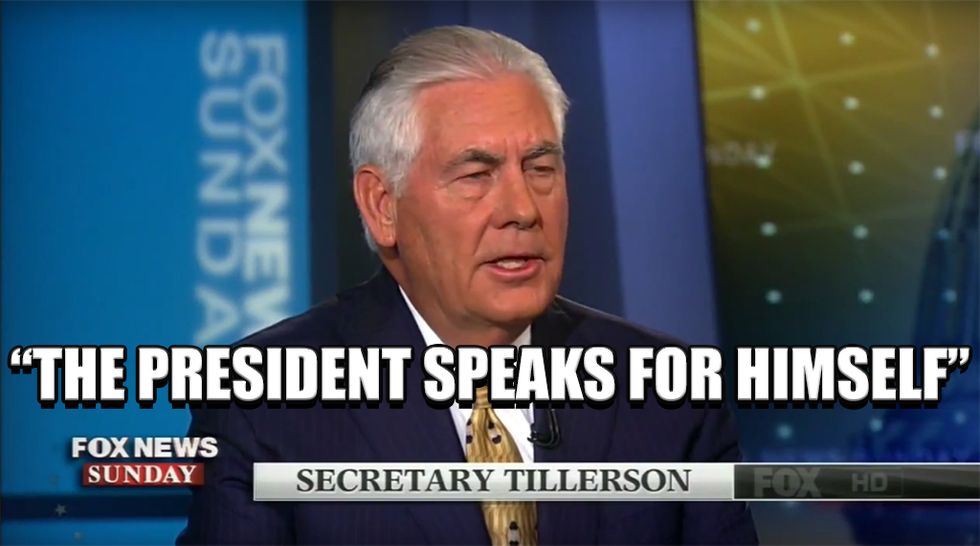 "AND HE IS A MORON."
---
Good morning, time for PALACE INTRIGUE about the White House, and also OFFICE BUILDING INTRIGUE, about the State Department! The scoop comes from NBC News, and it is that Secretary Of State Rex Tillerson, the man from Exxon, may not have been awake for much of his tenure in the Trump administration, but he's been awake long enough to notice that President Donald Trump is a YOOOOOGE FUCKING MORON. Indeed, he almost quit his job in fury over Trump being such a moron, and it was Vice President Mike Pence who had to sit him down, sing him a lullaby and tell him to stop saying things that are just obviously true.
Haha just kidding, Pence is one of the few people in Washington stupid enough that he actually thinks Trump is smart. Anyway, this all went down just after Trump visited the Boy Scouts and told them a nice wholesome story about his rich friend who throws elegant fuck orgies on big yachts:
Just days earlier, Tillerson had openly disparaged the president, referring to him as a "moron," after a July 20 meeting at the Pentagon with members of Trump's national security team and Cabinet officials, according to three officials familiar with the incident.
And then after Trump did the Boy Scouts thing, Eagle Scout and former Boy Scouts president Tillerson, who was on vacation in Texas at the time, reportedly threatened to "SEACREST OUT!" of his State Department job in a hissy. Fortunately (???) Pence talked him off the ledge and told him not to say factually correct yet problematic cusses about the president in public. Defense Secretary James Mattis and General John Kelly, who was in the process of moving his colored pencils and Trapper Keepers OUT of his office at Homeland and INTO the West Wing at the time, reportedly also helped.
The White House and Tillerson's spokesperson say all of this is fake news, but MSNBC's Stephanie Ruhle reported Wednesday morning that "I KNOW IT'S TRUE!" and added that SHE heard Tillerson called Trump an "EFFING MORON," by which she means "FUCKING MORON," but you can't say that on TV.
There were many rumors this summer that Tillerson was going to get in his bed, stick his big secretary of State butt in the air and refuse to ever go back to Washington DC because YOU CAN'T MAKE HIM. Around that time, State Department spokesperson and former Fox News idiot Heather Nauert had this hilarious and memorable reaction when a mean reporter wouldn't stop asking where Tillerson was:
CLIP: @Statedeptspox says Secretary of State Tillerson is "taking a little time off." pic.twitter.com/C2fGFvyWrb

— CSPAN (@cspan) July 25, 2017
Evan Hurst
Evan Hurst is the managing editor of Wonkette, which means he is the boss of you, unless you are Rebecca, who is boss of him. His dog Lula is judging you right now.
Follow him on Twitter RIGHT HERE.