Senate Confirms Surgeon General Even Though He Thinks Murder Is Bad For Children
News
December 16, 2014 08:00 AM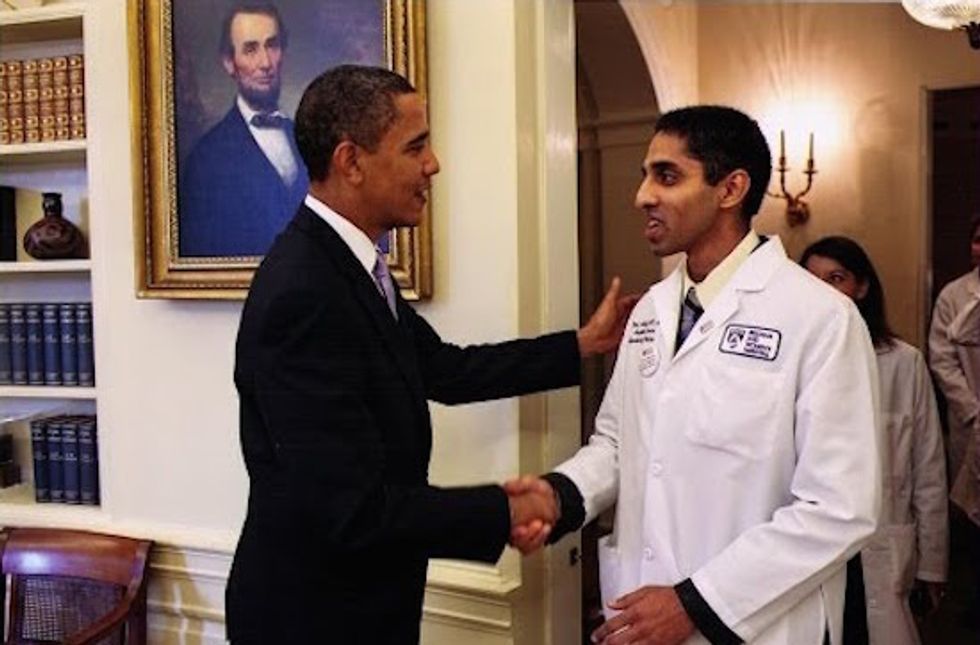 In a stunning and unusual act of doing their job, senators finally confirmed Dr. Vivek Murthy for surgeon general, a position that has remained vacant for more than a year because it's not like that's one of those important jobs. Unless, of course, there's an outbreak of Ebola -- or at least an outbreak of Ebola paranoia -- in which case, it's kind of handy to have some dude or dudette already on the payroll, ready and able to explain some basic healthcare stuff to Americans like they're idiots, which they are, so you don't have to scramble to appoint someone Czar Of Calming Down Idiot Americans Over Ebolamania.
---
Dr. Murthy's nomination had been languishing in the Senate because Republicans like Sen. Rand Paul felt the need to block him, for libertarian freedom and liberty. And the National Rife Association.
"Dr. Murthy has continually referred to guns as a public health issue on par with heart disease and has diminished the role of mental health in gun violence," Sen. Paul, who keeps insisting he's a doctor, whined in a letter to Sen. Reid in February of this year, which may or may not have been written for him by the NRA. Paul and his fellow Republicans, plus a couple a-hole "Democrats" in the Senate, have argued that because Dr. Murthy has espoused the exact same position as the American Medical Association, the American Academy of Pediatrics, and the American College of Emergency Physicians, he simply cannot be trusted to print those warnings on packs of cigarettes. As Rand (or the NRA) explained:
Dr. Murthy has disqualified himself from being Surgeon General because of his intent to use that position to launch an attack on Americans' right to own a firearm under the guise of a public health and safety campaign.
So how is it that the Senate finally held an Upper-Down Harrumph! vote on Dr. Murthy? Here's the long answer, for which we laughingly owe Sen. Ted Cruz a semi-debt of gratitude:
In an attempt to throw Barack Obama's treasonous executive action on immigration under the Cromnibus, Ted Cruz launched a whole bunch of delaying maneuvers to keep the budget bill from coming to a vote. None actually had enough votes to pass, but they also kept the Senate in session into this week, which gave Harry Reid a little extra time as Majority Leader. And so Reid brought forward several Obama nominations that had previously been left hanging, just to have something to do.
Here's the short answer: Harry Reid kind of sucks as majority leader, and he could have brought this up for a vote before Shutdownpocalypse O'Clock, but he had, well, other priorities: namely, trying to push through the vote on the doomed Save Mary Landrieu's Job By Building The Keystone XL Pipeline LOL Yeah Right Like That'll Work Act of 2014.
Anyway, thanks to Reid's rare decision not to care if Republicans think he's mean, he held a vote on Monday and Dr. Murthy was finally confirmed, no thanks to certain "Democrats" in the Senate, who suck:
Sen. Joe Manchin III, D-W.Va., said Monday he would vote against the confirmation of Vivek Murthy to be surgeon general, citing concerns over political positions the nominee has taken.

"Our Surgeon General serves as America's leader on public health services and chooses what health policies we should prioritize," Manchin said in a release. "For that reason, I don't believe it's appropriate for America's number one doctor to participate in political activism."
Despite the best efforts of Manchin -- as well as Sens. Joe Donnelly of Indiana and Heidi Heitkamp of North Dakota -- to appease the NRA because that's what Democrats from red states are supposed to do, according to the Big Book of Democratic Excuses, the Senate managed to Do A Thing, and now we have a surgeon general again, FINALLY. President Obama issued a statement shortly after the confirming vote, and we applaud him for not saying "SUCK IT, NRA" even once:
I applaud the Senate for confirming Vivek Murthy to be our country's next Surgeon General. As 'America's Doctor,' Vivek will hit the ground running to make sure every American has the information they need to keep themselves and their families safe. He'll bring his lifetime of experience promoting public health to bear on priorities ranging from stopping new diseases to helping our kids grow up healthy and strong. Vivek will also help us build on the progress we've made combatting Ebola, both in our country and at its source. Combined with the crucial support for fighting Ebola included in the bill to fund our government next year, Vivek's confirmation makes us better positioned to save lives around the world and protect the American people here at home.
Congratulations, Dr. Murthy, enjoy your new gig. Try not to talk too honestly about sexuality; Americans are still smarting from that one time Surgeon General Jocelyn Elders indoctrinated our kids about masturbation. We still haven't figured out how to explain that one to them. Maybe with an Eddie Eagle cartoon?