Senate Gives Dreamers ICE Nightmares. Wonkagenda For Friday, Feb. 16, 2018
Guns
February 16, 2018 09:09 AM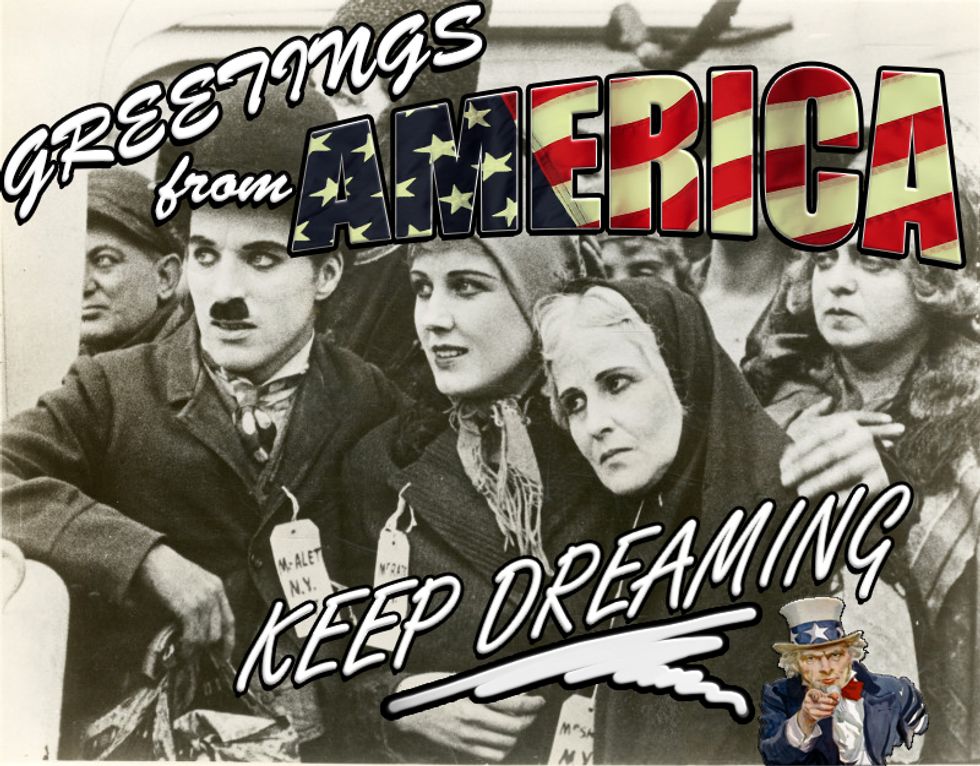 Hey, Wonketariat! Here's some of the things we may be talking about today, but first, HEY, Spokane, Washington! We're going to be all up in your face, friendly-like, with pizza and beer tonight from 6-8 p.m.! Now here's some painted puppers!
---
Trump's White House gave the House Intel Committee a list of questions for its chat with Steve Bannon, but also told Bannon to cite executive privilege for just about everything. Meanwhile, Bannon has been having long talks with Robert Mueller and his justice league of extraordinary investigators. Wonder what they're talking about, hmm?
Buzzfeed really wants to verify THE DOSSIER, and a federal judge is considering whether or not the Trump administration accidentally opened the FOIA yellow floodgates when it released the Nunes memo.
Dame Peggington Noonington is furious about all the pornography, homosex, and violent video games that have spurred youths to commit dastardly acts of destruction. Ms. Peggington opines that liberals should consider abandoning the slippery slope of deviance that is abortion to prevent mass school shootings, even though the shooter didn't say anything about abortion at all. Peggy just Knows Things. [Archive]
Ronan Farrow has a new report on the crazy lengths Donald Trump has gone to in concealing his affair with former Playboy model Karen McDougal. HINT: It's a lot. Also, this will be the only time "length" and "Donald Trump" appear in the same sentence.
"Thoughts and prayers" are all you'll get out of Congress as Republican and Democratic lawmakers retreat to their safe spaces where they're bitching about jumping to conclusions.
People complain there's a lack of information about gun violence, because in 1996 the Dickey Amendment banned the CDC from using federal funding to research gun control. Thank heavens we have thoughts, prayers, and a spreadsheet compiling 36 years of mass shootings in America.
The budget submitted by the Trump administration earlier this week would slash school safety funding by $25 million dollars, cut $400 million to prevent bullying, and stop funding the School Emergency Response to Violence that was put in place following Sandy Hook. Thanks, Trump. Your Tweets will surely heal a grieving nation.
A student journalist at Marjory Stoneman Douglas High School recorded interviews with his classmates during the shooting about their thoughts on gun violence. [Video]
The Russian trolls and bots are out en masse to shitpost against gun safety legislation, and give conspiracy nuts their talking points.
After weeks of blowing smoke and handholding, the Senate failed (again) to pass an immigration bill yesterday, leaving 1.8 million Dreamers with nightmares of ICE agents. As usual, Mitch McConnell is blaming Democratic opposition to the Republican proposals that wanted to do things like punish sanctuary cities, slash legal immigration, and build Trump's stupid wall.
Yesterday the House passed legislation that could gut mandates set by the Americans With Disabilities Act after conservative groups bitched about "drive-by lawsuits" that make businesses install ramps and elevators for disabled people (you know, like olds, veterans, or gun violence victims).
The FCC Inspector General is investigating FCC Chairman Ajit Pai for potentially violating rules in his push to allow Sinclair Broadcasting to gobble up small town newspapers and TV stations.
As the FEC considers whether or not to use a banhammer on online political advertising, Facebook and Google are swarming the Hill to protect their profit margins.
Big tech companies have been getting super cozy with Trump's White House as they all fight over who will bring the government into Jared Kushner's cloud-based future.
Scott Pruitt takes fancy planes and flies first class after growing weary of disgruntled proles accosting him in airports to say things like, "Scott Pruitt, you're f---ing up the environment."
Now that Congress has given VA Secretary David Shulkin a mulligan for using taxpayer money to fuck off to Wimbledon with his wife last year, Shulkin says the VA needs unity during its leadership crisis.
The DOD has issued a "deploy or get out" policy that will start booting useless goldbrickers who can't deploy for 12 months due to silly medical conditions, like bone spurs.
Thanks to pressure from some obnoxious liberal watchdogs, we now know that Trump's inaugural committee paid $26 million to an event planning firm owned by a Melon Trump's friend, and only donated about $5 million to charity. How noble.
Pastor Mark Burns, that lyin'-ass preacher who doesn't know doodly-squat about the Bible, wants to run for Trey Gowdy's congressional seat. Praise Jeebus!
About 300 Russian mercenaries have been killed in Syria following intense fighting last week with US-backed Kurdish rebel forces, although their employer disputes these figures.
Australia's coalition government is on the verge of breaking apart after Deputy Prime Minister Barnaby Joyce refused to be quit-fired for getting his pregnant mistress a kickass government job that opened up after last month's dual-citizenship "scandal."
Now that the UK has acknowledged Russia was behind the NotPetya cyber attack last year, the Trump administration attributed NotPetya to the Russian military, and threatened unspecified "international consequences."
A federal court has ruled that the an image stolen from Snapchat, uploaded to Twitter, and embedded on websites is a copyright violation as it screws the photographer out of precious royalties.
A treasure trove of FedEx customer information was left unsecured on the web for years by a third-party contractor, exposing names, addresses, and passport scans of people all over the world. FedEx says it's sorry for the inconvenience.
The PR team trying to clean up Mark Zuckerberg's image convinced a tech mag to write a long story that makes him look like a businessman instead of a dickhead by detailing the last two years at Facebook.
All three commanding officers of a Navy Seabee battalion stationed in Okinawa were fired after the battalion XO became "intoxicated" and was found walking around the woods butt-ass naked.
And here's your morning Nice Time! Koala cuddles!
We're 100% ad-free and reader supported, are we're definitely not walking around the woods naked.
Follow Dominic on Twitter and watch him yell about stolen data!
Dominic Gwinn
Dominic is a broke journalist in Chicago. You can find him in a dirty bar talking to weirdos, or in a gutter taking photos.