Senate Republicans Can't Wait To Cut Taxes For The Rich, Kill Your Healthcare, Screw Your Mom
News
November 30, 2017 01:10 PM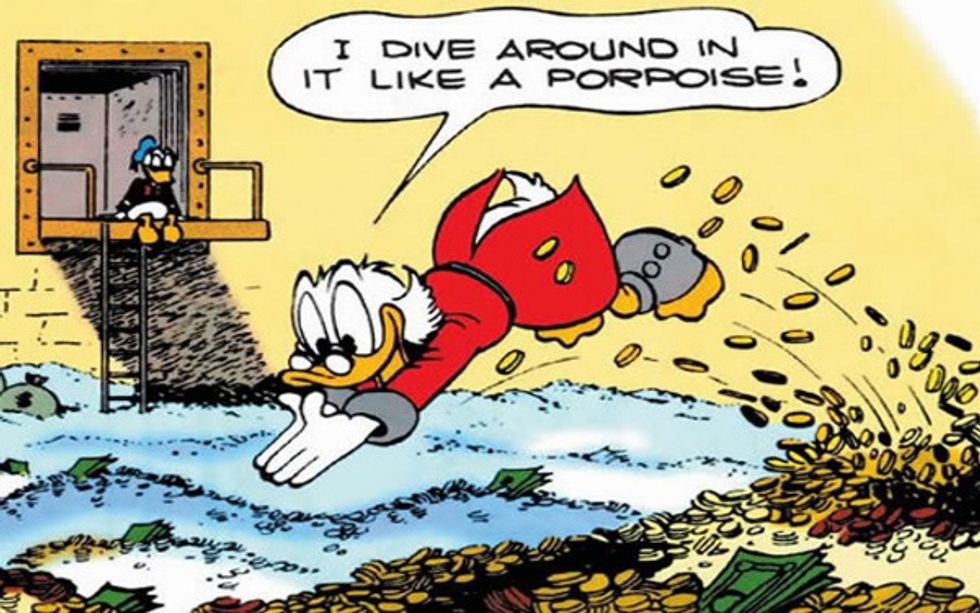 Fact: Gold is denser than a porpoise or a duck. Either would be severely injured. EAT THE RICH
---
The Republicans' great big Fuck-everybody-but-the-wealthy tax cuts bill is slouching toward a vote by the end of the week, as Senate Rs all voted yesterday -- every last one of them -- to advance the bill to debate on the Senate floor. There'll now be a whopping 20 hours of a debate on a bill that isn't even in written form yet. Following the extensive "debate," the bill will go to the exciting "vote-a-rama" stage, where senators will propose all sorts of fun amendments, some of which will probably be thrown into the bill, and, for Democrats at least, many of which will be used to slow the bill's advance and to force Republicans to go on the record with votes against Having Nice Things. There may also be a swimsuit competition and a Japanese game-show segment in which senators will have to carry their proposed amendments over a swinging bridge while volleyballs full of bees are fired at them. We can dream, can't we?
The goal for Senate Rs is to rush through any goddamned thing so they can say they passed "tax reform" and to reward their super-rich megadonors -- oh, and themselves. And while a few Republicans have yet to go on record as supporting the damned thing, there isn't a single declared opponent. This horrorshow seems very likely to pass.
We already know the basic outlines of this abomination: Huge tax cuts for corporations and the rich, gutting the Affordable Care Act's individual mandate -- which will leave 13 million people unable to afford insurance -- and actual tax increases on lower income workers. But what fresh new samples of hell are we looking at as the bill moves through the Republican sausage factory?