Senators Survive Stupid Reality TV Show, Don't Even Kill Each Other
News
September 12, 2014 09:48 AM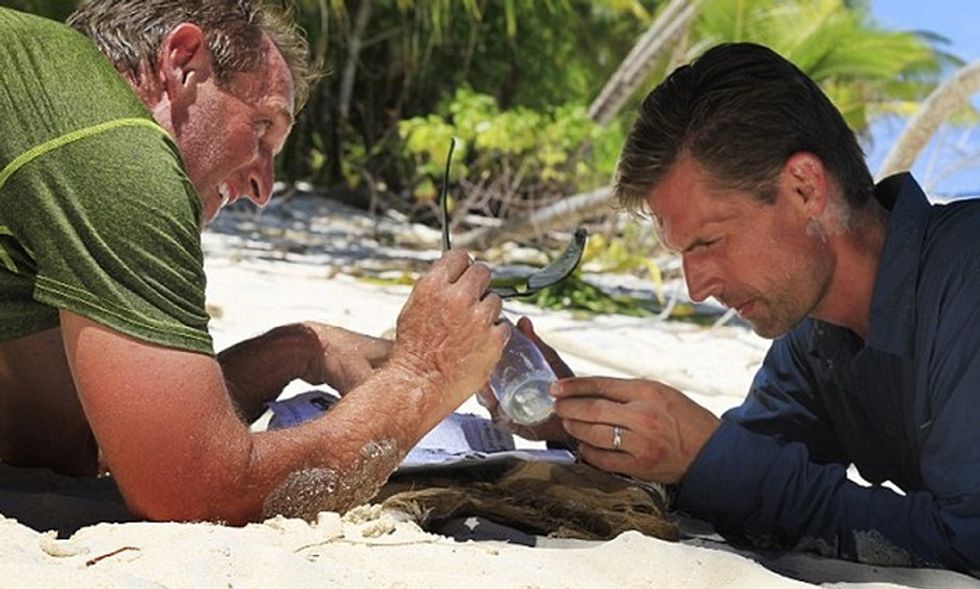 Photo Courtesy of Discovery Channel
---
Most members of Congress use their long August recess to get back home and load up on their favorite regional food that no one can make the right way in DC, while being photographed appearing to reconnect with voters. Added bonus: They get to escape the swamptacular weather in America's damp, sweaty seat of power. For two members of the Senate, this summer's five-week paid vacation"district work period" was a chance to sneak away on a top-secret, death-defying adventure in the Marshall Islands for a new reality show. It's C-SPAN 2 meets Naked and Afraid, and it's coming to your favorite ostensibly educational cable network this fall!
On Oct. 29, right before the midterm elections, the Discovery Channel will air a one-hour special called Rival Survival, the (we're assuming here) inspiring story of one Republican and one Democrat who manage to spend almost a week together without turning their fishing spears on one another.
Disconnected from the world on an uninhabited island surrounded by shark infested waters that mirror the seemingly treacherous terrain of the U.S. Congress, Sen. Jeff Flake (R-AZ) and Sen. Martin Heinrich (D-NM) must put their political differences aside and work together for six days and six nights to find common ground through compromise if they want to survive...
Sen. Flake loves this stuff. He went on a week-long survival trip by himself in 2009, then made two of his sons come with him last summer to a remote island with "no food or water." Perhaps they constructed a solar array from dried reeds and fish entrails, since their cameras seemed to have plenty of battery life.
Sen. Heinrich is described as "a sportsman," but he has also "made conservation one of his key issues while in office," so we're betting he turns out to be a useless Latte Liberal once he gets into the wild. Just look at the picture up top here: you don't need us to tell you that the Democrat is the one on the right. What's he even wearing? Who brings a shirt with buttons to a death match against nature?
Just in case you were worried that this might all be an improperly funded campaign commercial for one or both of the Survivalist Senators, neither of them is facing re-election in the fall. Our old friend Brian Stelter at CNN assures us that they followed the Senate Ethics Committee's Reality Show Protocol to the letter and instead of compensating the senators, Discovery will donate the proceeds to charities they choose, but don't they still benefit from the smugness of giving? Also, we're pretty sure they got some free coconuts out of the deal.
[Discovery Channel / Politico / CNN Money]
You can follow Beth on Twitter. She is able to survive in the wilds of DC using only a credit card and a cell phone.