Serena Williams Will Break Her Racket Off In Your Sexist Ass
Post-Racial America
September 10, 2018 11:25 AM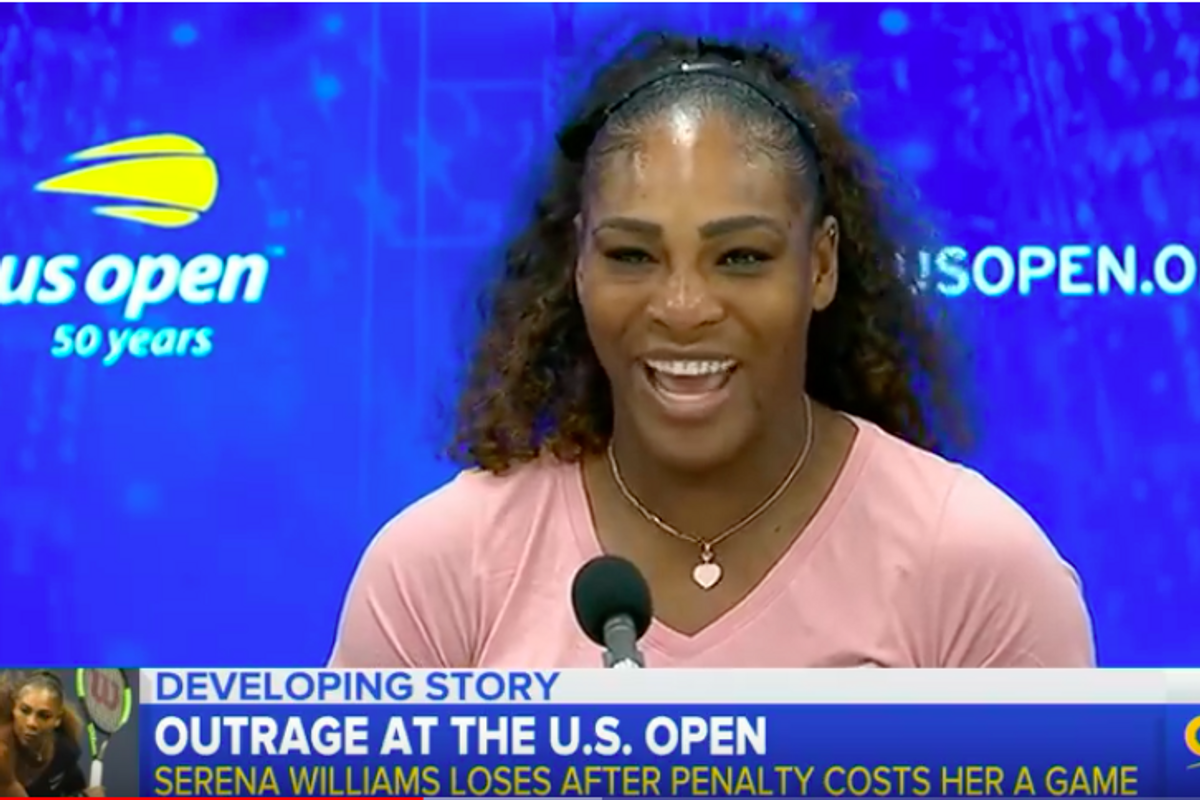 Serena Williams is the baddest tennis player who ever tennised. She's also a black woman, so she's had to put up with a lot of crap. The French Open freaked out over the superhero-style black catsuit Williams wore not just for aesthetics but for health reasons. And Saturday at the US Open, Williams received multiple BS violations during the tournament final she lost to the also awesome Naomi Osaka.
The chair umpire, Carlos Ramos, gave Williams a coaching violation during the first set. It's arguable whether Williams even saw her longtime coach, Patrick Mouratoglou, motioning to her from the player's box. Williams told Ramos straight in the quotable line from the movie: "I don't cheat to win, I'd rather lose. I'm just letting you know." Williams took continued offense with the insult of her sportsmanship, and later demanded an apology from Ramos, calling him a "thief." Instead, Ramos gave Williams another game penalty for "verbal abuse," which put Osaka in the lead.
---
The row cast a pall on Osaka's 6-2, 6-4 eventual victory over her hero. I should note that Osaka is 20 and Williams is 36. I tried drinking with a 20-year-old when I was 36 and it was nowhere near this competitive. Williams, regardless of how pissed she was at Ramos, was graceful to Osaka in defeat.

During the post-match trophy ceremony, Williams addressed the crowd, saying, "Well, I don't want to be rude, I don't want to do questions. [Osaka] played well, this is her first Grand Slam. I know you guys were here rooting. Let's make this the best moment we can. Let's not boo anymore. We're gonna get through this and we're gonna be positive. No more booing!"
Williams was fined $17,000 on Sunday for the three code violations. (The second violation was breaking her racket after losing her serve.) There was an outpouring of support from folks who've played the game. James Blake claimed he'd said worse things on the court without getting penalized. Chris Evert said Ramos should've given Williams a "soft warning" before penalizing her, which would've more effectively defused the situation. Andy Roddick didn't pull any punches: "Worst refereeing I've ever seen ...... the worst !!!" Hall of Famer and pioneer Billie Jean King kindly congratulated Osaka but also praised Williams for calling out a sexist double standard.
Women are expected to be "dainty," and Williams isn't. Black women especially are expected to know their place, and unlike the Dude, Serena Williams does not abide. She was even asked how she'd explain to her children that she'd lost her temper. ("Uh, I'm human?") No father is ever asked that. John McEnroe had kids when he was regularly ripping umpires new ones.
Naturally, the support for Williams demanded backlash from folks who want to preserve the "white male" power structure. This is otherwise just a tennis match, but the usual gang of idiots at "Morning Joe" had to devote most of Monday's broadcast to criticizing Williams, as if there wasn't more pressing news for them to mindlessly cover.
Mika Brzesinski, the pseudo feminist who is one scary subway ride away from total social conservatism, argued that Williams's actions were "unbecoming." This is the sort of gaslighting where women who stand up for themselves are accused of doing a disservice to women's rights. The true path to gender equality, apparently, is for women to always behave like characters from Restoration period dramas.
"Morning Joe" invited sports columnist Mike Lupica to join their panel and regurgitate racism. He said Williams "has priors at the US Open." How about you not criminalize black women before I've had my coffee? Would Lupica ever use that terminology in reference to serial grunter and doper Maria Sharapova?
Folks online did bring receipts of male athletes repeatedly losing their cool, including basketball legend and baseball player Michael Jordan. No one accused them of being "bad for the game" or doing a "disservice" to men. But frankly, whenever you hear men telling women how to behave, it's a good time to stop listening.
In response to the injustice black people endured, Muhammad Ali once said, "The only reason the camera's on me, the only reason I'm in the shape I'm in is because I'm the world's greatest fighter. Otherwise, I'd be another negro." Serena, like all black women, carries the weight of her gender and her race, but she endures. She's a tennis star and not a boxing champ, but right now she's still the world's greatest fighter.
Follow SER on Twitter.
Wonkette is solely funded by about 3000 readers a month. Make it 3001, so we NEVER DIE.
Stephen Robinson
Stephen Robinson is a writer and social kibbitzer based in Portland, Oregon. He writes make believe for Cafe Nordo, an immersive theatre space in Seattle. Once, he wrote a novel called "Mahogany Slade," which you should read or at least buy. He's also on the board of the Portland Playhouse theatre. His son describes him as a "play typer guy."