Sex Wizard/Doctor Too Unique For Andrew Breitbart's Truth Blog?
News
August 06, 2010 09:24 AM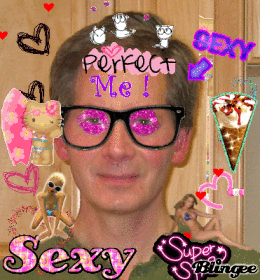 Until recently,Dr. Kevin Pezzi was listed as a contributor to Andrew Breitbart's eclectic BigGovernment.com website, where he posted white papers about Shirley Sherrod's black racism. But then the muckrakers at Media Matters for America conducted an Internet investigation of Dr. Pezzi and found all kinds of very UNUSUAL things that he had posted on the Internet about himself, his Porno Star-sized penis and his magical sex inventions. Wouldn't these attributes make Breitbart like him more?
---
Suprisingly, the answer is "no," MMFA reports:
In response to our posts, Big Government has now disappeared Pezzi's articles. If you attempt to visit the pages for his posts and bio, you are greeted with an error.
MMFA reportedly used a brand-new technology called "Googly Eye Search" to compile a fairly extensive list of Pezzi's documented Eccentricities, including:
His claim that "a government official once [told him he'd] achieved the highest score ever attained on an IQ test administered nationwide." (The "government official" was not named "Shirley Sherrod.")
Talking about "Chinks" and "Japs."
His sex inventions to cure problems such as "vaginal laxity," America's number-one health issue after Glenn Beck Tentative Blindness Syndrome.
His other inventions, like a mysterious cancer cure and a Mosquito Motel.
His authorship of several books of questionable informational and aesthetic value, such as Fascinating Health Secrets (owned by Al Gore, so why not YOU?) and The Science of Sex. Both volumes come with a free copy of Pezzi's Gas Saving Tips, which tells you how to save cash at the pump. ("Tip One: Stop driving. Tip Two: Continue not driving. Tip Three: Power your body with my custom-made candy bars, which I have named 'Lana.'")
How he writes things like, "No doctor in the world knows more about sexual pleasure than I do," which is not very easy to prove!
His boasting about turning down a blind date with Katie Couric, because he hates cities.
All the "my penis my penis" talk.
How did Andrew Breitbart not know about these many peculiar traits of Dr. Pezzi's before bringing him on board his special website/spaceship to write about hot racism topics? Has the BigGovernment HQ not yet learned about the power of "Googly Eye Search"? MMFA thinks that maybe Breitbart and his cohorts "have long-since abandoned any pretense of responsible behavior," because they didn't even need any special software programs to learn that Pezzi was so unique. He let it all hang out right there in his bio, pretty much: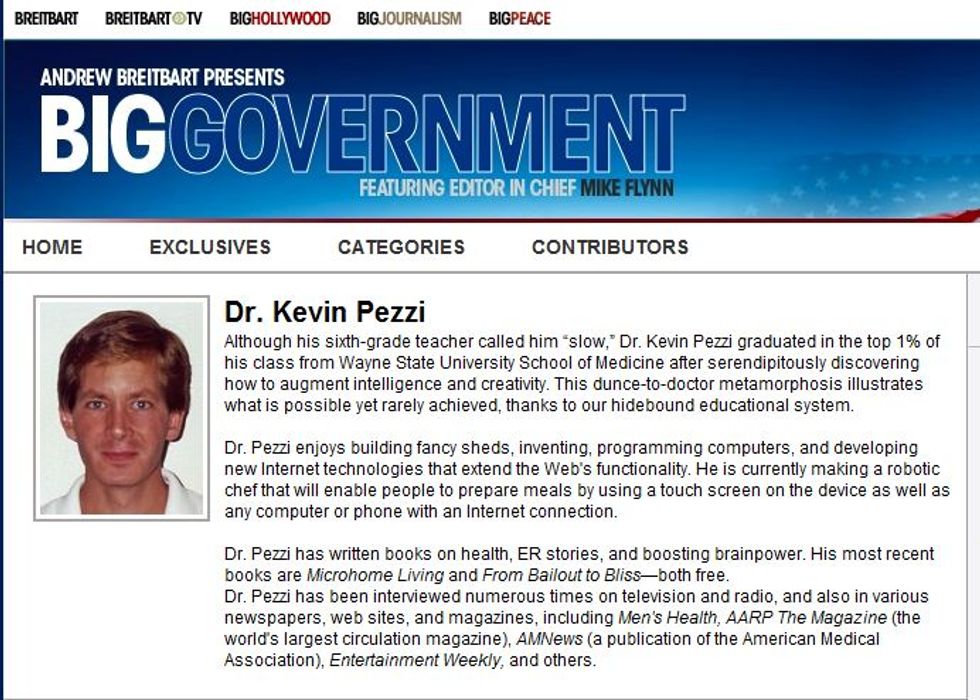 Would you permit Dr. Pezzi to examine you in a medical-doctor context? Would you eat his chocolate Lana bars? And do you believe that "vaginal laxity" is as serious a problem as he makes it out to be? Your Wonkette is thinking, "ummm ... probably not," but maybe we're just biased against Pezzi because of his political views.
Robot chef's a pretty cool idea, though. [Media Matters for America]