Sh*t Your Pants, Trump, It's Mueller Time! A Liveblog!
Russia
July 24, 2019 08:25 AM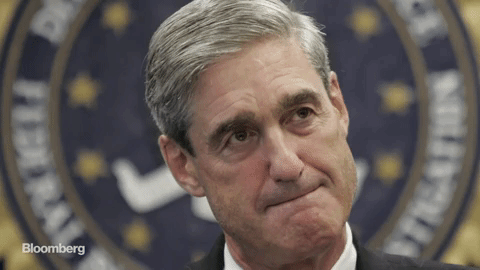 Giphy
Good morning, and welcome to your live Robert Mueller Coverage at Ye Olde Wonkette!
A few things before we get started:
1. CONGRESS, ARE YOU AWARE THAT IT IS THE FUCKING ASSCRACK OF DAWN WHAT IS WRONG WITH YOU OH MY GOD?
2. Donald Trump, who said he would not be watching this, seems to be in a good mood:
It was NEVER agreed that Robert Mueller could use one of his many Democrat Never Trumper lawyers to sit next to him… https://t.co/MPN9h0UKl9

— Donald J. Trump (@Donald J. Trump) 1563966221.0
Dumbass fucking dipshit thinks he would have had a say in this.
Anyway, he's sent nine tweets this morning (and counting), all of them are lies, and we're just happy he's having the shittiest day of his life so far.
3. Mueller will be joined at the table by his longtime deputy Aaron Zebley. That is what numbnuts up there is so upset about.
4. Oh hey, did y'all hear ANOTHER member of the Trump transition team, the guy who was in charge of finding people for intelligence jobs, was convicted on all counts in a Virginia courtroom yesterday? You might know him as Bijan Rafiekian, Michael Flynn's business partner, and he was found guilty of doing ALL THE CRIMES alongside Michael Flynn, who also did the crimes. We will write you a story about that on like Thursday or something!
5. There is no number five.
Let's watch together!
---
LIVE: Robert Mueller Testifies Before Congress (C-SPAN)www.youtube.com
8:34: Good morning, Jerry Nadler has gaveled us in! There was a protester, and a hot mic caught Jerry Nadler calling the protester A IDIOT.

Here is a searchable copy of the Mueller Report if you need it handy (and you do).
Nadler is giving his opening statement and stuff, saying nice things about Mueller and saying Mueller found that Donald Trump is a gigantic criminal, in case you hadn't heard.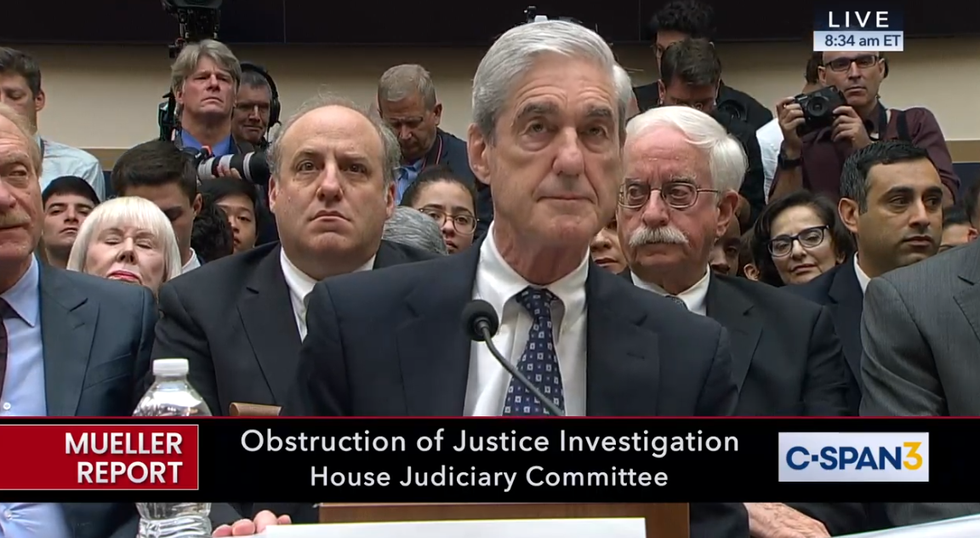 8:37: Ranking member Doug Collins (R-Hee Haw) is giving his own opening statement now. It is NO COLLUSION! But he's trying to pretend like he has respect for this career American public servant, when the truth is that Doug Collins is a dumb pig person.

8:39: We are all Robert Mueller listening to Doug Collins explain our business to us.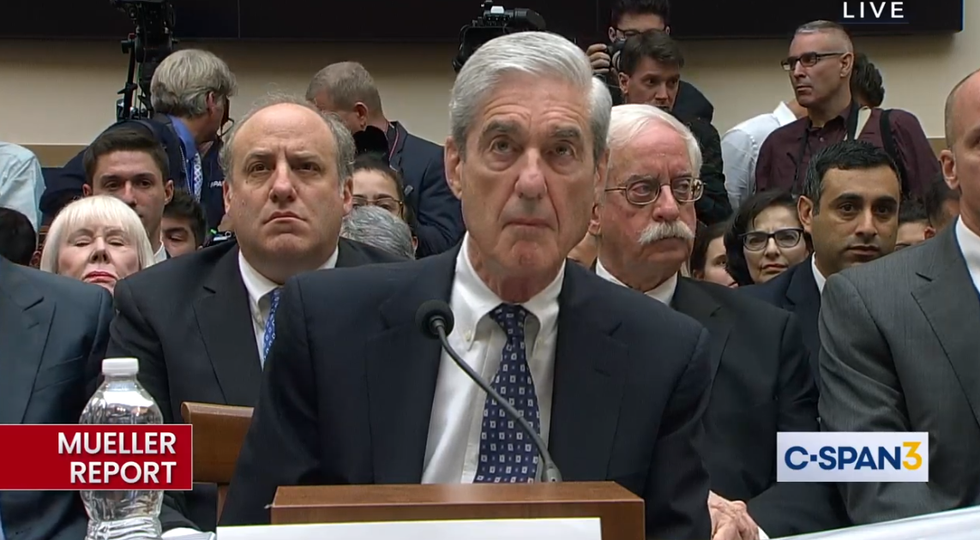 Collins says Republicans are going to focus on the origins of the investigation today, because their conspiracy theory is that DEEP STATE HILLARY FBI SEXTER DOSSIER POOP MONSTER BENGHAZI SOCIALISM! It is a very serious conspiracy theory.
8:41: Doug Collins says he used to like to come to Congress but he doesn't anymore because it sucks now. He should go home, then!

8:44: Mueller says he will tell the truth, but he would say that, wouldn't he.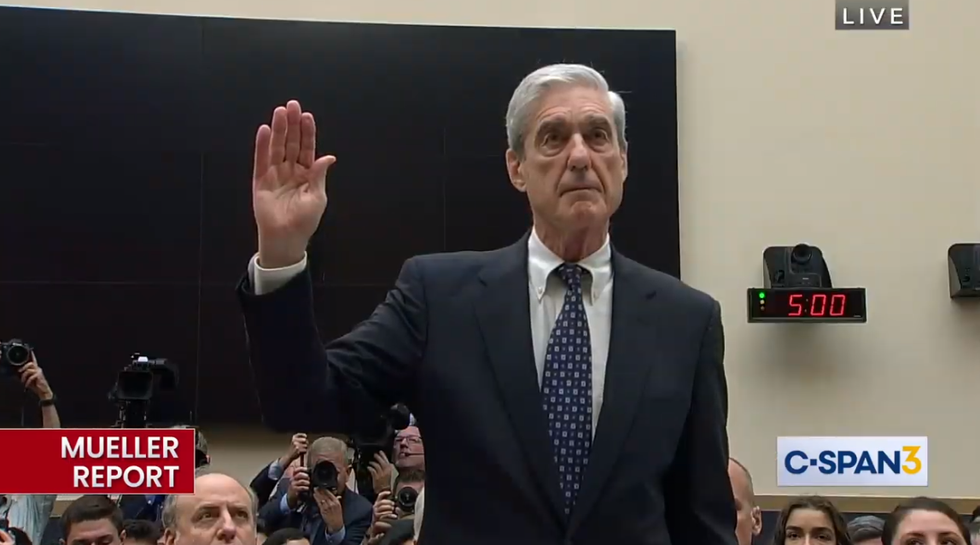 Mueller is going over how he conducted his investigation and all the Russian fuckers he indicted and all the Trump fuckers he indicted, and so on and so forth.
8:46: Mueller says the following things are important:

1. Russia committed a "sweeping and systematic" attack against America and its elections in 2016. He says this is the most serious thing that no American should forget.
2. Mueller's team did not establish conspiracy between Trump people and Russia. "Did not establish."
3. He didn't look at "collusion," because that is not a legal term.
4. The obstruction of justice investigation was paramount, because those crimes "strike at the core" of the government's ability to do its work and hold bad actors accountable. They decided not to make a decision as to whether Trump committed a crime, because they could not indict him.
(None of this is new.)
The point is DOES NOT EXONERATE.
Hahahahaha, and Mueller says that he will not be answering questions today about the inception of the Russia investigation, so SORRY ABOUT YOUR CONSPIRACY THEORIES, REPUBLICANS. He also will not be answering questions about the Steele Dossier. He says those involve matters that are being looked at currently, therefore according to the letter the Justice Department sent him, he can't talk about them.
LOL, Republicans, Robert Mueller just cut your dick off.
Questioning begins!
8:52: NADLER: Trump says NO OBSTRUCTION, COMPLETELY EXONERATED. Does your report say that?

MUELLER: Nope.
NADLER: Can you read the part of the report where you say you did not decide the question of obstruction?
MUELLER: Sure thing.
NADLER: Again, does your report say you exonerated the president?
MUELLER: Nope!
8:53: MUELLER: "The president was not exculpated for the acts he allegedly committed."

This is what America needs to see. All of this.
8:55: NADLER: If you did decide that Trump committed obstruction of justice crimes, you couldn't say that because of the OLC opinion against indicting a sitting president, correct?

MUELLER: Basically, yup.
NADLER: Can you indict a president after that fucker isn't in office anymore?
MUELLER: Sure!
NADLER: Did Trump refuse to be interviewed by you?
MUELLER: Yup!
NADLER: Was that "vital" to your investigation?
MUELLER: Yup!
8:57: And now we go to Congressman Hee Haw! Let's see what kind of boring shit he's going to subject us to.

COLLINS: Now when yew said your investigation was over, did you mean that?
MUELLER: Oh Jesus.
Mueller does say his investigation was never "curtailed or hindered," so that is good.
COLLINS: Did you totally and fully exonerate the president of all Russian crimes?
MUELLER: "Insufficient evidence of the president's culpability." That is different, Doug, you fucking idiot.
Doug Collins is trying to trick Mueller into admitting that collusion and conspiracy are the same thing. Mueller answered, "No." And now Collins is badgering Mueller, because Collins is a fucking hick.
9:03: This is the obstruction of justice hearing, but Zoe Lofgren is going STRAIGHT for Mueller's findings about Paul Manafort sharing Rust Belt polling data with Russian spies. Hey, we just wrote a whole thing about that yesterday!

She is asking how the Russian government might have been able to USE that polling data in order to help Trump get elected. He says that's outside his wheelhouse.
LOFGREN: And the Russian government did all this for the benefit of ...
MUELLER: Trump.
9:07: Time for another stupid Republican! This Republican idiot is very mad that everybody is saying Trump is not exonerated, because the way he was raised, if you don't indict a sitting criminal president, that means the sitting criminal president is innocent!

The very stupid Republican in question is named John Ratcliffe, and he should be snickered at in public.
9:12: John Ratcliffe does not have a question, he is just yelling at Robert Mueller because he says that Volume II of the Mueller Report was not "authorized" and that makes him sad. :(

9:16: Sheila Jackson-Lee has a visual aid, and it is the table of contents of Volume II, which lays out all the different instances of obstruction of justice Donald Trump may have committed. Ten of them, in fact! She is just reading from his report, the parts about how you ascertain whether an act was true obstruction of justice, and having him answer in the affirmative. He is saying "yes" a whole lot.

JACKSON-LEE: If you were convicted of obstruction of justice, would you go to JAIL?
MUELLER: Ayup!
And now it is time for another dipshit Republican, Jesus Christ, why are they even allowed in this room?
9:19: JIM SENSENBRENNER, THE IDIOT REPUBLICAN: If you can't indict a sitting president, then why are you investigating him? In America, the president is above the law if they are a Republican obviously!

MUELLER: That's not it.
9:23: Steve Cohen, Democrat of Tennessee, is now up.

COHEN: How did Trump react to your appointment?
MUELLER: Please refer to my report.
COHEN: OK, let's read it! He said, "I'm fucked."
MUELLER: That's what my investigators discovered, apparently!
9:25: COHEN: Let's talk about all the times Trump tried to get Jeff Sessions to unrecuse himself from the investigation! One time he called Sessions at home!

MUELLER: Yup!
COHEN: Is the attorney general the attorney general of AMERICA, or the consigiliere of the president?
MUELLER: The America one. Not the Roy Cohn's dead bloated corpse in hell one.
9:28: Steve Chabot, Republican paste munching dipshit from Ohio. Grandstanding about Democrats. Blah.
Also, he is trying to get Mueller to answer questions about THE DOSSIER, even though Mueller already told them he's not playing that stupid fucking game.
CHABOT: YOU NEVER TALKED ABOUT THE FOUNDER OF FUSION GPS WHO DID THE DOSSIER IN THE REPORT!
MUELLER: That's another issue.
CHABOT: HILLARY IS THE REAL COLLUSION!111!@!!!
MUELLER: "That's outside my purview."
CHABOT: RUSSIAN LADY LAWYER! I CANNOT PRONOUNCE HER NAME BUT I AM GOING TO TRY SEVERAL TIMES, EACH WAY A LITTLE BIT DIFFERENT!
MUELLER: What ... the ...
9:33: Well, that was a waste of time. Hank Johnson of Georgia, you're up!

JOHNSON: Trump tried to get Don McGahn to fire you over your "conflicts of interest," right?
MUELLER: Yep.
JOHNSON: When Trump whines about your "conflicts of interest," that's all bullshit, right?
MUELLER: Correct.
JOHNSON: Trump was warned about continuing to obstruct justice, but yet he persisted, correct?
MUELLER: If it's in the report, then that's what happened.
9:38: OOOOOOOOHHHHH SHIT.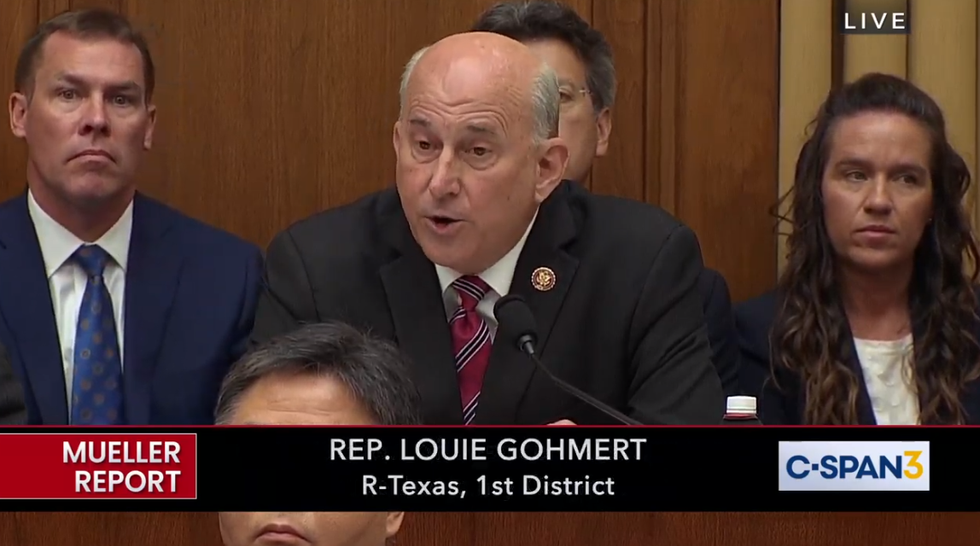 Louie Gohmert is putting his special report on how Robert Mueller is a very bad man INTO THE PERMANENT RECORD, MISTER.

And questioning begins:
GOHMERT: Who wrote your statement at the press conference?
MUELLER: Not answering that.
GOHMERT: You didn't write it. You are fucking James Comey, yes?
MUELLER: We worked together, dumbfuck.
GOHMERT: When you became special counsel, were you fucking James Comey right then?
MUELLER: Nope.
GOHMERT: When you were interviewing for the FBI director job ...
MUELLER: That didn't happen, dumbfuck.
GOHMERT: I don't believe that you didn't know Peter Strzok hated Donald Trump very much.
MUELLER: We are all entitled to our beliefs, I suppose.
GOHMERT: NO COLLUSION! BANJO SOUNDS! INBREEDING, MAYBE? WOULDN'T YOU OBSTRUCT JUSTICE TOO, IF YOU KNEW THAT YOU DIDN'T DO COLLUSION!?!!!@!!
MUELLER: Seriously? Wow.
9:47: Ted Deutch, you're up!

DEUTCH: Why did Trump wnat you fired? Hold up, lemme read it in the report. It's because he was under investigation. He "wanted to fire you because you were under investigation for obstruction of justice."
MUELLER: That's correct.
WONKETTE: And that's crime. And as we established already, people who obstruct justice GO TO JAIL.
9:49: Very smart stupid idiot Martha Roby of Georgia would like to point out that Donald Trump did not say the word "fire," therefore he cannot possibly have meant that he wanted Mueller fired, because it's not obstruction of justice if you don't say the magic words.

Very smart stupid idiot Martha Roby is not a very smart stupid idiot.
9:53: Mueller stands by the letter he sent to Bill Barr, the one that said STOP LYING ABOUT MY FUCKING REPORT, ASSHOLE.

Otherwise, we have no clue what the fuck the point of Martha Roby's entire questioning was.
9:55: Karen Bass, you're up!
BASS: You found "substantial evidence" Trump tried to have Don McGahn fire you to obstruct the investigation, right?

MUELLER: Yup.
BASS: And he tried to get McGahn to lie later on and say Trump hadn't tried to get McGahn to fire you, right?
MUELLER: That's what it says in the report, must be true!
One thing that's interested, that we need to remember, is what this hearing looks like to people who don't pay that much attention. For us, it doesn't feel like we're covering new ground. For a lot of people -- including the FBI director, who admitted he hasn't read the goddamn Mueller Report -- we're covering a lot of new ground, probably.

9:59: YAYAYAYAY, JIM JORDAN!

JORDAN: I am going to step on my dick a lot now.
MUELLER: It's your dick, that's your decision to make.
Jordan is just screaming a lot about all their conspiracy theories about how George Papadopoulos was FRAMMMEMMD and Trump was FRAMMMEMMEMEMMEMED and UH OH, JIM, BE CAREFUL, WOULDN'T WANT YOU TO TRIP OVER A WRESTLER GETTING SEXUALLY ABUSED AT OHIO STATE ON YOUR WATCH WHILE YOU'RE MAKING YOUR VERY IMPORTANT POINT ABOUT MUELLER'S WITCH HUNT!
We think Jim Jordan's point is that ... yeah just kidding, not even Jim Jordan knows what his point is.
10:15: And we are back! But Mueller is not back yet! Probably had to go do a Deep State poop.

10:20: Cedric Richmond of Louisiana, you're up!

RICHMOND: It's fair to say that by trying to get Don McGahn to falsify the record on Trump's requests to have Mueller fired, Trump was trying to protect himself?
MUELLER: Yup!
10:22 Yay, it's somebody who's even dumber than Louie Gohmert!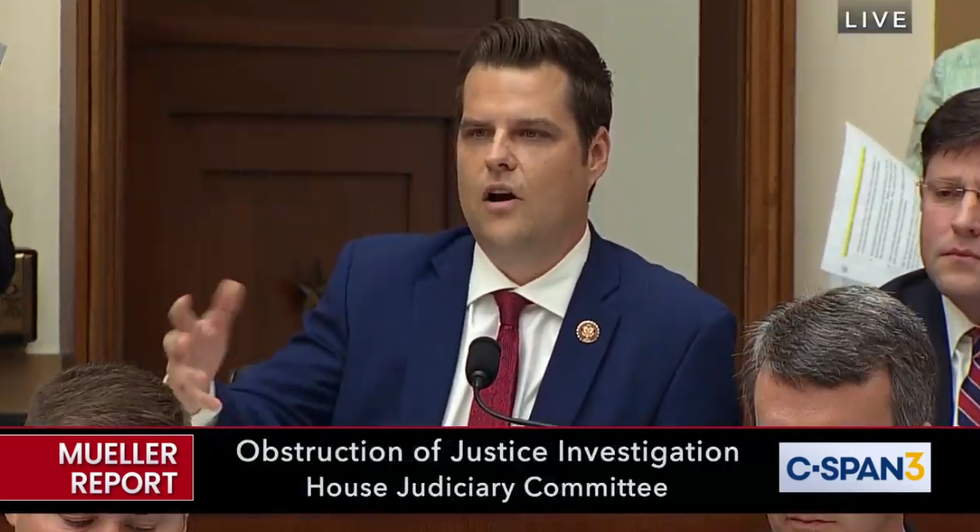 MATT GAETZ: The Steele Dossier was Russian disinformation, that is my conspiracy theory.

MUELLER: Said I'm not talking about that.
GAETZ: Steele made it all up!
MUELLER: Said I'm not talking about that.
GAETZ: WHY YOU NOT CHARGE STEELE WITH LYING TO FBI?
MUELLER: ...
What a waste of human cells Matt Gaetz is.
10:28: God was really having an off day when he did this: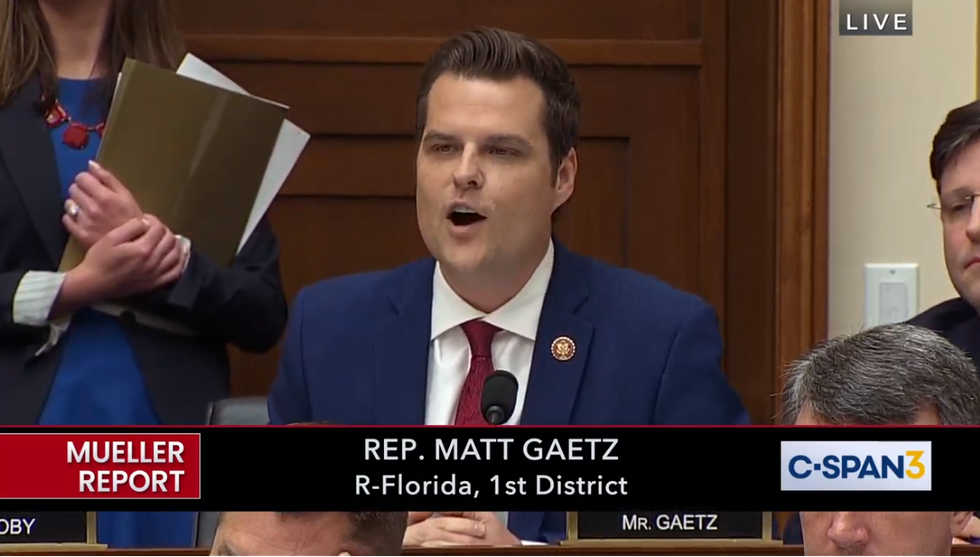 10:33: Hakeem Jeffries just did a very good job going through one of the times Trump committed criminal obstruction of justice, explaining how it satisfies the requirements of an official obstruction charge. We should probably primary him.

Some Republican dick named Ken Buck started by saying Robert Mueller is an American hero, and he is just very disappointed that an American hero like Robert Mueller would have investigated King Yeti Pubes like this. Kings are above the law!
10:39: We do wish Democrats would have Mueller READ the report more instead of asking questions. Clearly Mueller is a man of as few words as possible, and if you ask him a yes/no question, you are going to get a yes or a no. But if you ask him to READ WORDS to America, he will do that.

Anyway, David Cicilline is getting Mueller on the record to confirm the time Trump tried to get Corey Lewandowski (a private citizen) to fire Jeff Sessions if he refused to unrecuse himself. Mueller confirms everything, as it is written in the report.
10:45 Republican Rep. Andy Gibbs of Arizona:

GIBBS: When did you decide that Donald Trump was totally innocent of all Russian crimes?
MUELLER: I do not agree wtih your characterization, I'm sorry.
GIBBS: When did you decide there was no "there" there?
MUELLER: Nope.
10:49: David Cicilline got cut off on his last question, which was about a letter signed by 1,000 former prosecutors, saying that if Trump wasn't president, he should be indicted. Does Mueller agree with those prosecutors?
Thankfully, Eric Swalwell picked up exactly where Cicilline left off and asked if Mueller would sign that letter. Mueller, acting like a common Mueller, responded that "they have a different case" from the one he was investigating. OH, BOB.
10:53: Gotta say, Mueller isn't being a friend to Republicans or Democrats today. Guess he's not BIASSSSSSSSS.

10:55: Tom McClintock, Republican moron of California:

MCCLINTOCK: Gregg Jarrett on Fox News says ...
MUELLER: Yikes.
MCCLINTOCK: Why are you so mean to the Russian spy Paul Manafort gave internal Rust Belt polling data to? We have a source who says he's a State Department source and not even a Russian spy at all!
MUELLER: Not sure about your policework there, Tom.
MCCLINTOCK: Russia did nothing wrong! LEAVE RUSSIA ALONE!!11!!!!1!!4!%1#!#!
10:59: By the way, we thought we heard this, but we weren't sure:
Whoa! The reason you did not indict...was OLC memo, correct? That is correct.

— Greg Sargent (@Greg Sargent) 1563980051.0
So that happened! Mueller might have made an oopsie by answering that question in the affirmative, but it's probably totally true anyway.
Now Jamie Raskin is getting Mueller to confirm that witness tamperers (like, say, Donald Trump?) belong in prison.
11:05: OK, so a weird thing is happening. When Ted Lieu was questioning, he asked Mueller if he would have indicted Trump if it weren't for the OLC memo against indicting a sitting president. And he said "yes." And people immediately wondered if Mueller meant to answer that way, or if he was having a foggy moment.

Republican Rep. Debbie Lesko just came back to clarify that, and Mueller seemed to affirm that ... he stands by his answer?
11:08: And now GOP Rep. Lesko is going to show us what a dipshit she really is, by asking Mueller how many times he cited the Washington Post, and how much he cited Fox News. WHY MUELLER NO PUT HANNITY IN HIS REPORT??????

11:12: Pramila Jayapal's questioning focuses on Trump's constant witness tampering as it pertains to Paul Manafort. Reading from the report, she states that Trump has said that "flipping" should be outlawed, and did everything he possibly could to protect Manafort and keep him onside. Is that all accurate, Mr. Mueller? He says it sure is!
But we need to focus more on what just happened with Ted Lieu and Debbie Lesko, because Lieu got him to admit he would have indicted Trump if not for the OLC memo, and GOP Rep. Debbie Lesko tried to give Mueller a chance to make that statement go away, and he did not.
There's your headline. Not only "does not exculpate," but also "would have indicted."
11:17: Some dipshit, Guy Reschenthaler, has successfully nailed Robert Mueller for ... failing to respect Janet Reno's authority regarding the former independent counsel statute that expired after Ken Starr? He is a former JAG prosecutor, so he must know what he is talking about. (He does not know what he is talking about.)

Ooh, now it is Jim Jordan's turn again for five seconds!
JORDAN: WEIRD FISA CONSPIRACY THEORY!
MUELLER: Nope.
GAVEL: Time's up!
Good job, Jim Jordan!
11:20: This is what happened.
Lieu: "The reason you did not indict Donald Trump... is because of the OLC decision. Is that correct?" Mueller: "That is correct."

— Glenn Thrush (@Glenn Thrush) 1563980088.0
11:27: GOP Rep. Ben Cline is trying to make a long boring soliloquy in order to "prove" that ... one time a conviction secured by Mueller prosecutor Andrew Weissmann was overturned? Because that has never happened to any other prosecutor ever!

11:29: Earlier, we said it would be better if Mueller would actually read from his own report. Apparently that is not an option. AGGRAVATING, ROBERT MUELLER, AGGRAVATING.
I've just confirmed this--"Mueller's team specifically informed the committees that he would decline to read from h… https://t.co/dvfncIXkDR

— Natasha Bertrand (@Natasha Bertrand) 1563980895.0
11:32: Rep. Mary Gay Scanlon just handily demonstrated how Trump lied directly to Mueller in his written answers about his efforts to find out about WikiLeaks releases before they happened. She did this by citing ... other parts of the report! And as Mueller has repeatedly said, if it's in the report, it's true.

GOP Rep. Greg Steube, a very stupid idiot from Florida, takes over:
STEUBE: Did you apply for the FBI job the day before you were appointed as special counsel, like Trump always lies and says?
MUELLER: Yeah no. That is a Trump lie.
STEUBE: Did you tell Mike Pence that you really wanted that job too?
MUELLER: Nope. Nothing you believe about anything is true.
STEUBE: FISA DOSSIER CHRISTOPHER STEELE WORDS WORDS WORDS!
MUELLER: Eat me.
11:40: REP. SYLVIA GARCIA: Asks nine different ways if people would to to jail if they lied to Mueller's investigation.

MUELLER: Deflects nine different ways.
GARCIA: OK fine, if I lied to you, could I go to jail for up to five years?
MUELLER: Yes.
This came after going through another time Trump lied to Mueller's team in his written answers, regarding Roger Stone.
11:43: Rep. Kelly Armstrong (R-Dumbfuck) has breaking news, and it is that Mueller prosecutor Andrew Weissmann went to Hillary Clinton's election night party and some of his employees donated to Democrats and one of his prosecutors literally stomped Hillary's emails to death in order to hide them from Jesus.

Mueller actually seems pretty annoyed, explaining that the whole fucking point is that the FBI is supposed to be impartial, they hire people who can do the job, and they don't ask about political affiliations.
Have Republicans ever considered that maybe Mueller's team would have had more Republicans on it if more Republicans had three-digit IQs and thus there was a more readily available hiring pool? Fucking dipshits.
11:51: Rep. Mike Johnson is closing for the Republicans, explaining that Robert Mueller's team is a dirty Democrat and is biassss and NO COLLUSION and NO OBSTRUCTION and Robert Mueller is a piece of shit, even though he totally exonerated Trump (did not exonerate) and um, what else? Mike Johnson does not know. Oh yeah, he says Trump never lied to the special counsel, which is a complete lie. And that the investigation started because of the Steele Dossier, which is also a complete lie. In conclusion, Robert Mueller's report is awesome and Robert Mueller should go fuck himself.
Here's a video of an important thing that happened an hour ago:
The video of another key moment: Buck: "Could you charge the president with a crime after he left office?" Muelle… https://t.co/dpm6L0meCc

— Kyle Griffin (@Kyle Griffin) 1563980254.0
11:54: Rapid-fire, last few Democrats! Lucy McBath!

MCBATH: You indicted approximately one fuckton of people. Let's list them. Manafort, Flynn, Papadopoulos, Rick Gates, Roger Stone, and all these other fuckers. Correct?
MUELLER: Correct.
Greg Stanton:
STANTON: You are an American hero.
MUELLER: I am.
STANTON: Who was the first Republican to appoint you?
MUELLER: Dunno, Bush?
STANTON: Wrong, Reagan!
MUELLER: Weird!
STANTON: You have been appointed by every other Republican who ever lived, so it's kind of weird that all these Republicans are calling you a Stinky Democrat!
MUELLER: That's what you said!
STANTON: When you were hiring your team, did you make sure they were Democrats who wanted to do a witch hunt?
MUELLER: Nope, I am a professional.
12:00: Madeleine Dean!

DEAN: When you wrote that letter and said Bill Barr was misrepresenting your work and that the executive summaries you prepared were meant to summarize that work, did you mean exactly what you said?
MUELLER: The letter speaks for itself.
DEAN: More questions verifying that the letter said exactly what it should have said.
MUELLER: The letter speaks for itself.
DEAN: What about that interview Barr did where he said you COULD have decided if Trump was guilty?
MUELLER: I'm not going to speculate on that interview, I am not taking your bait.
DEAN: Donald Trump is clearly a fucking liar.
12:05: Debbie Mucarsel-Powell!

MUCARSEL-POWELL: You said in the report that Trump's obstruction of justice was "mostly" unsuccessful, but only because his aides and staff "mostly" told him to fuck off. If you try to obstruct justice but you are a failure at it, is that still a crime?
MUELLER: Yes.
12:07: And finally, Veronica Escobar of Texas!

ESCOBAR: Once again, you didn't decide Trump's guilt because of the OLC memo against indicting a sitting president. You said there were "other" Constitutional remedies. Did you mean impeachment?
MUELLER: No comment.
ESCOBAR: What are the Constitutional remedies?
MUELLER: "I think you mentioned one of them."
And that is the Judiciary committee hearing! Join us in a few minutes for the Intel Committee hearing!
And if you love Wonkette and appreciate us liveblogging this stuff, you have to understand that we are ONLY funded by readers. So please click below to throw us a donation or a subscription or a million dollars!
See you soon!
UPDATE: New liveblog here!
Follow Evan Hurst on Twitter RIGHT HERE, DO IT RIGHT HERE!
Wonkette is ad-free and funded ONLY by YOU, our dear readers. If you love Wonkette, SUPPORT WONKETTE.

Evan Hurst
Evan Hurst is the managing editor of Wonkette, which means he is the boss of you, unless you are Rebecca, who is boss of him. His dog Lula is judging you right now.
Follow him on Twitter RIGHT HERE.