Shady Santorum Ethics Finally Getting Their Time in the Sun
News
January 05, 2012 11:45 AM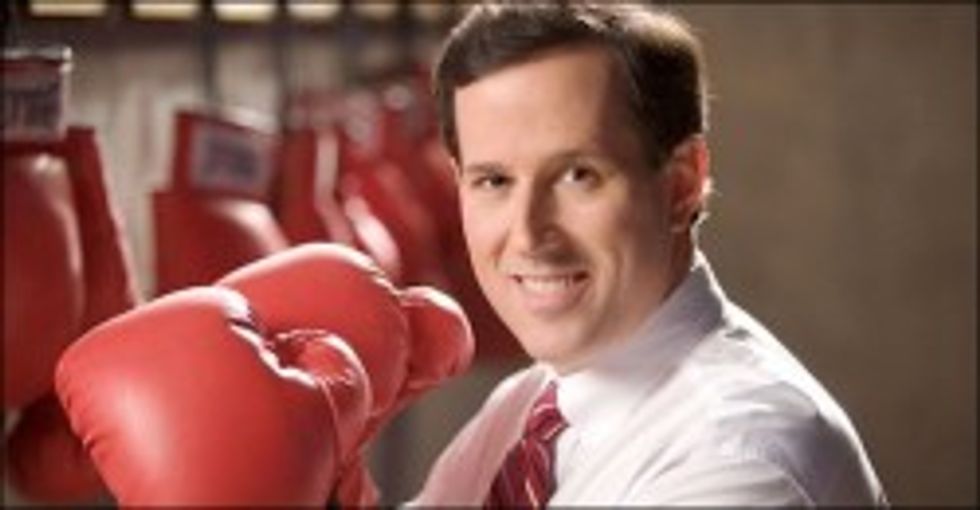 As Iowa's near-victor Rick Santorum swans around New Hampshire, giving ten-minute answers that probably don't make much sense to America and insulting Reagan (THE GALL), the candidate is also getting the opportunity to be taken seriously by people whose job it is to incinerate political ambitions. The latest, but not exactly new, issue coming to light is that Santorum received a very appealing mortgage from a bank that donated to his congressional campaigns. The watchdog group Citizens for Responsibility and Ethics in Washington filed a complaint about that mortgage back in 2006. After aging for six years, it's time to pop the cork on this thing!
---
Recap: according to CREW, the Santorums received a $500,000 five-year mortgage from The Philadelphia Trust, which apparently loans such mortgages to wealthy clients, of which Santorum was not even one. CREW's Melanie Sloan says that there was not one but "several instances in which Santorum appeared to have taken campaign contributions in direct exchange for legislative assistance."
The violation in question is the "Gift Rule" (Rule 35 of the Senate Official Code of Conduct), which "bans Senators from accepting gifts and specifically includes 'loans' within the definition of 'gifts.'" Oh, right, and the officers of The Philadelphia Trust also donated $24,000 to Santorum's PACs and reelection campaigns. In 2002, the year he received the mortgage, Santorum didn't even have enough liquid assets to be eligible to invest with The Philadelphia Trust.
This coming from Newt Gingrich would be no big thing. But Santorum is positioning himself as the magic unicorn savior of 2012. The guy whose coal miner grandfather's hands dug him freedom. The guy who is so pro-life that he thinks sex should only be about making babies, or at least that a person should have more babies in their lifetime than orgasms. What's he going to do with this one? (He hasn't done anything so far, and the Senate Committee on Ethics never responded to CREW's complaint.)
We can only hope that Santo flies off the radar faster even than CREW and other such detectives can get an answer on these issues. Because let's not forget, Santorum isn't even in line with what most of America thinks about cash or condoms or the rest of it. Even if he were, his 10-minute policy explications are so dull that they'd put even Jon Huntsman to sleep. [ABC News]