Sherrod Brown Gonna Get Walmart Off The Corporate Welfare Tit. Thanks, Sherrod Brown!
Post-Racial America
May 16, 2018 01:49 PM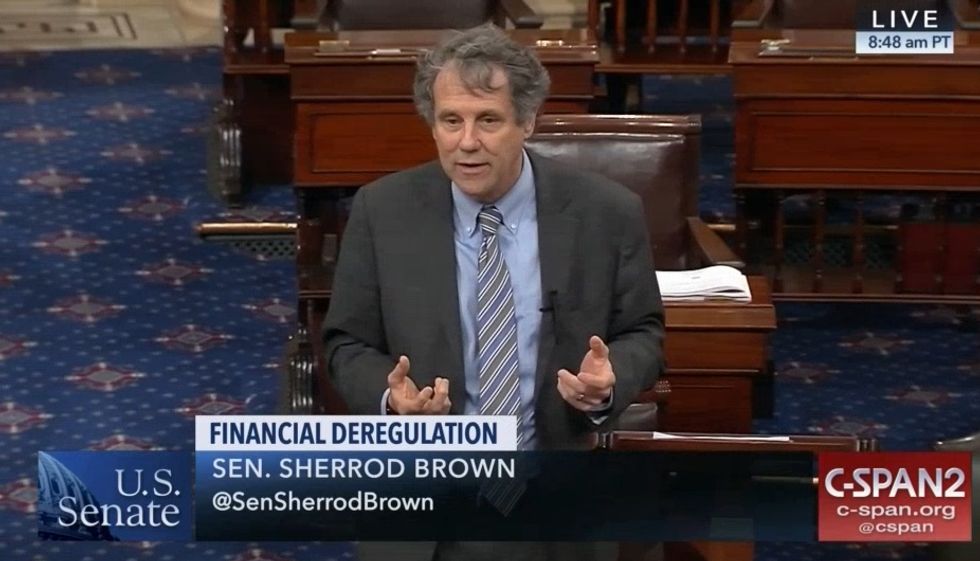 Sherrod Brown does 'rumpled serious guy' really damn well.
---
Yesterday was the Center For American Progress's annual "CAPIdeas" conference, featuring talks and panels by all sorts of cool progressive folks like Elizabeth Warren, Amy Klobuchar, Cecile Richards, and Sherrod Brown, the fabulously rumpled US Senator from Gravelly Voice, Ohio. After he spoke yesterday, he posted to the Twitters some of his ideas for tax policies that would go some way toward fixing the Republicans' Big Fat Tax Cuts for Rich Fuckwads Act of 2017. Brown linked to three amendments that he offered last year that "would have actually put more money back in the pockets of American workers and fixed some of the broken incentives in our economic system," and which belong in any future Democratic tax reforms. Like bills that could be passed if Dems take back Congress this fall, and boot Trump in 2020.
We won't get into the policy weeds, but let's have a round of applause for the ideas Brown would like to see enshrined in tax policy. First up, there's the "Patriot Corporation Tax Credit," which would steer tax cuts only to corporations that pledge to keep good jobs -- and corporate headquarters -- in the USA. The credit would go to companies that pay a minimum of $15 per hour and which provide decent healthcare and retirement benefits. It would also require companies to cover the difference between their pay and military pay for military Reservists and National Guard members who are called up for active duty.
Our particular favorite idea is the Corporate Freeloader Fee, which would apply only to mega-corporations "who file at least $100,000 in payroll taxes with the IRS daily for at least 180 days straight." It's intended as a counter to the market wisdom that leads companies to artificially lower prices for consumers by offloading the social costs of low wages onto government programs like Medicaid or the ACA, or even food stamps for some of the lowest-paid workers. Yes, Walmart, he means YOU. And you too, McDonalds:
The Corporate Freeloader Fee levies a fee based on the number of employees at a company who earn less than 218 percent of the federal poverty rate, or $26,250 in 2017. The fee increases as the percentages of a company's workforce who earn less than a living goes up. Companies can reduce fees by providing healthcare benefits and making contributions to employee retirement plans.
Don't pay enough to keep your workers off government assistance? You will now, fuckers.
Finally, there's the Working Families Tax Relief Act, which would expand access for working people to the Earned Income Tax Credit and Child Tax Credit, because an increase in pay for lower-income people shouldn't be punished with higher taxes or loss of eligibility for those tax benefits. Imagine that!
All three of these proposals would be good for the economy, since they'd put more money into the budgets of middle- and working-class folks, who would then spend it on their families. You want to talk about the economics of tax cuts? Instead of vaguely wishing corporations and the rich might expand hiring (instead of plowing their tax cuts into stock buybacks that just make them richer), policies that improve the buying power of workers actually result in more spending on stuff, and thus more demand for stuff, which is good, goddammit, for business. It's what Obama meant when he talked about "growing the economy from the middle," and what our favorite billionaire, early Amazon backer Nick Hanauer, has been saying since forever:
If there were a shred of truth to the claim that the rich are our nation's job creators, then given how rich the rich have gotten, America should be drowning in jobs!
Rewarding only the "job creators" for their wonderful skill at making money, says Hanauer, isn't just unfair: It's also "terrible for business. The best ideas in the world aren't worth jack shit unless you have someone to sell to."
Hey, why don't we popularize the term Demand-Side economics?
So, hey, that brings us to this week's viral video of an entitled white asshole losing his shit about stuff he has no business losing his shit about. Here he is at a Manhattan coffee shop, threatening to call ICE on the staff and customers because he heard them speaking Spanish:
Jerkwad Trump Voter (you just know he is) complains, "Your staff is speaking Spanish to customers when they should be speaking English," which he apparently thinks is the law. Happily, everyone around him laughs at his stupidass complaints that "every single person in the shop, including some of the customers," has been assaulting his ears with Spanish. "This is America," he wails, as a bystander mocks, "yeah, it IS America!"
As the poor bewildered lover of His America is asked to leave, he adds,
So I will be following up, and my guess is, they're not documented. So my next call is to ICE to have each one of them kicked out of my country. If they have the balls to come here and live off of my money--

I pay for their welfare. I pay for their ability to be here. The least they can do, they least they can do is speak English…. If you intend on running a place in midtown Manhattan, your staff should be speaking English, not Spanish!
Yeah, the people who work at the chi-chi coffee shop are obviously undocumented and on welfare, or maybe Puerto Rican (same thing), and by White Jesus, he will have justice!
Of course, if anyone working at the coffee shop does qualify for assistance, that would only be the case if they're not getting adequate wages and benefits -- not that the entitled asshole's assumptions should be given any credence. (Sure, NYC's Fresh Kitchen probably doesn't pay enough taxes to be subject to Brown's Freeloader Fee, but again, not really the point).
Also too: What the fuck is this pinche gringo even upset about? Monolingualism should be embarrassing, as former Bill Clinton speechwriter David Kusnet reminds us:
This guy should have met New York City's greatest Mayor, Fiorello LaGuardia, who spoke and campaigned in at least six languages, including Italian, Yiddish, Hebrew, German, Croatian, and, yes, English. #ILuvNewYorkhttps://t.co/J03U2GsgRJ

— David Kusnet (@DavidKusnet) May 16, 2018
Your country, Entitled Asshole Guy? Get the fuck outta here. Also, not too surprisingly, Shaun King is trying to identify the douchey white guy, and is pretty certain he's been spotted being an asshole (yelling "you are not a Jew!" and chanting "MILO! MILO! MILO!" at a rabbi who objects to killing Palestinians) previously.
Clearly a guy who knows what New York is all about: White people who speak English and agree with Donald Trump.
Follow Doktor Zoom on Twitter
Don't take for granted that the institutions you love will always be there, like Liberty and Justice for All, and Wonkette. Click to save at least one of them!
[Sherrod Brown on Twitter / Latino Rebels]