Shit Sandwiches A Dish Best Served Cold. Wonkagenda For Fri., Feb. 17, 2017
Culture
February 17, 2017 09:24 AM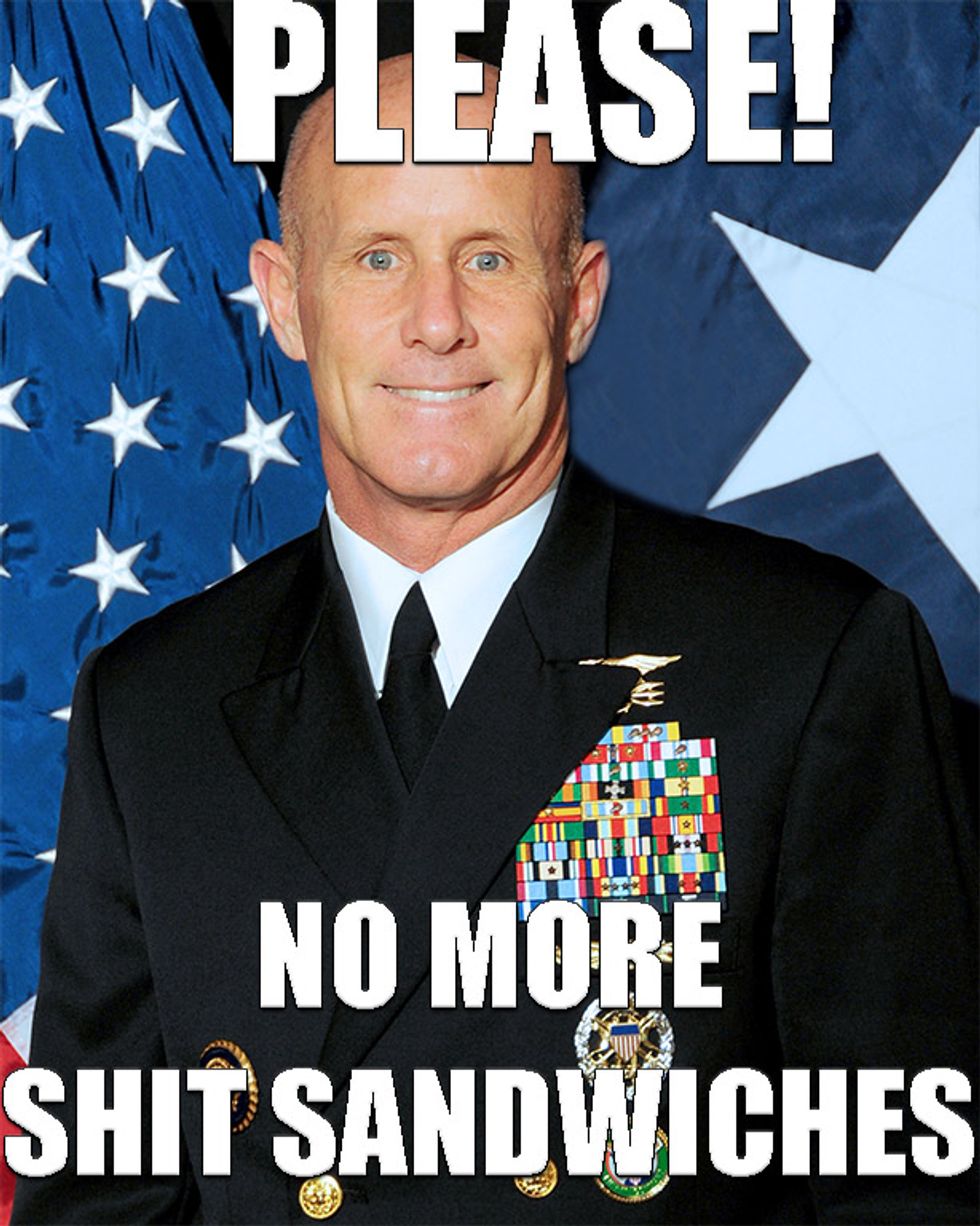 ---

GOOD NEWS EVERYONE! The Muslim bantravel restrictions against religious and ethnic minorities is DEAD (for now).
A judge in Oklahoma has ruled that Scott Pruitt has to show us ALL of his sexxxy love letters to oil, gas and coal industries by Tuesday. And since his confirmation vote is today, those science bozos at the E.P.A. have been making a big stink to senators for days! [Morning Maddow!]
Trump picked Admiral Harward to replace Mike Flynn, but Harward decided he doesn't want to eat a "shit sandwich," so he decided to turn down the job and stay at home with his family (which is D.C. Swamp-people speak for "I don't eat shit sandwiches")
R. Alexander Acosta is the new pick for Labor Secretary, which is super weird because he doesn't seem to be another festering trash monster from the bowels of the .1%, until you start digging a bit.
The GOP has outlined its plans to repeal and replacerepair Obamacare, but they're conveniently glossing over most of the details for a few weeks so no one tries to make a fuss about all that wealth redistribution while Congress critters are outside goofing off during recesses.
UH-OH! Looks like Mike Flynn lied to the FBI when they asked him about his lovey-dovey phone calls to the Russian ambassador!
Jason Chaffetz isn't finished with Hillary Cliton because he just asked Jeff Sessions to charge Clinton's I.T. guy for setting up the server she used to deploy her flying, lying email Benghazi bombs.
People in New York, Florida and Washington are fed up with the entire Trump family whenever they're in town because they make such a big, fat complicated mess that's costing taxpayers millions of Ameros each day.
People are starting to wonder if the U.S. is being run by "deep state" shadowy mole people who live in the secret sewers of Washington now that the national security apparatus is bucking Trump's White House.
Nikki Haley must have missed Trump's presser with Bibi the other day because she was at a U.N. Security Council meeting saying, "We absolutely support a two-state solution" in Palestine, and people shouldn't "obsess over Israel." Maybe she's skipping all the other meetings about Yemen, Syria, Afghanistan, South Sudan, North Korea, Iran...
Donald Trump is still telling Chris Christie what to eat when they go out to fancy dinners. SPOILER ALERT: They ordered the meatloaf.
A cop in St. Louis was told that he was a little too gay to be promoted and he should "tone down" his "gayness" if he ever wanted to see one of those fancy white shirts, according to a lawsuit.
The Washington State Supreme Court unanimously ruled that a gay-hatin' florist can't hide behind her martyr's cross and deny gay couples flowers for their big, gay weddings.
Customs and Border Patrol officials at Dulles seized 13 pounds of horse genitals hidden in juice boxes. Poor Mr. Ed!
Dame Peggington hath opined words upon the papyrus of the WSJ, and doth decree that our brave new world of skinny ties and sideburns has left her confused; she can't take all this youthful racket! That poor woman and her gin-soaked liver! [Archive]
Here's your late night wrap up! EVERYONE was talking about that solo presser! Jimmy Kimmel has grabbed the gist of it, Seth Meyers took A Closer Look, Trevor Noah focused on what few complete thoughts Trump had. Colbert had a great monologue and talked with Sally Field about how the #Resistance reminds her of 1960s protest movements. Hell, even Fallon jumped in the mix with a cold open Trump impression.
And here's your morning Nice Time: a baby capybara nomming on some hay! Hurray!
Dominic Gwinn
Dominic is a broke journalist in Chicago. You can find him in a dirty bar talking to weirdos, or in a gutter taking photos.