Shitmouth Strikes Again. Wonkagenda For Fri., March 30, 2018
News
March 30, 2018 09:09 AM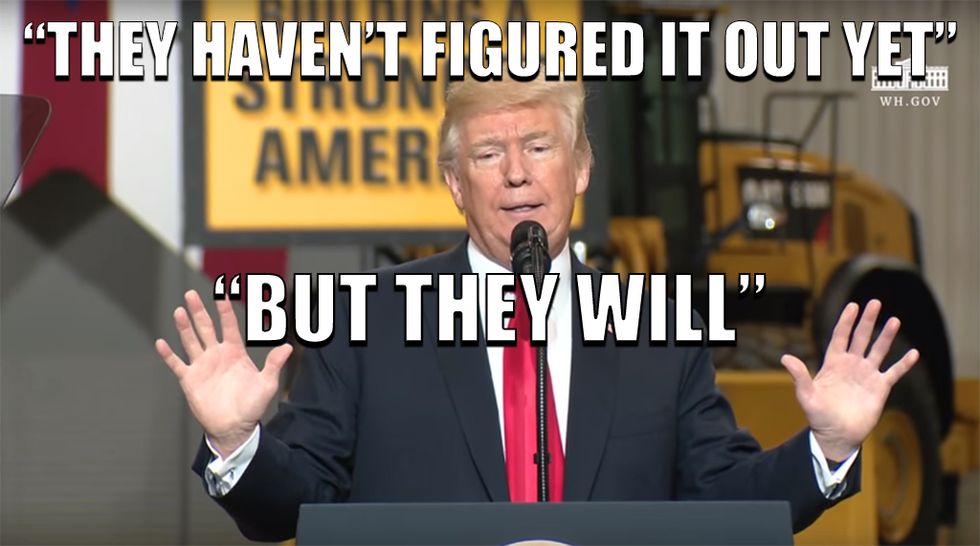 Good Friday, and good morning Wonketariat! Here's some of the things we may be talking about today.
---
Jeff Sessions has decided he won't find a babysitter to hover over Robert Mueller since Mueller is a big boy. Didn't he recuse himself from this stuff?
Yesterday, Sessions announced that federal prosecutor John Huber has been snooping around FISA warrants to see if someone broke the law when they spied on Carter Page while Page was acting like a spy. [Morning Maddow]
Robert Mueller has reportedly been sticking his nose into the 2016 Republican National Convention, jogging memories about Jeff Sessions meeting with then-Russian ambassador Sergey Kislyak.
Last night, Carter Page went on Chris Hayes (AGAIN) to dig his grave a little deeper about his meetings with Kislyak. [Hayes]
Trump's White House lawyer Ty Cobb sat down with Vox to talk all the ways Trump is definitely not going to "You're Fired" Robert Mueller.
Laura Ingraham continues to hemorrhage advertisers, even after she was forced to apologize for being a mean girl AND a Heather to David Hogg.
Milo Yiano-whatever's charity for white bros has closed, just don't ask where the money went.
David Shulkin says that he too was fired via tweet. In an interview with Chris Hayes, Shulkin states Trump actually called him earlier in the day, but said nothing about being "You're Fired." Shulkin is warning that he was fired due to his refusal to privatize the VA, and it really pissed off the Koch brothers. [Hayes]
People around Washington can't stop singing the praises of Rear Adm. Ronny Jackson as the White House doctor, but they're warning that (even though he's a nice guy) his lack of managerial experience makes him a pretty shitty choice to run the VA.
According to a recently "corrected" draft of the 2020 census, there won't be any questions on gender identity or sexual orientation, and the Census Bureau is calling reports of their inclusion a mistake. #NoHomo.
Here's a A BUNCH of pretty infographics about how the economy has rebounded since the 2008 financial crisis, and how a senior editor at the WSJ tried to bury the story because it shows the staggering rise in income inequality. It's a bull(shit) market, people! [Archive]
ProPublica has found the biggest problem with our voting system is actually outdated voting machines, not Russian fuckery. [Video]
A DC Circuit Court has struck down some of the autodialer protections enacted in the 2015 Telephone Consumer Protection Act. Thanks anyway, Obama. :(
Scott Pruitt's EPA is expected to dump Obama-era clean car rules designed to kick automakers into gear and make the US a leader in climate change reduction.
Get ready for MORE legal fuckery with Lenny the Loan Shark, the progressive mascot trying to protect the Obama-era payday lending regulations from being ripped up by Mick Mulvaney.
You may soon have another reason to hate Peeps if they win a lawsuit over federally mandated fees for blocking new employees from signing up for a pension system as similar companies would likely follow suit. Geezus, Peeps really are the worst.
Eggheads, White House staffers and congressional legislators are signaling that Trump won't be able to use the military to build his stupid wall due the all the bureaucratic roadblocks set up to keep this sort of crap in check.
Here's some palace intregue for you: Yesterday was the last day for Hope Hicks, but now the fun begins inside Trump's White House as staffers start climbing over the corpses to become the new White House Comms Director.
If you ever wanted to know how Congress sweeps sexual harassment under the rug, then read this enraging story about Connecticut Democratic Rep. Elizabeth Esty quietly dismissing her chief of staff after a serious incident with another staffer that involved violence and death threats. (Hint: the abused staffer doesn't seem to have gotten any help in any way whatsoever, but the abuser got a nice letter of recommendation.)
Gun reform activists have been screaming for town halls in order to talk about gun violence, too bad Republicans have no interest in talking to constituents.
Michigan Republican Rep. Mike Bishop has whitewashed his website of all NRA endorsements, including his A/A+ rating, now that he's being targeted by the DCCC's "Red to Blue" program.
Teachers are pissed. In Arizona they're about to go on strike for having some of the lowest wages in the country. Meanwhile, in Oklahoma, the state legislature is actually willing to raise taxes to avert a looming strike.
Trump went to Ohio to jerk himself while sputtering out sentence fragments, but all the cable networks (including Fox!) cut away because fuck that guy. LOW RATINGS!
Amidst the smoke being blown up our collective asses yesterday, Trump stated, "We're coming out of Syria, like, very soon," because we've "knocked the hell out of ISIS," though the Pentagon and State Department seem to disagree with that assessment.
Trump wants to use his new South Korean trade deal as leverage against North Korea, which...fuck it. This literally makes no goddamn sense. They're two different countries; that's not how leverage works!
Russia will boot out a bunch of Western diplomats and envoys, including 60 from the US, and shutter the American consulate in St. Petersburg, in retaliation for the mass expulsion of Russian diplomats by Western nations over the attempted assassination of former spy Sergei Skripal.
Skripal's daughter is said to be improving and talking; naturally Russia wants to send some people to have a chat with her. MAYBE NO?
A new report from NBC's Richard Engel states that Russia is moving through a "hit-list" of former spies that includes Skripal and Christopher Steele, author of THE DOSSIER.
British Prime Minister Theresa May has threatened that the UK may take further actions to curb continued Russian aggression.
Russia's ambassador to the US is so lonely now that nobody in Washington will talk to him. Coincidentally, Trump has told aides not to talk about Russia policy moves.
Amazon is weathering a series of attacks by Trump, who claims they pay no taxes, ruin retail businesses, and hurt the Post Office, none of which is true. (Except maybe the ruining retail businesses part.) People close to Trump speculate that this is just him bitching about the Washington Post, and trying to hurt Jeff Bezos. You don't say.
Now that Trump has saved Silicon Valley billions of dollars, tech-bros are starting to warm up to Trump, even if he is a doddering old racist.
Privacy wonks and policy wags are licking their pencils and leering at Facebook as they get ready to start drafting legislation modeled after European data privacy laws.
The ACLU is pushing local governments to adopt municipal broadband and protect net neutrality, and you can help!
And here's your morning Nice Time! Baby Bunnies!
We're ad-free and 100% reader-supported because people like you give us money. Won't you think of our starving writers and Wonk baby?
Dominic Gwinn
Dominic is a broke journalist in Chicago. You can find him in a dirty bar talking to weirdos, or in a gutter taking photos.