Sick Of Stuffing? Here's Your Easy But Awesome Lowcountry Crab Cakes
Culture
November 26, 2016 12:30 PM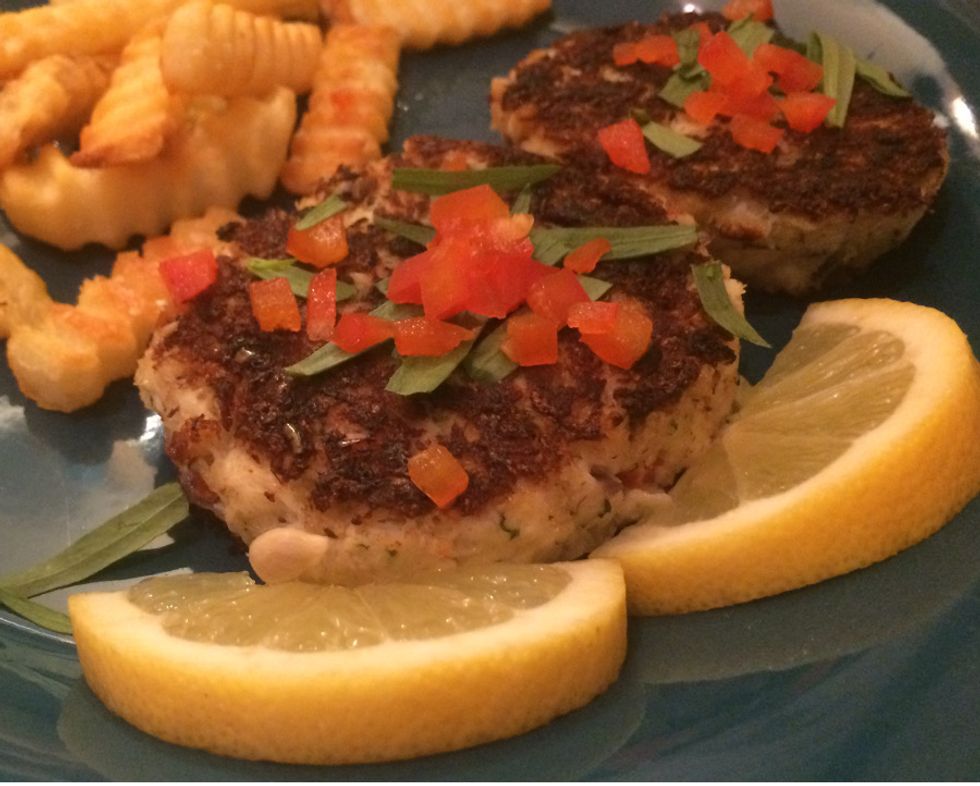 Welcome back, Wonkers. Whether you celebrated with family or had a Friendsgiving, I hope your Festival of Gastronomic Excess was excessively festive, gastronomically amazing, and not marred by overbearing Trumpsters!
---
But now, we have the aftermath with which to deal. Just LOOK at those mountains of leftovers! Today, we're going to look at:
CREATIVE WAYS TO USE THANKSGIVING LEFTOV . . . Ouch! Who threw that? You could've taken the dressing OUT OF THE DAMN BOWL first. Nearly gave me a concussion!
What? A little louder, I can't hear you over the ringing in my ears. List of demands? No no no no no. This is MY kitchen, at most you make reque . . . Uh, OK ok ok ok. Put the cleaver down - I'm listening.
*takes notes* Wait, wait! Slow down . . .
All right. Let me see if I got this right: you never want to see turkey again, EVER; were quite creative in your suggestions of what you'd do to me if I even mentioned "dressing"; almost as adamant that I'm not to use sweet potatoes, pumpkins or any other squash; had truly dreadful things to say about those crispy onion things; and I don't want to know what Cranberry Sauce ever did to make you feel so strongly about it. 0.o There's more, but I see the pattern.
Soooooooooo . . . maybe something NOT traditionally associated with Turkeyday, then? Not a problem! I got this. We good.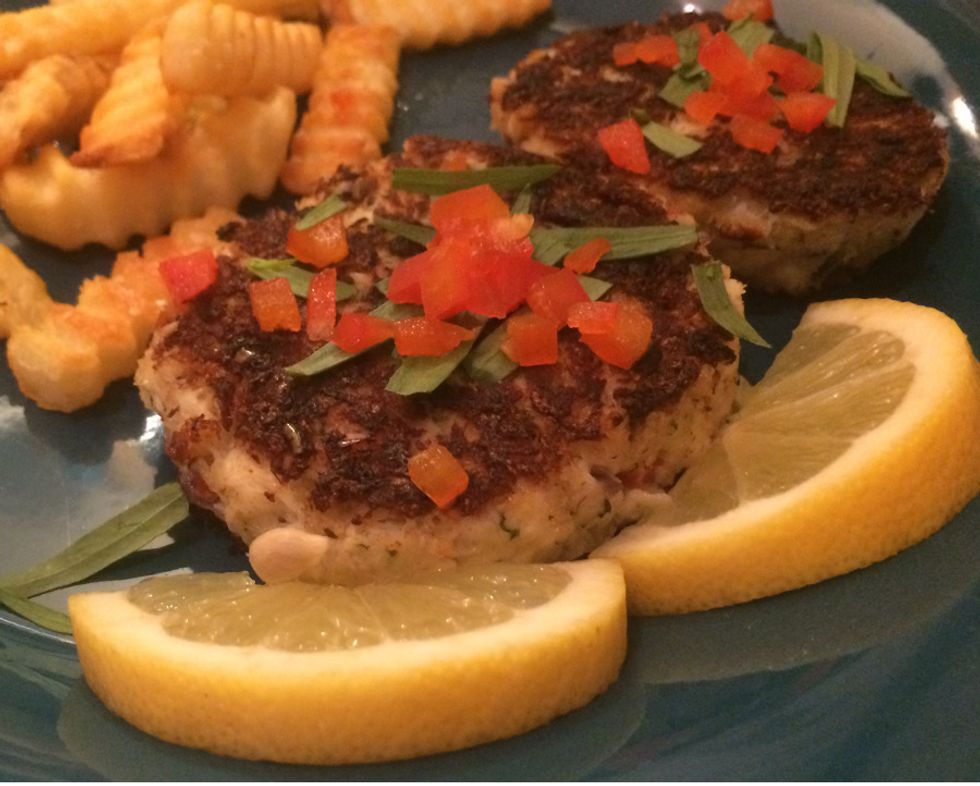 Hungry yet?
How about something that can be, depending on presentation, delightfully decadent or comfortably casual? Exquisitely elegant on a toasted muffin with Hollandaise for brunch, yet relaxed country-cooking when served with a side of fries? This is how I make LOWCOUNTRY STYLE CRAB CAKES, and you should give it a shot!
Prep time: 1 1/4 hours (includes resting time)
Cook time: 15 minutes
Total: 1 1/2 hours
Makes 8 Crab Cakes
WHAT YOU NEED!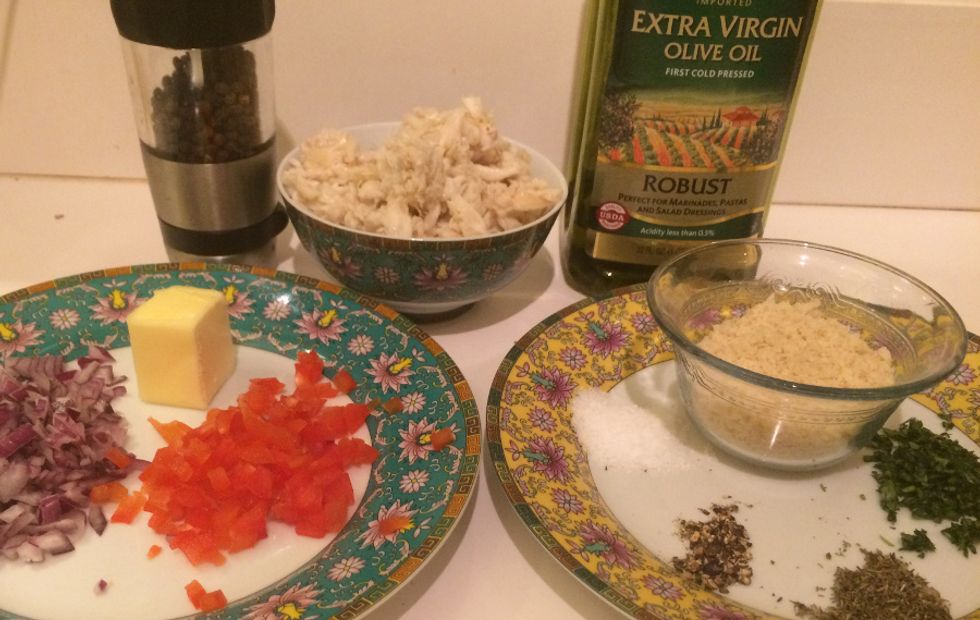 What You Need! Mostly.
3 tablespoons butter
1/2 cup minced red onions
1/3 cup minced red bell pepper
1 tablespoon minced fresh tarragon
3/8 tsp Thyme
1/3 cup mayonaise
1 lb lump or jumbo lump crabmeat (picked over for shells and drained of any liquid)
3/4 cups panko (You can cut this back to 1/2 cup, if you are willing to be very gentle turning the cakes as they will be fragile)
2 teaspoons salt or to taste
1/4 teaspoon pepper
1/8 teaspoon cayenne pepper
6 tablespoons olive oil
WHAT TO DO WITH WHAT YOU NEED!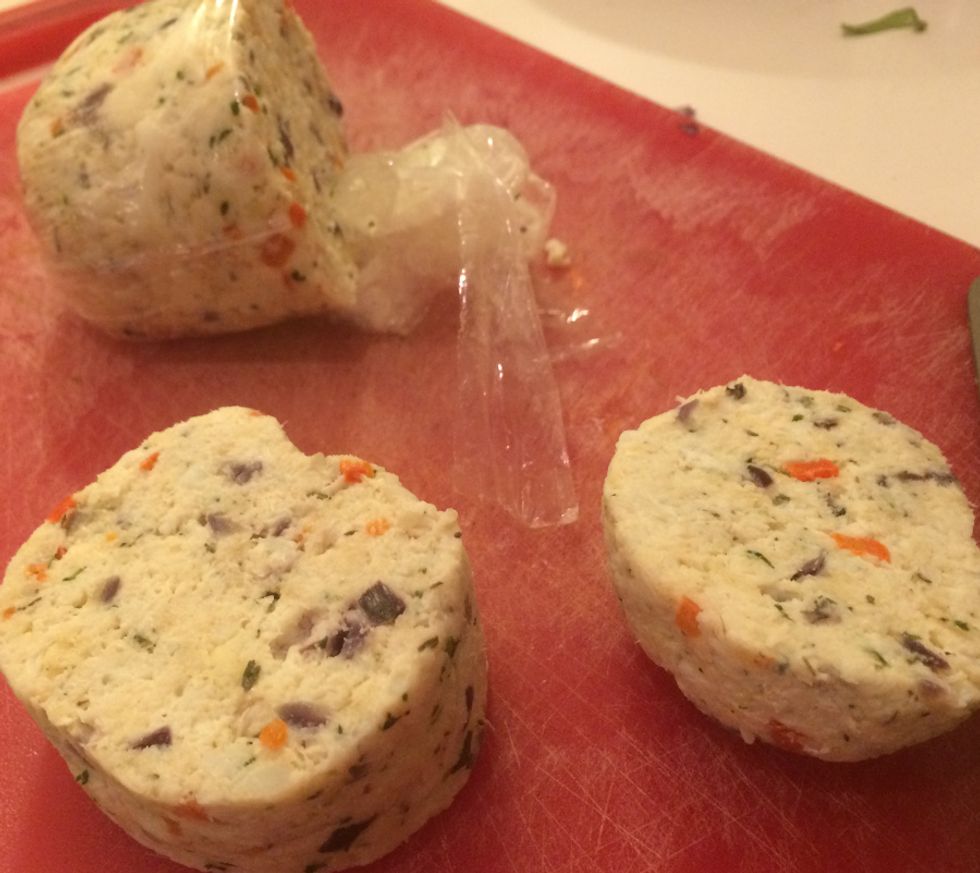 Such precise knifework!
Sautee the red Bell pepper and onion in the butter 5 minutes, or until tender. Allow to cool.
Place onions, bell pepper, tarragon, thyme and mayonnaise in a mixing bowl and combine. Gently fold in the crabmeat. Add the panko and season with salt, pepper and cayenne pepper to taste. Let the mixture rest for 5 minutes. The panko will absorb some of the moisture and the mixture will stay together.
Lay out a large piece of plastic wrap on a clean counter surface.
Place half of the crab mixture on it and roll it into a log about 2 inches in diameter. Bring the wrap up over the crab and roll the crab mixture up. Twist the ends to close. Pierce any air pockets with a toothpick or skewer. Twist the ends even tighter to compress the crab mixture. Tuck under the ends of the wrap and place the tube on a plate. Repeat with the second half of the crab cake mixture. Place the tubes in the refrigerator for at least 1 hour or overnight.
Preheat oven to 150 degrees F.
Cut the logs of crabmeat into 1 1/4-inch-thick cakes. Gently remove the plastic wrap, leaving the cakes in nice cylinders.
Heat 3 tablespoons oil in a heavy-bottomed frying pan (non-stick works well here) over medium-high heat until very hot, but not smoking.
Gently place 4 of the crab cakes in the pan and sear for 3 to 4 minutes or until golden brown. Gently turn the cakes over and sear the other side until golden brown.
Place them on a baking sheet and into the oven to keep warm. Wipe the pan, add the remaining olive oil and repeat this process for the other 4 crab cakes.
And, DONE! Plate. Garnish, in this case, with coarsely chopped tarragon & finely diced Red Peppers.
Best served with copious amounts of wine and good friends. The friends are more important than the wine.
Thank each other, Wonkers, for being friends. I certainly do.
Peace out, y'all.