Small Step Toward Justice For Elijah McClain
Cops
September 01, 2021 03:30 PM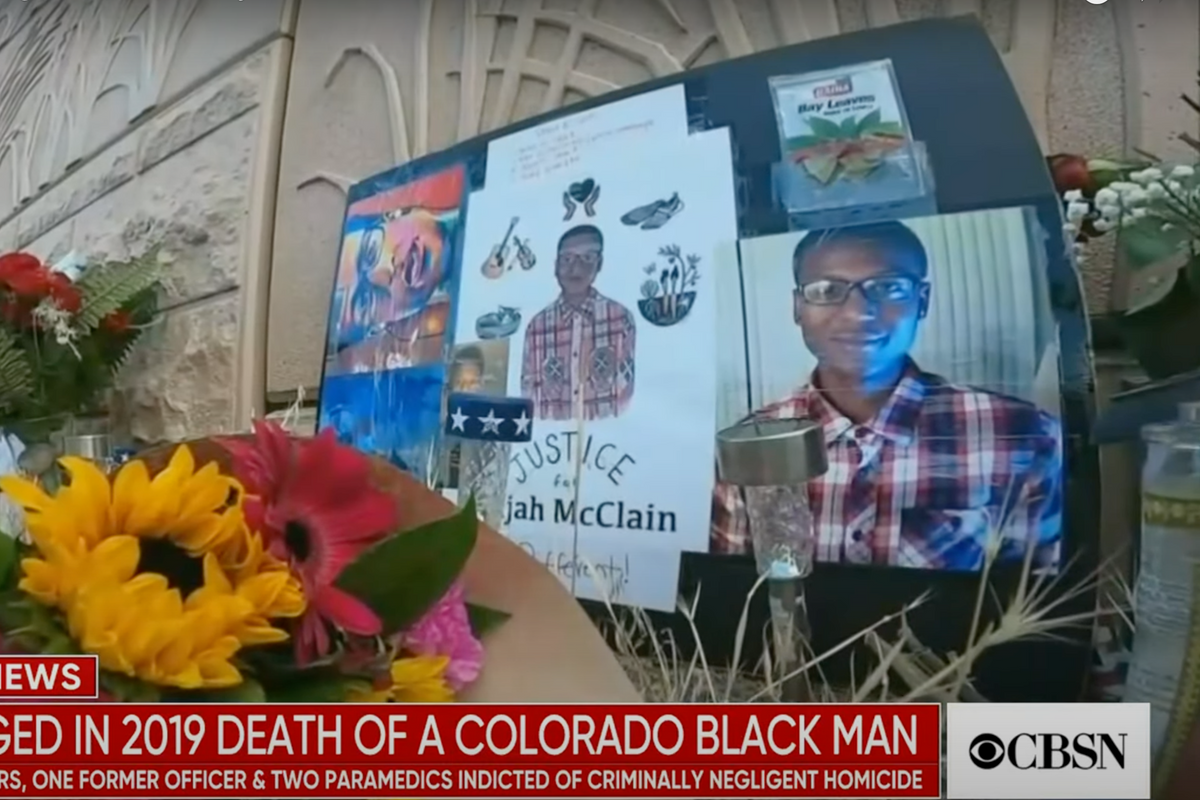 Elijah McClain was walking home from a convenience store in August of 2019. That isn't a crime, nor is wearing ski mask because your face gets cold, but three Aurora, Colorado, police officers confronted him anyway. The cops tackled McClain, 23, and put him in a chokehold. As he begged for his life from people trained to disregard any appeals for mercy, he was handcuffed and his face was pressed into the pavement. When the paramedics arrived, they pumped him with enough sedative for the large scary Black man they imagined rather than McClain's actual slight build. He went into cardiac arrest on the way to the hospital and lingered on life support for a few days before his eventual death.
Now, more than two years later, the people who killed McClain might actually face justice. Colorado Attorney General Phil Weiser revealed Wednesday that a state grand jury indicted Aurora police officers Nathan Woodyard and Randy Roedema, former officer Jason Rosenblatt, and paramedics Jeremy Cooper and Lt. Peter Cichuniec. They all face charges of manslaughter and criminally negligent homicide.
Officers Roedema and Rosenblatt face a count of second-degree assault with intent to cause bodily injury and one count of a crime of violence related to the second-degree assault charge.

Paramedics Cooper and Cichuniec also face a second-degree assault with intent to cause bodily injury, one count of second-degree assault for recklessly causing bodily injury by means of a deadly weapon (ketamine) and one count of second-degree assault for a purpose other than lawful medical or therapeutic treatment for administering ketamine to McClain.
As of Tuesday, Woodyard and Roedema are still on the force. Presumably, they've not killed anyone in the past two years. Their attorneys will probably ask that the jury take that into consideration. It's law enforcement's version of extra credit.
---
Rosenblatt was fired last year when he "responded inappropriately" to a grotesque photo of his fellow officers mocking McClain's death. Officer Jaron Jones posed with his arm hooked around Officer Kyle Dittrich's neck, mimicking the choke hold used to torture McClain. (Police call the choke hold a "carotid control hold," but dehumanizing language is how you wind up with uniformed sociopaths who mock the dead.) Officer Erica Marrero stood next to them. All three men were smiling jovially, not far from the memorial actual humans set up for McClain.
Dittrich texted the photo to Rosenblatt, who responded "ha ha" because he's a monster.
Aurora's then interim police chief, Vanessa Wilson, fired the officers after they explained they were just "trying to cheer up a friend." Maybe it's OK to feel bad that you killed a 23-year-old kid who did nothing wrong.
Curiously, it was somehow easier to fire the officers involved in this sick stunt than it was to fire the ones who literally killed McClain. In February, Wilson said she didn't want to share details about possible disciplinary actions against Woodyard and Roedema because she didn't want to jeopardize an "ongoing investigation."
"I know it's on the minds of everyone," said Vanessa Wilson, the Aurora police chief. "It has been a question that I have answered continually through the time of taking over as the chief of police."

Two officers who were directly involved in the Elijah McClain altercation remain on the force, including Nathan Woodyard and Randy Roedema, but neither officer has been disciplined for his involvement in the incident.
That certainly didn't make the streets any safer for Black men who wear ski masks, go out in public, and like to breathe.
The Aurora Police Department originally "found the three officers connected to McClain's death had acted within acceptable policy and training," which I'm sure they believed. This is why gangsters shouldn't investigate their own whackings. Adams County's then-District Attorney Dave Young also cleared cops of any wrongdoing, but after public outcry following George Floyd's murder almost a year later, Colorado Governor Jared Polis designated Attorney General Phil Weiser as a special prosecutor. The City Council also ordered an independent review, which was damning.
According to the report, Woodyard had his grubby hands on McClain within 10 seconds of approaching him. McClain had no visible weapons and made no threatening movements. The cops claimed they stopped him because McClain was "overdressed," which is also not a crime. (He reportedly wore a ski mask because he was anemic.)
None of the officers, in fact, could adequately explain what crime they thought McClain had committed or was about to commit.
In interviews with the Aurora Police Department's Major Crime/Homicide Unit ("Major Crime") investigators, none of the officers articulated a crime that they thought Mr. McClain had committed, was committing, or was about to commit. They provided the following reasons, none of which under the prevailing case law is sufficient to establish reasonable suspicion: Mr. McClain was acting "suspicious," was wearing a mask and waving his arms, and he was in an area with a "high crime rate." One officer asserted that his refusal to stop was consistent with someone who "either just committed a crime" or someone who is "concealing something whether it be a weapon or drugs," but declining to submit to a consensual stop cannot serve as the basis of reasonable suspicion.
These cops should've been fired as soon as this report was released. They don't know the law or at least the version taught in accredited law schools. They do seem proficient in Sundown Town 101.
Elijah's mother, Sheneen McClain, has channeled her grief into action on her son's behalf. She said today: "It's been a two-year battle just to get to this point. It's huge to know they're indicted. But I know it's not over. We still have to go to trial."
On Wednesday, she remembered her son's gentle spirit and the little details that only a mother can recall — that his favorite color was blue and that, as a child, he only would accept blue lollipops.

"I miss him," she said. "I remember him for who he was and how he treated other people. I appreciate him letting me be his mother."
Sheneen McClain needs cheering up more than her son's killer. Maybe someday, the police will collectively see Black people as human enough to understand this. I'm not optimistic, however. Elijah McClain should still be alive, and mothers of Black children shouldn't spend their lives fighting for justice from a system that is supposed to protect us all.
Follow Stephen Robinson on Twitter.
If you enjoyed this story, please donate what you can to keep Wonkette going forever!
Stephen Robinson
Stephen Robinson is a writer and social kibbitzer based in Portland, Oregon. He writes make believe for Cafe Nordo, an immersive theatre space in Seattle. Once, he wrote a novel called "Mahogany Slade," which you should read or at least buy. He's also on the board of the Portland Playhouse theatre. His son describes him as a "play typer guy."