SNL: Obama And McConnell Get Wasted At Bourbon Summit (Video)
News
November 16, 2014 11:24 AM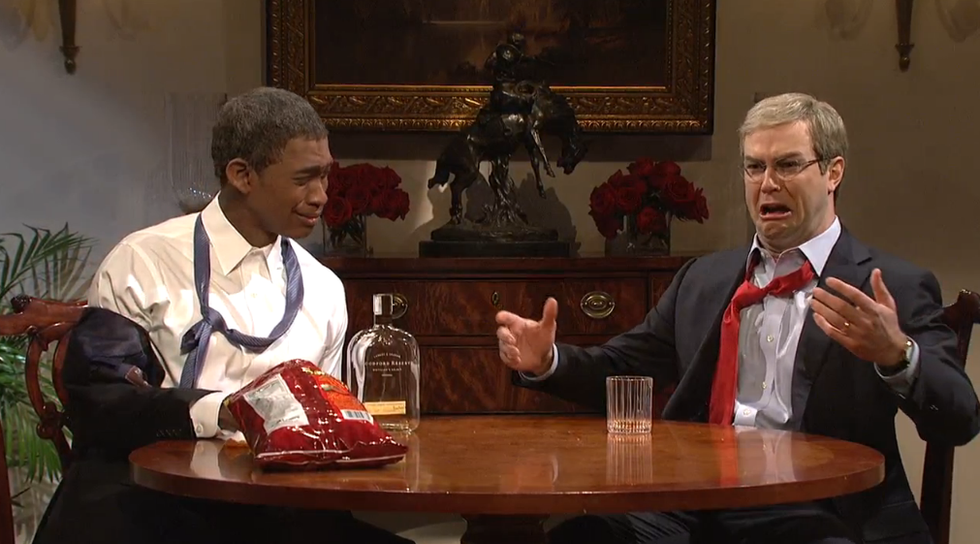 It's the summit you know will (probably) never really happen, but it sure is fun to imagine President Obama and newly selected Senate Majority Leader Mitch McConnell knockin' back a few and even finding common ground. Like having themselves a good chuckle prank calling Hillary Clinton to tell her, "This is Publishers Clearing House. I want you to know you've won an all-expense paid trip to … getting' whooped in 2016!"
---
And after a few more drinks, they even have an honest conversation about their feelings for each other, man.
McCONNELL: You're black.

OBAMA: Yes, I am half black.

McCONNELL: I mean, you ever think about that, a black U.S. president with this country's history? No one would have thought that.

OBAMA: And no one would have ever thought that the Senate Majority Leader would be a redneck who looks like he lost his lips in a fire," Obama quips back.
Have yourself a laugh. Bourbon optional.