Sportsball Year In Review: It Was Mostly Awful!
News
December 31, 2014 09:00 AM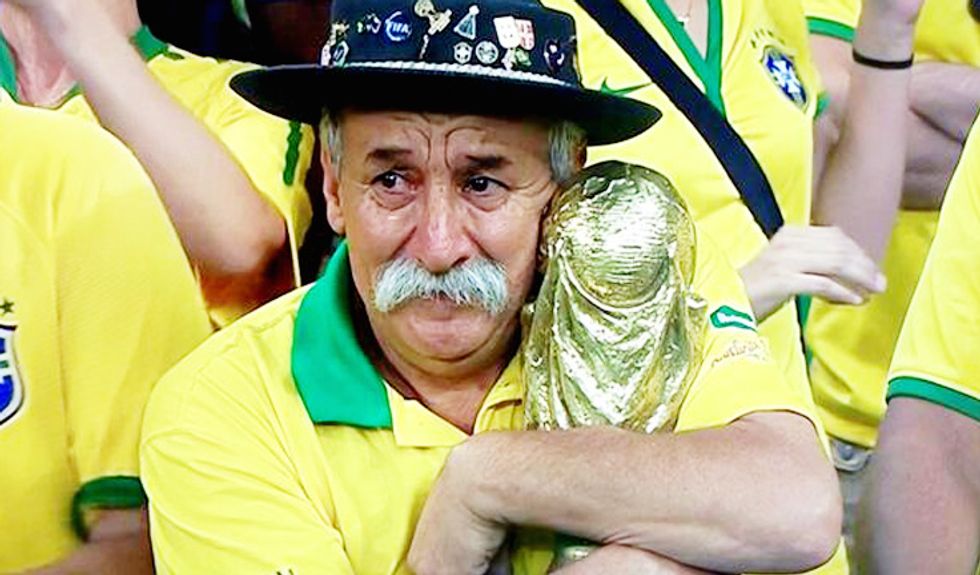 ---
Sports! Oh man, sports, aren't they great? Shut up, they are too. Here now is your 2014 Wonkette Sportsball Year In Review, because why not?
Off-field Hits Plague NFL
Sorry to break this to you, Wonketeers, but the NFL remains the most popular form of sportsball in America. It seems we cannot get enough of the big men slamming into each other, and with all of the downtime between plays, who can blame us? This year, however, public perception of the NFL took a serious turn for the worse. The AP named the NFL's domestic abuse scandals the sports story of the year, and the league's ham-fisted response to the scandals will be studied by dead-eyed PR majors for generations to come.
NFL players have been getting into off-field trouble for years, but this year, we apparently decided to start paying attention. The Ray Rice incident -- and by "incident" we mean "that time Ray Rice knocked out his then-fiancée in an elevator" -- grabbed national headlines, and thanks to a movable feast of mistakes, omissions, and outright lies, the story has stuck around all year.
There was also the Adrian Peterson story, in which the Vikings' (soon-to-be-former?) star running back beat his four-year-old son with a switch -- not to be confused with that other time he gave his other son "a whopping" and defended the practice in a series of published text messages.
And let's not forget about Ray McDonald's domestic violence and sexual assault two-fer. Oh, and also too, former Pro Bowler Darren Sharper's rape charges! The NFL's response now is to show people not being able to talk into the camera about how much they don't like domestic violence.
Protip, NFL guys: do not crib your media strategy from Terri Lynn Land's failed Senate campaign.
On a highly personal note, Yr Wonket would like to thank PFT Commenter for getting him through this NFL season. If you want to laugh at the padlevel stupidity of NFL fans, PFT Commenter is the place to start.
The Olympics: They Were A Thing That Happened!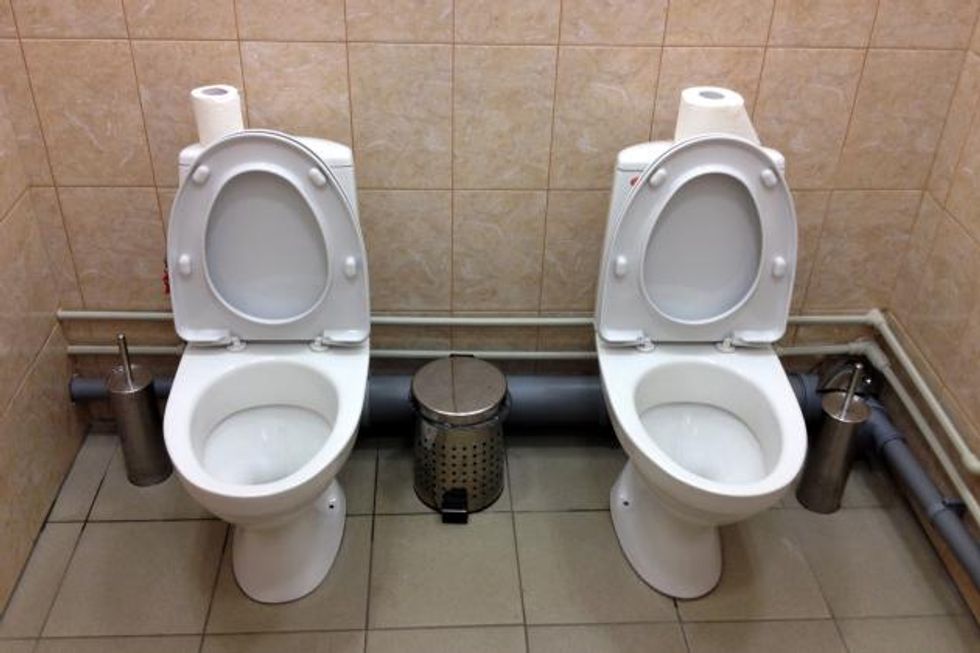 In pre-Soviet Russia, the emperor proudly referred to him- or herself as an autocrat. Vladimir Putin, on the other hand, prefers to speak softly and carry shirtless photos of himself. The times, they really do change, eh comrade?
So da, the Russian resort town of Sochi hosted the Olympics this year, for to make glorious showcase of Russian strength and moral rectitude. In a turn of events no cynic could have possibly predicted, the Russians led both the total medal count and the gold medal count, nearly doubling their overall haul from the 2010 games in Vancouver. The host country won three of the five golds in figure skating, but they also won a bunch of timed events, so maybe their success wasn't all because of cheating. In any case, the world's finest athletes were able to compete with the peace of mind that comes with knowing that no gay people were anywhere near Sochi, and isn't that its own reward? Yes, everyone was a winner in Sochi. Everyone except the stray dogs.
Racist Man Loses His Sportsball Team, Unfair To Racists!
The Los Angeles Clippers -- a professional bouncy-hoops team -- was owned by racist shitbag Donald Sterling for a couple decades. That changed this year, when a woman named V. Stiviano escaped from the post-modernist novel in which she was born and secretly recorded Sterling says all kinds of racist stuff. Sterling insisted that his words had been twisted, that some of his favorite caddies and waiters have been The Blacks, but in the end, he lost his team.
Yr Wonket's official position on Donald Sterling is that while he's definitely a racist shitbag, he's also maybe suffering from Alzheimer's, so we're not going to kick him around anymore. But what's a year-end list for if not to kick a racist shitbag when he's down?
Shine on, you crazy Sterling. Also, stop being racist all the time.
The Gheys Ruin Everything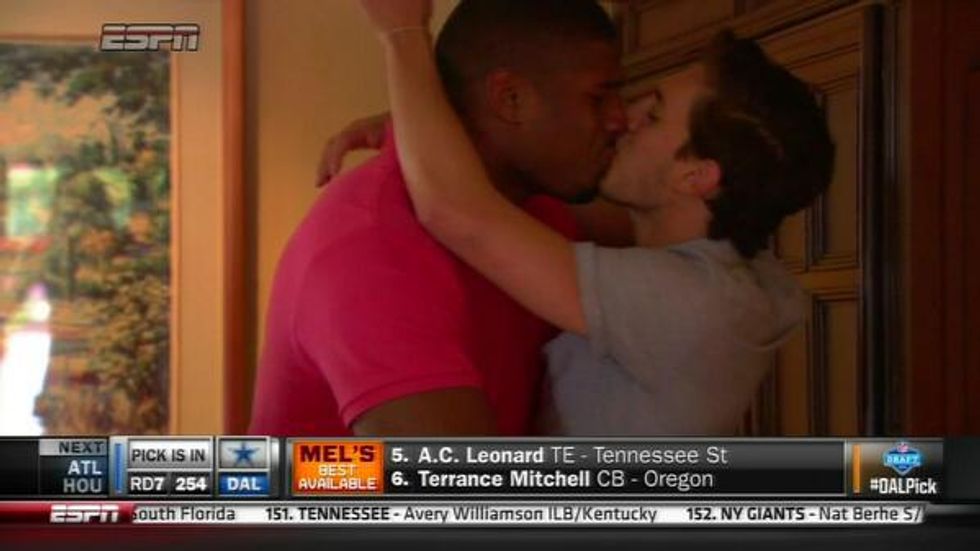 At 36 years of age, Jason Collins is only on an NBA roster because he is seven feet tall and plays decent defense. But this year, he became the answer to a trivia question by competing in a "big four" North American sportsball game while openly gay and male (the WNBA has several openly gay stars, but everyone still pretends the WNBA doesn't exist). For a brief period of time, Collins's jersey was the most popular in the entire NBA, which was decidedly Nice Time, even if it was tinged with sadness. Still, Collins's announcement was great, and he was supported by ginger-haired dreamboat Rep. Joseph Kennedy III, who was his roommate at Stanford. Hooray allies!
Also, too, Michael Sam (pictured above) became the first openly gay man drafted by an NFL team, overcoming both a lack of prototypical size and a doozy of a dad to find his way to St. Louis, which fortified the city's reputation as a leader in tolerance and respect for minority communities.
Madison Bumgarner Single-Armedly Wins World Series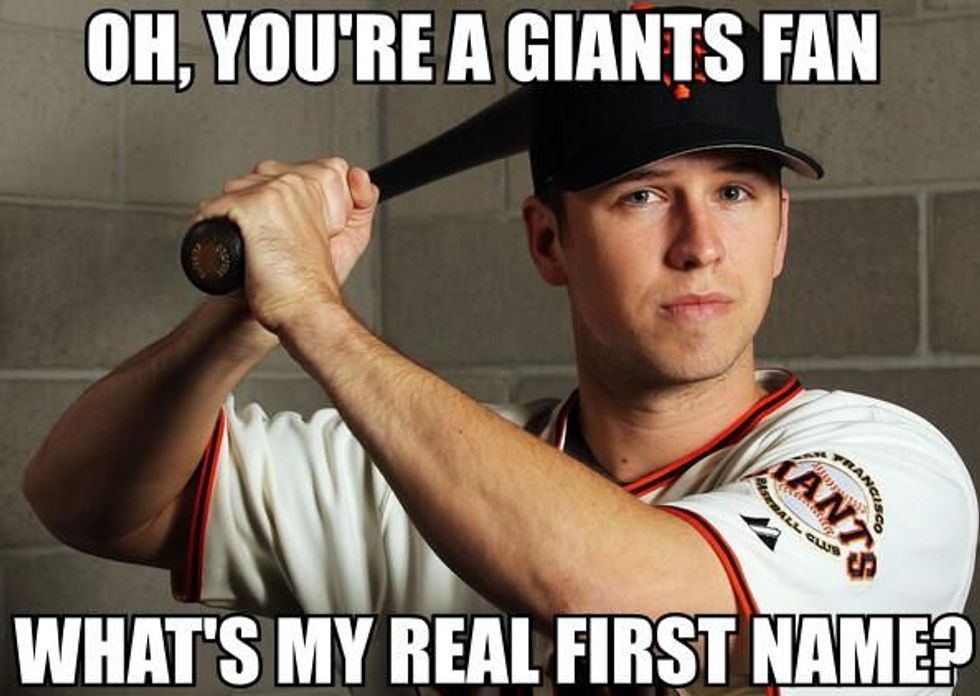 Did you need another reason to roll your eyes at the Bay Area? Well, the San Francisco Baseball Giants gave you one by winning their third World Series in five seasons and overtaking both Boston and St. Louis as having the most insufferable baseball fans on the continent. Thanks San Francisco, eat a bag of broken lightbulbs!
The Giants won thanks to the sportsball heroics of one Madison Bumgarner, real name no gimmicks. He was named Sportsman of the Year by Sports Illustrated, and he put up video-game numbers. One-third of the Giants' innings were pitched by Bumgarner, he had the lowest World Series ERA since Sandy Koufax, and he shattered Curt Schilling's record for most innings pitched in a postseason. All of that is great, and Madison Bumgarner seems like a pretty cool guy, but he wasn't even close to the most interesting pitcher this year.
Mo'ne Davis Steals Our Hearts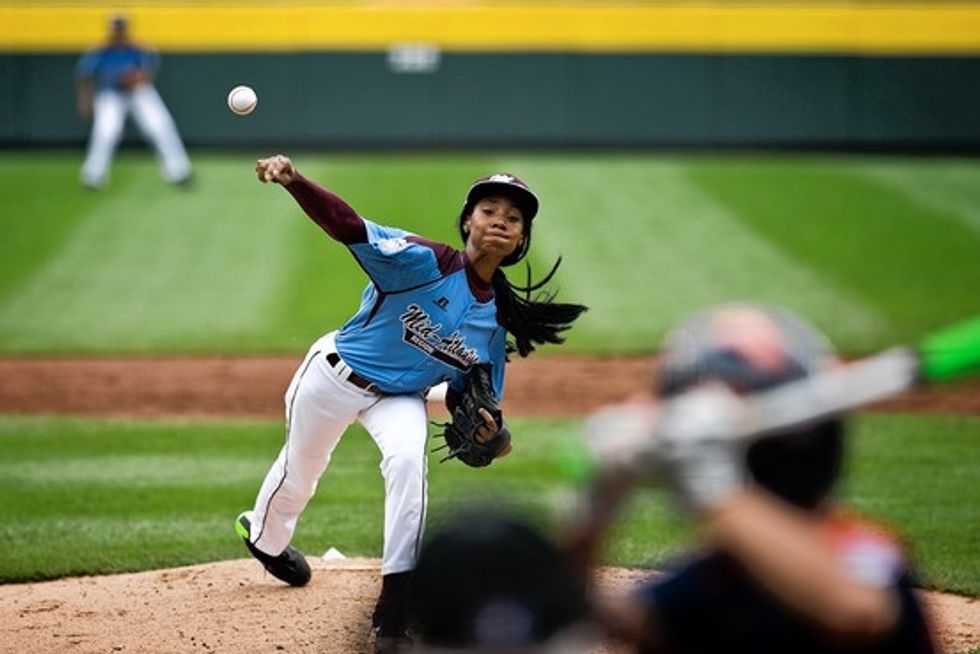 At 5'4" and 111 pounds, Mo'ne Davis is not built to be a power pitcher. There's no good reason why she should be able to throw a baseball 70 miles per hour, and yet she does. Yr Wonket played catcher growing up (leave your snark in the comments, which we don't allow), and watching Mo'ne Davis mow down her opponents, all we could think of was the poor, throbbing left hand of her battery mate. That, and how cool it was to watch this young woman beat up on the boys in a sport not exactly known for its progressive approach to gender relations.
Her team was bounced from the Little League World Series by a murderer's row of kids from Nevada, but before she left the national stage, Davis dropped the sportsball quote of the year.