Steve Bannon Bitches About Jews, Jesus, And Jerks. Wonkagenda For Wed., Dec. 6, 2017
News
December 06, 2017 09:14 AM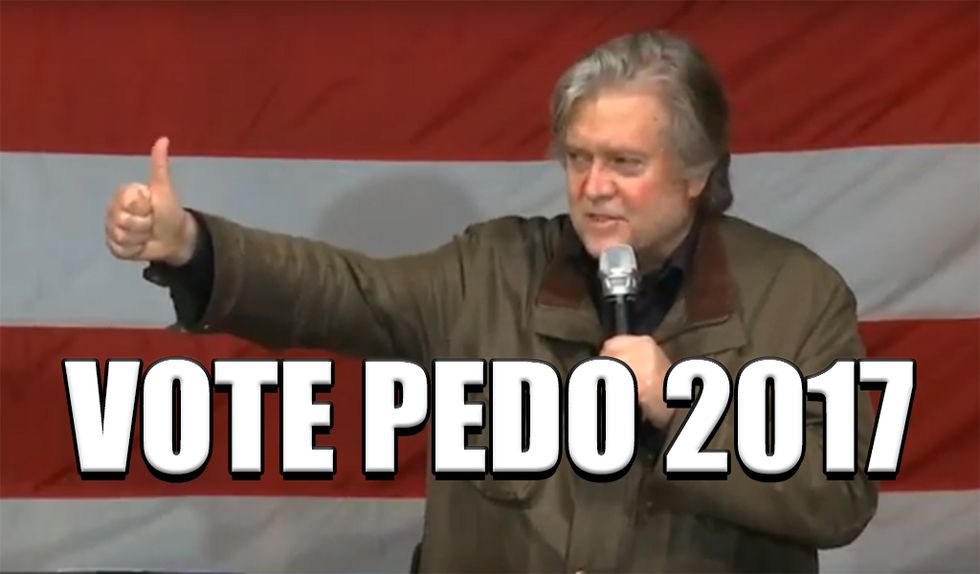 Morning Wonketariat! Here's some of the things we may be talking about today.
---
Thousands of people are being evacuated in Ventura County, California, as wildfires envelop large swaths of Los Angeles suburbs.
EVACUATIONS ARE NOW MANDATORY!
GOOD NEWS! Time's Person of the Year is "The Silence Breakers," AKA the women who have came forward to expose rampant sexual harassment.
The bipartisan push to protect Robert Mueller's investigation is being spearheaded by Congressional Democrats as Trump's buddies flail around in a desperate attempt to change the subject.
The Russian lawyer lady told the Senate Judiciary committee that DJTJ was left with blue balls when he realized she didn't have any dirt on Hillary Clinton, and only wanted to talk about importing Russian brides, or whatever.
Congressional investigators have broken out their magnifying lenses as they eyeball all the unusual trips to Europe by Trump's minions during the 2016 campaign. (There were SO MANY unusual trips to Europe!)
House Republicans are promising not to work with Democrats to avert another Republican-sponsored government shutdown.
Tax lawyers are still screaming about all the potential for obscene amounts of fuckery in the Trump/Ryan tax cuts (for the super rich), causing one former Bush 43 Treasury official to comment, "The more you read the more you go, 'Holy crap, what's this?'"
Super-rich conservatives, like the Koch Brothers, are spending oodles of Ameros to try and convince people that trickle down economics works, and to support the Trump/Ryan tax cuts (for the super rich).
Trump's businesses stand to gain bigly under the Trump/Ryan tax cuts (for the super rich), surprising nobody.
The Trump administration will recognize Jerusalem as the capital of Israel and now everyone is bracing for the hell about to break loose.
The USDA will take a more hands-off approach to food stamps, that way states like Wisconsin can crank their poor-fucking up to 11.
John Conyers resigned over allegations that he's a pervy old man.
Members of the Congressional Black Caucus are pissed about what they say is a double standard for John Conyers after it was revealed that he's a pervy old man. (THEY'RE NOT WRONG.)
With a wallet full of cash from his time at Goldman Sachs, Steve Bannon held a rally in support of ALLEGED pedophile and Alabama Republican Senate Candidate Roy Moore. Bannon rambled and railed about Mitt Romney, Vietnam, draft dodgers, and the lack of support from DC for an ALLEGED child molester.
Doug Jones was getting SAVAGE on Twitter last night as he criticized Roy Moore and Steve Bannon as carpetbaggers who can't hold down a job.
As Roy Moore stalked the local mall thumping his Bible back in the 1980s, he was also sexxing his wife months before she was divorced from her first husband. No worries, it's not like there's a rule against banging thy neighbor's wife in one of the Ten Commandments he had carved in stone for his court.
ICMI: They used to call Roy Moore "Fruit Salad" in college, and he was such an asshole that he was afraid of being fragged his own soldiers in Vietnam.
Senate Republicans are grumbling behind closed doors about Roy Moore. Meanwhile, the RNC has sent a paltry $50,000 to the Alabama Republican Party, causing Roy Moore supporters to ask, "Just the tip?"
John Kelly's former deputy, Kirstjen Nielsen, is your new Homeland Security Secretary, and will undoubtedly be held responsible for building Trump's Tortilla Curtain.
The number of people caught attempting to sneak into 'Murica has decreased by 24 percent from last year, but some border agents are still bitching for their blast/climb-proof wall.
Democratic Texas Rep. Al Green wants to bring articles of impeachment on Trump (again) later today, but the GOP is expected to table it (again).
Doctors say that people serving at the US Embassy in Cuba now show brain abnormalities, but they're being careful not to say that they were victims of some kind of sonic weapon (yet.)
An Oklahoma state senator pleaded guilty to a federal charge of child sex trafficking -- and police just released the body cam footage showing him answering the door with a stoned 17 year old boy while the senator wore a shirt that showed the words "Ephesians 5:22" and "now go make me a sandwich."
Russia has been banned from the 2018 Winter Olympics for doping, with the IOC saying that Russian government officials are banned, and that its flag will not fly, nor will its anthem sound.
The Palestinian envoy to the United Kingdom is warning that Trump moving the US embassy in Israel to Jerusalem is akin to "declaring war in the Middle East."
A new report in the NYTimes details how everyone in Harvey Weinstein's orbit, from journalists to media moguls, was blackmailed, bribed, or bought so as not to expose him as a fat, disgusting pervert.
Kellyanne Conway says that she had a #MeToo moment but "nobody cared."
FCC Chairman and corporate shitheel Ajit Pai is refusing to allow 50,000 comments in favor of net neutrality discovered by the National Hispanic Media Coalition, stating, "the issue has been fully addressed."
OMG, check out Rick Perry's field trip to Saudi Arabia as he desperately tries to look like an actual human being (again). Many thots, very sand, too pita. Wow.
And here's your morning Nice Time! RED PANDAS!
We're independently owned and we survive because nice people like you give us money!
Follow Dominic on Twitter and send him cute fluffies!
Dominic Gwinn
Dominic is a broke journalist in Chicago. You can find him in a dirty bar talking to weirdos, or in a gutter taking photos.