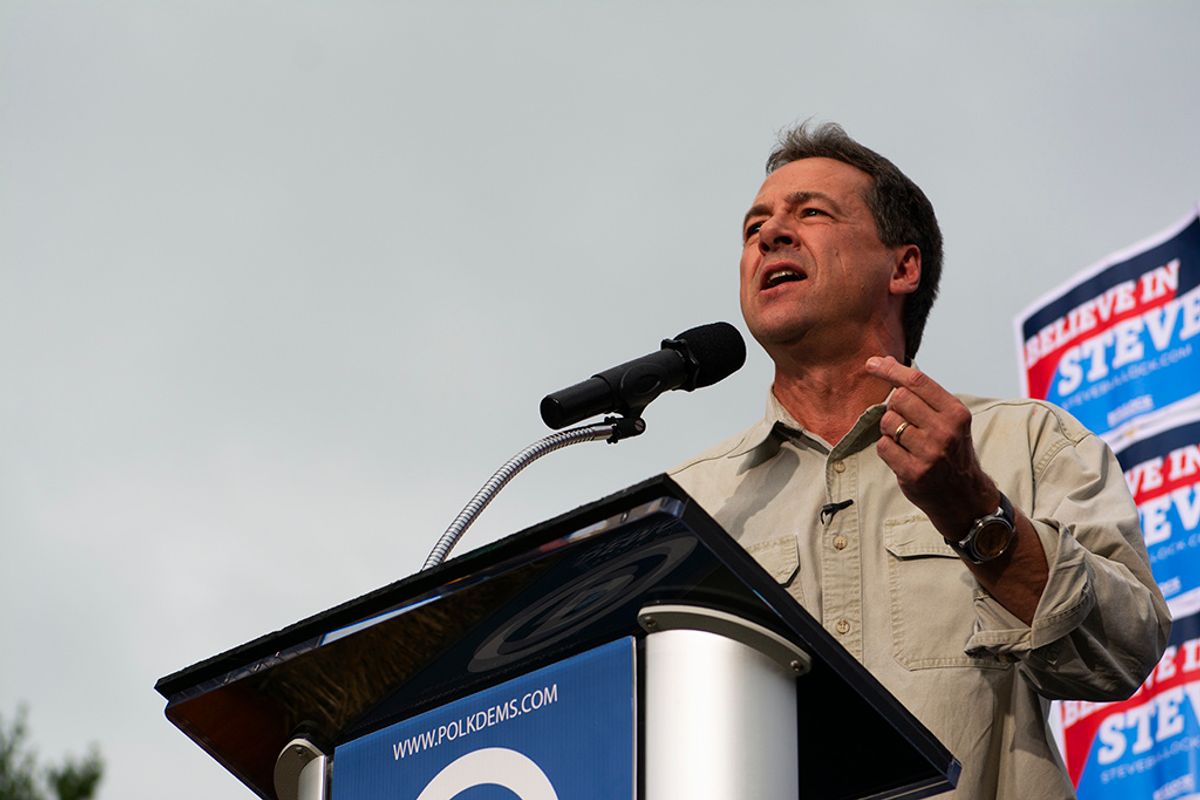 Bullock campaigns in Iowa, 2019. Photo by Dominc Gwinn
Montana Governor Steve Bullock, who in December ended his Quixotic bid to become the Tim Ryan di tutti Tim Ryans, appears to be close to finally deciding he'll run for the US Senate after all, according to "three Democratic officials" who spoke to the New York Times. Bullock has been lobbied to run for the Senate this year by top party apparatchiks like Senate Minority Leader Chuck Schumer, and the Times notes Bullock even took time out from a DC meeting of the National Governors Association to meet with Barack Obama last month. Yr Wonkette prefers to think it was our own repeated calls for Bullock to run for the Senate that did the trick, though, especially Yr Editrix's nice Montana-based open letter reminding him not to disappoint her army of bees.
Bullock himself hasn't made any formal announcements, but if he's gonna run, he'd better hurry up. Monday is Montana's filing deadline.
---
It seems like maybe all the calls for Bullock to run may finally have gotten through to him; as Yr Editrix noted last May, every damn time he tweeted something as a presidential candidate, nearly all the replies were "RUN FOR SENATE, YOU!" If Bullock does get into the race, it could have huge national implications, since he stands a pretty good chance of defeating first-term incumbent Republican Steve Daines. And flipping Daines's seat could be crucial to the Democrats getting a majority in the Senate this fall. We'll let the Times do that math for you:
Senate Democrats are chiefly on the offensive this year, and have high hopes to defeat incumbent Republicans in Arizona, Colorado, Maine and North Carolina, where on Tuesday their preferred candidate captured the nomination. But with Republicans holding a 53-seat majority, and favored to defeat Senator Doug Jones of Alabama, it has not been clear which state could offer Democrats the fifth seat they would need to win a clear majority.
Bullock is term-limited, so no more governoring for him, but he's constantly said he isn't interested in the Senate. But all that lobbying from top Dems has apparently helped a bit, and a whole bunch of labor unions have made it clear to Bullock that they would be happy to provide "all the resources he needs in a state that still retains a strong labor tradition," as the Times puts it.
And now, according to those insiders who are "familiar with the discussions," it appears Bullock's family is on board with the idea of his seeking a job in Washington, which had apparently been a top concern holding him back.
Republicans are already gearing up for a possible run by Bullock, and looking forward to attacking him after he called for bans on assault weapons and high-capacity magazines while he ran for president. Good heavens, he even said he favored making people who want to buy guns wait until a thorough background check is completed, which is just insane.
Daines has also spent his short time in the Senate cozying up to the Great Leader, who has regularly tweeted how much he loves having a loyal lickspittle. The Leader was at it again Wednesday, complete with the random ALL-caps that endear him to the common folk:
The great people of Montana can have no better VOICE than Senator @SteveDaines. He is doing an incredible job! Whoe… https://t.co/C7lf60luH2

— Donald J. Trump (@Donald J. Trump) 1583333761.0
But in his very red state, Bullock remains pretty popular, because Montana is refreshingly weird that way. His supporters hope he can harness the wave of purplish excitement that led to fellow Democrat Jon Tester's reelection to the Senate in 2018, even though Trump personally hated Tester for revealing allegations that kept Dr. Ronny "No sir you're not fat" Jackson from becoming Trump's Veterans Affairs secretary. (Though again the editrix insists on taking all the credit, this time due to her flawless doorknocking, why not.)
Bullock himself isn't saying much of anything yet:
In an email on Tuesday, Mr. Bullock, 53, declined to say whether he would run. But Matt McKenna, an adviser to Mr. Bullock who has long argued that the governor would not run for the Senate, on Wednesday would say only, "I don't have anything for you."
But with the prospect of getting Mitch McConnell out of the Majority Leader job, it's also pretty darn certain that if Bullock does run, he'll get plenty of support, and the Montana race might end up setting records for the most expensive Senate contest ever. America!
[NYT]
Yr Wonkette is entirely supported by reader donations. Help us keep influencing the nation's politics through the power of our fart jokes.