Steve King Wants To Thank Rape And Incest For The Wheel And Lightbulb
Culture Wars
August 14, 2019 02:35 PM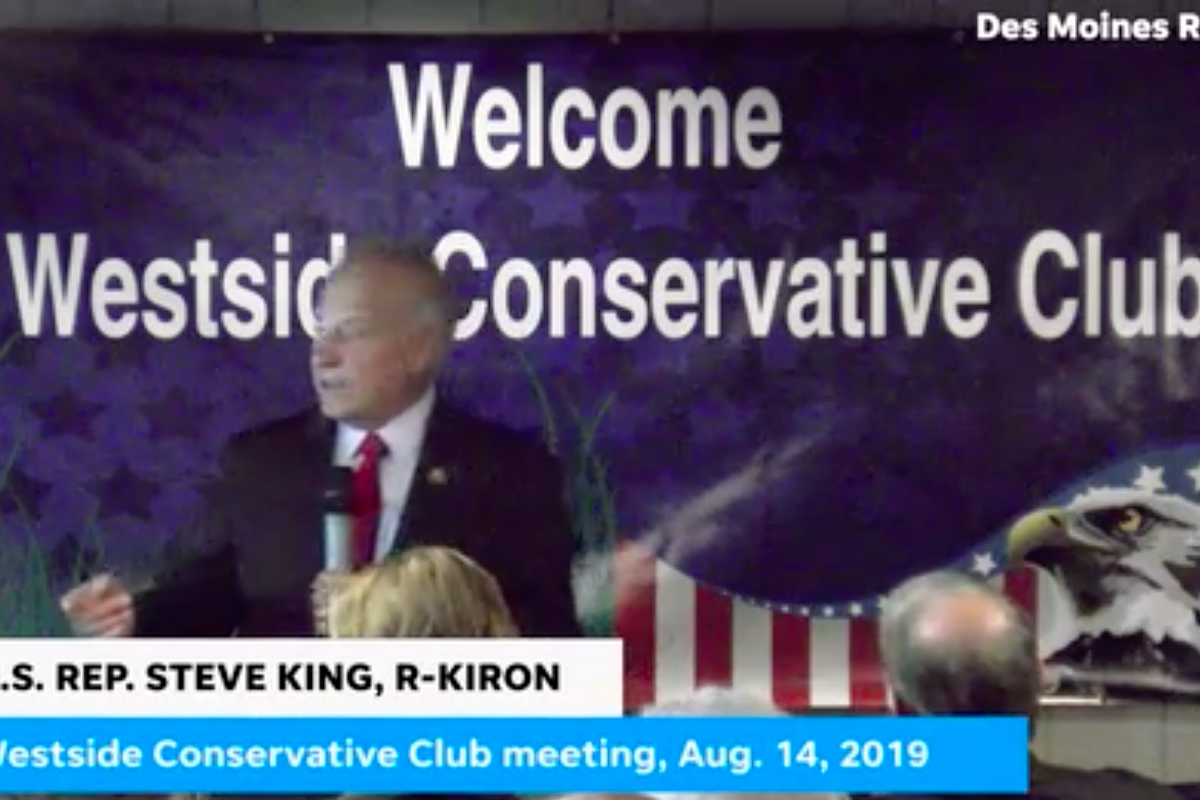 We know Republicans are generally opposed to abortion rights and overall bodily autonomy for women. But they don't always accuse Margaret Sanger of personally murdering black babies and promote false narratives about imaginary infanticide. Sometimes they discuss pregnancies resulting from rape and incest, and when that happens, they compete for "Worst Statement Ever Uttered By A Person."
The previous record holder on this subject was Rick Santorum. When he was running for president in 2012, he who cannot be Googled suggested that rape pregnancies were a Spencer's gift from God, and only ungrateful skanks would consider exchanging them.
SANTORUM: I've always, you know, I believe and I think the right approach is to accept this horribly created — in the sense of rape — but nevertheless a gift in a very broken way, the gift of human life, and accept what God has given to you.
You don't even get store credit from heaven. Carry your rapist's baby and wear this ugly sweater God also got you.
Now unrepentant white supremacistSteve King has outgrossed Santorum. That's the benefit of having no committee assignments. You can workshop your material. King spoke today at the Westside Conservative Club and defended his opposition to rape and incest exceptions in anti-abortion legislation he tried to pass.
KING: It's not the baby's fault for the sin of the father, or of the mother.
The pregnant rape victim hasn't committed a "sin" of any sort. King is "both sides"-ing rape here. This is the usual social conservative claptrap, absent any empathy or compassion -- at least for any currently living humans. King's no common Todd Akin. He believes that rape and incest can in fact lead to pregnancy. He just thinks this has somehow positively benefited human civilization.
---
KING: What if we went back through all the family trees and just pulled out anyone who was a product of rape or incest? Would there be any population of the world left if we did that?
The answer to the riddle of the sphincter is "yes." Yes, the human race would still exist even if you went back in time and removed all the rapist butterflies. King also doesn't consider for a second what impact the trauma of forced birth has had on women historically and that our world might even be better if women had always had a choice. No, instead, he's convinced a rapist's child invented the screwdriver and without them, all our IKEA furniture would just lie around unassembled.
According to RAINN, the number of women of childbearing age who are raped each year is roughly 250,000. The number of children possibly conceived through rape ranges from 7,750 to 12,500. Almost twice that many people die each year because they don't have health insurance. Someone should remind King, as he gently weeps for the rape babies, that fetuses become people with their annoying need for health care, shelter, and food. King has voted repeatedly against affordable health care access for Americans, as well as protections for people with pre-existing conditions. He's against most social programs that would help people with difficult lives -- you know, like their father was a fucking rapist piece of shit. He's also yet to meet a war he wouldn't support, and speaking of war and what it's good for, King has more stupid, gross stuff to say.
KING: Considering all the wars and all the rapes and pillages that happened throughout all these different nations, I know that I can't say that I was not a part of a product of that.
King apparently believes he was conceived during an episode of "Game of Thrones." He considers himself this staunch defender of "western civilization" (i.e. white people) but now he claims all they've done throughout history is rape and rob. Since when does King agree with Louis Farrakhan?
Of course, the audience at the Westside Conservative Club was receptive to King's speech because they are also terrible.
This is where we once again suggest you support J.D. Scholten in his 2020 rematch against King. We can state definitively that human civilization will thrive without Steve King in Congress.
Follow Stephen Robinson on Twitter.
Yr Wonkette is supported by reader donations. Please send us money to keep the writers paid and the servers humming. Thank you, we love you.
Stephen Robinson
Stephen Robinson is a writer and social kibbitzer based in Portland, Oregon. He writes make believe for Cafe Nordo, an immersive theatre space in Seattle. Once, he wrote a novel called "Mahogany Slade," which you should read or at least buy. He's also on the board of the Portland Playhouse theatre. His son describes him as a "play typer guy."