So, Will Smith Really Slapped Chris Rock During The Live MFing Oscars
Media/Entertainment
March 28, 2022 10:15 AM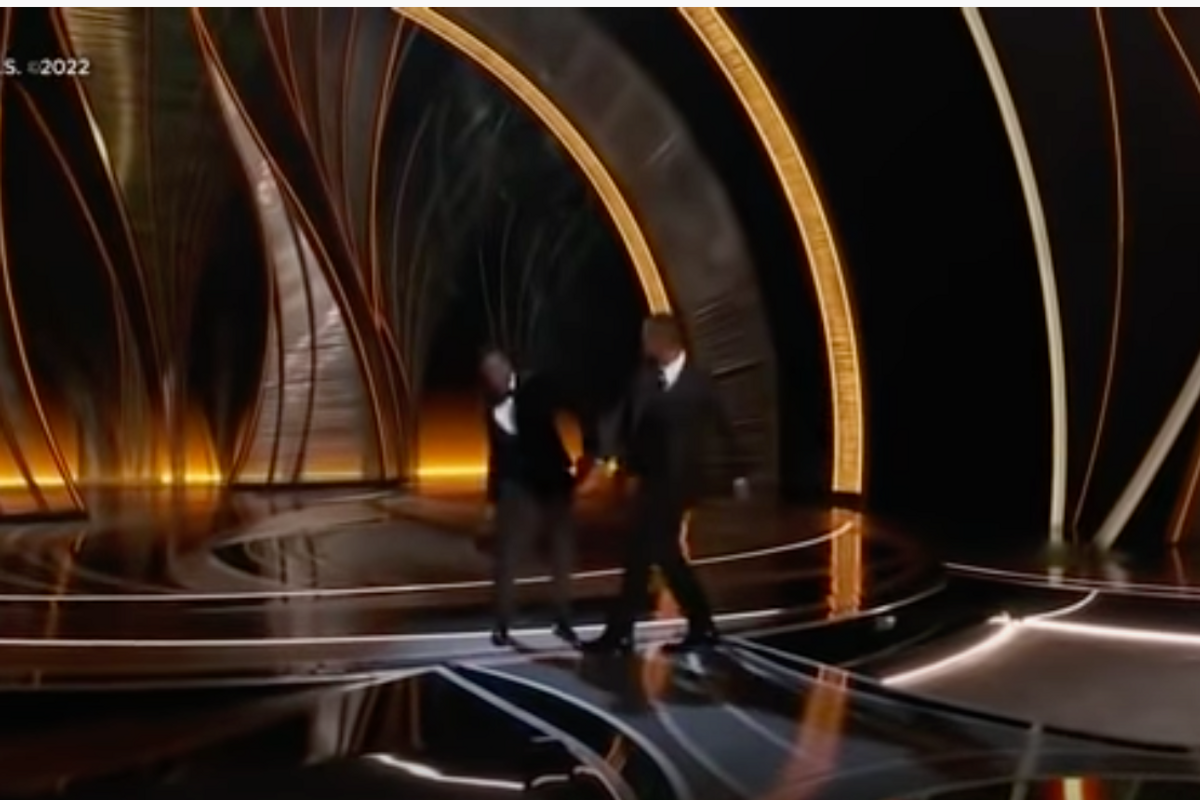 Sunday night, Will Smith became the fifth Black man to win the Best Actor Academy Award for his performance in the movie King Richard. This was unfortunately overshadowed when earlier that evening he became the first Black man to slap another Black man across the face on the live international Oscars telecast.
Seriously, what the fuck happened? I was basking in the joy of Ariana DeBose's Best Supporting Actress win for West Side Story when this nonsense popped up on my Twitter feed. Chris Rock presented the Oscar for best documentary feature, and made a joke about Jada Pinkett Smith appearing in a G.I. Jane sequel. (Neither Jada Pinkett Smith nor the 1997 Demi Moore movie had anything to do with the nominated documentaries.) Moore had a shaved head in G.I. Jane, and Pinkett Smith revealed in 2018 that she has alopecia, an incurable condition that causes your hair to fall out. According to a peer-reviewed study, Black and Hispanic women in the US have a "significantly greater" chance of developing alopecia than white women.
So, this was a singularly graceless and tacky joke. Mocking someone's personal "defect" is not humor I appreciate. Smith took the stage and slapped Rock, instantly supplanting the Batman slaps Robin meme.
Here is the uncensored video:
VIA JAPANESE TELEVISION: The uncensored exchange between Will Smith and Chris Rockpic.twitter.com/j0Z184ZyXa

— Timothy Burke (@Timothy Burke) 1648434735
---
A shaken Rock said, "Will Smith just smacked the shit out of me," and Smith returned to his seat and yelled, "Keep my wife's name out of your fucking mouth!" Rock is 57 and Will Smith is 53. This is like Robert DuVall beating up Johnny Carson at the 1984 Academy Awards. The whole point of reaching your 50s is that your fighting days are behind you. George Foreman was selling his eponymous grills when he was Smith's age.
The show did go on, and Rock announced that Questlove's Summer of Soul won the best documentary feature Oscar, presumably before putting an icepack on his face. This was a great night for Black folks, but now all our white coworkers are gonna ask us what we thought about Smith smacking Rock.
I can't believe I have to say this, but you shouldn't hit someone even if they're gross and take cheap shots at your wife. When Rock hosted the 2016 Oscars, he mocked Pinkett Smith for her #OscarsSoWhite boycott: "Jada boycotting the Oscars is like me boycotting Rihanna's panties. I wasn't invited!"
Smith's publicist Meredith O. Sullivan came by him at the commercial break to have a discussion. Also during the break, Denzel Washington got up to speak to Smith privately. Smith revealed during his best actor speech that Washington said to him, "At your highest moment, be careful, that's when the devil comes for you."
Denzel Washington was a fellow Best Actor nominee, but was generous enough to share the advice from his fortune cookie. He's a class act.
It's a testament to how popular Will Smith truly is that he cold-cocked someone on live television and there's an actual debate over whether this was a correct course of action. #TeamWill is trending rather than #FreeWilly (Rock's not the only one who can make incredibly dated movie references). I don't approve of the macho bullshit, but I have to note that a lot of Black women on social media appreciated the slap. This includes Rep. Ayanna Pressley, another beautiful bald Black woman with alopecia. She tweeted, "Alopecia nation stand up! Thank you #WillSmith Shout out to all the husbands who defend their wives living with alopecia in the face of daily ignorance & insults." She later deleted the tweet because she's not a Republican. She can't justify supporting violence.
Journalist Cara Reed tweeted, "I don't think people understand how tiring it is for disabled people to constantly have to take it for the sake of comedy. Chris Rock used to target my community. It gets old, especially from someone who is also disabled. This is a disability issue."
White celebrities were more inclined to worry that the slap would have a chilling effect on comedians who specialize in bald women humor. Others wondered why the cops weren't called, but then Will Smith could've died at the Oscars. There was enough violence already.
Director Judd Apatow expressed concern that Smith could've killed Rock with his "out of control rage and violence." That's a bit much. Nothing justifies the slap, but c'mon, Smith once played Muhammad Ali. He probably knows how to throw an actual punch. Instead, he went all "Dynasty."
During his 2018 Netflix special, Rock derided zero tolerance policies for bullies at school. He claimed, "We need bullies. How the fuck you gonna have a school without bullies? Bullies do half the work. Teachers do one half, bullies do the whole other half. And that's the half you're gonna use if you're a fucking grownup. Who gives a fuck if you can code if you cry because your boss doesn't say 'Hi'? You think people were nice to Bill Gates in high school? 'Hey, Gates, you Charlie Brown–looking
motherfucker!'"
Not all bullies physically abuse classmates. Many enjoy making fun of people who are different. Bullies are usually cowards who fold when confronted. Last night was probably the hard life lesson Rock thinks children should learn.
The Academy Awards confirmed that it does not condone violence, and there's talk that Smith might have to return his Oscar because of the Academy's strict code of conduct. Roman Polanski and Harvey Weinstein still have their Oscars. When Adrien Brody won Best Actor in 2003, he kissed Halle Berry without her consent, which I consider an assault worse than a slap.
However, the timing of Smith's slap is problematic. You don't want future nominees slapping Chris Rock for luck.
Let's all just get along and not be assholes.
[Variety]
Follow Stephen Robinson on Twitter.
Do your Amazon shopping through this link, because reasons.
Yr Wonkette is 100 percent ad-free and entirely supported by reader donations. That's you! Please click the clickie, if you are able.
Stephen Robinson
Stephen Robinson is a writer and social kibbitzer based in Portland, Oregon. He writes make believe for Cafe Nordo, an immersive theatre space in Seattle. Once, he wrote a novel called "Mahogany Slade," which you should read or at least buy. He's also on the board of the Portland Playhouse theatre. His son describes him as a "play typer guy."