STOP WHAT YOU ARE DOING AND LEARN ABOUT VERY THE REAL VOTER FRAUDS THAT STOLE DONALD TRUMP'S FLAWLESS VICTORY
News
November 13, 2020 09:35 AM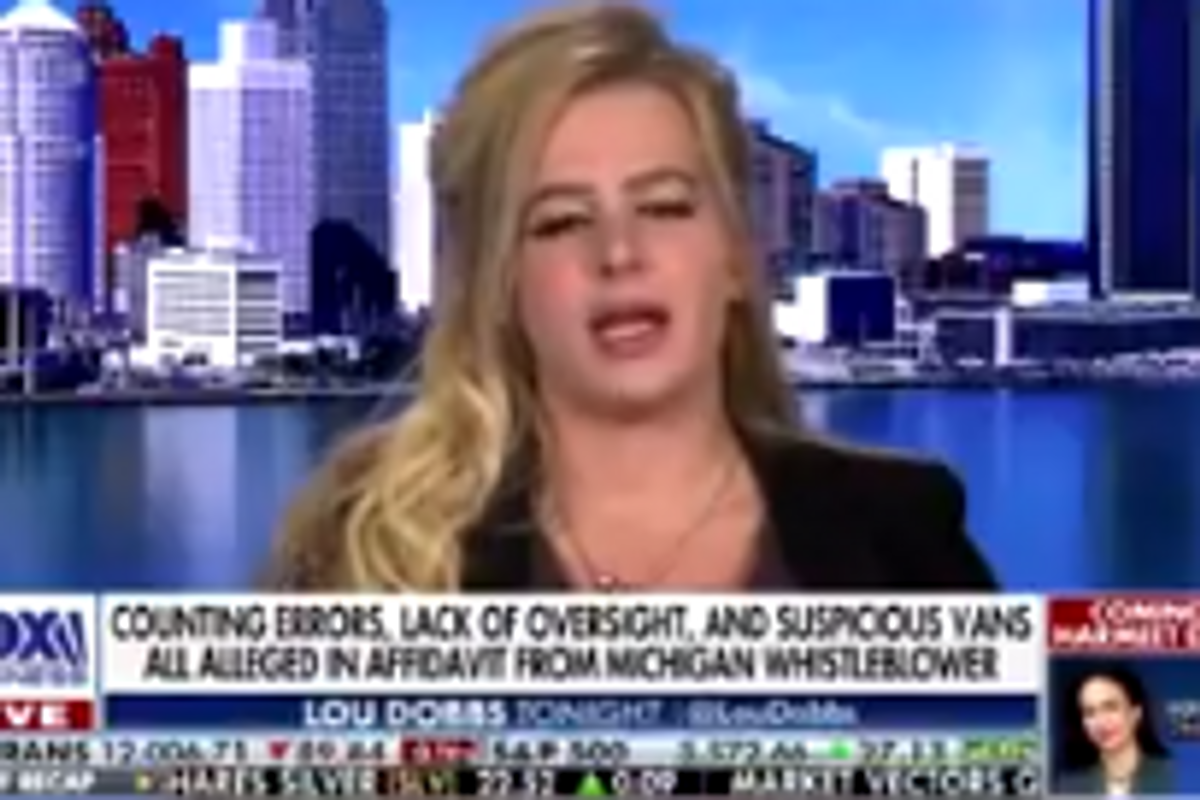 THIS BLOG POST IS IN ALL CAPS BECAUSE DONALD TRUMP TWEETS EVERYTHING ABOUT VERY REAL VOTER FRAUD IN ALL CAPS, AND NOW THAT WE BELIEVE VOTER FRAUD IS REAL, WE ARE ALSO TOO ALL CAPS, BECAUSE THAT IS HOW YOU TYPE ABOUT VOTER FRAUD THAT IS REAL.

WONKETTE APOLOGIZES FOR SAYING SWEARS AND LIES ABOUT HOW DONALD TRUMP IS FULL OF SHIT TO SAY THERE IS NO VOTER FRAUD, BECAUSE THIS ONE PERSON WHO IS NOT AN IDIOT WENT ON LOU DOBBS AND TOLD LOU DOBBS ABOUT THE VOTER FRAUD AND NOW WE KNOW IT IS REAL BECAUSE THIS ONE PERSON WHO IS NOT AN IDIOT SAID IT TO LOU DOBBS.
LISTEN TO THIS TRUTH-TELLING PERSON WHO IS NOT AN IDIOT BUT WHO KIND OF LOOKS LIKE THE SECRET LONG-LOST SISTER OF THAT KENT STATE GUN GIRL, WHO IS AN IDIOT:
---
This is one of Trump's biggest "whistle blowers" in Michigan. I can't stop laughing. #PresidentRejectTrump https://t.co/brbliQMGNK

— Republicans against Trumpism (@Republicans against Trumpism) 1605211618.0
OK SO THIS IS WHAT HAPPENED, IN MICHIGAN.
THIS PERSON, THIS POLL WORKER, WE ARE SURE SHE HAS A NAME, BUT WE ARE NOT SHARING IT BECAUSE WE ARE TOO LAZY TO LOOK IT UP. ANYWAY, SHE WORKED A 24-HOUR SHIFT COUNTING FRAUD BALLOTS IN MICHIGAN STARTING AT 6 A.M. AND THEN STOPPING AT 6 A.M. THE NEXT DAY, BECAUSE THAT'S HOW YOU MAKE 24 HOURS, OK?
THAT MEANS SHE WORKED BOTH THE DAY SHIFT AND ALSO THE NIGHT SHIFT. OK?
OK SO ANYWAY THE CITY WAS SUPPOSED TO FEED THEM BUT THERE WASN'T ENOUGH FOOD.
"OH MY!" SAID LOU DOBBS, BECAUSE LOU DOBBS KNOWS THAT MOST VOTER FRAUD STORIES OF REAL VOTER FRAUD BEGIN WITH CATERING ERRORS.
OK SO ANYWAY SO THEY SAID THEY BROUGHT THESE VANS TO THE PLACE BECAUSE THERE WASN'T ENOUGH FOOD FOR EVERYBODY BUT THERE WASN'T EVEN ANY FOOD IN THE VANS, OK?
"THEY WERE SUPPOSED TO BE FILLED WITH FOOD," RESPONDED LOU DOBBS, A JOURNALIST. "WHAT DID THEY HAVE IN THEM, DO YOU KNOW?"
OK SO ANYWAY THIS PERSON WHO IS NOT AN IDIOT DID NOT ACTUALLY SEE WHAT THEY BROUGHT OUT OF THE VANS BECAUSE THEY UNLOADED THE VANS FROM THE BACK, IN TYPICAL "VAN" FASHION, AND THEY DIDN'T LET HER GO SEE WHAT WAS IN THE VANS, BUT SHE DIDN'T SEE THEM TAKE ANY FOOD OUT AND ALSO THIS POLL WORKER IS AN EXPERT ON HOW MUCH FOOD YOU CAN PUT IN "VANS" THEREFORE SHE COULD TELL THE VANS WERE NOT BIG ENOUGH TO BRING FOOD FOR ALL THESE WORKERS.
THAT'S THE WHOLE STORY.
IN SUMMARY AND IN CONCLUSION, VOTER FRAUD IS REAL AND DONALD TRUMP IS PRESIDENT FOR LIFE NOW.
THE END.
Follow Evan Hurst on Twitter RIGHT HERE, DO IT RIGHT HERE!

GIVE IT WONKETTE. We mean money. Thank you.
Evan Hurst
Evan Hurst is the managing editor of Wonkette, which means he is the boss of you, unless you are Rebecca, who is boss of him. His dog Lula is judging you right now.
Follow him on Twitter RIGHT HERE.