Strzok Strikes Back
lawsplainer
August 07, 2019 09:40 AM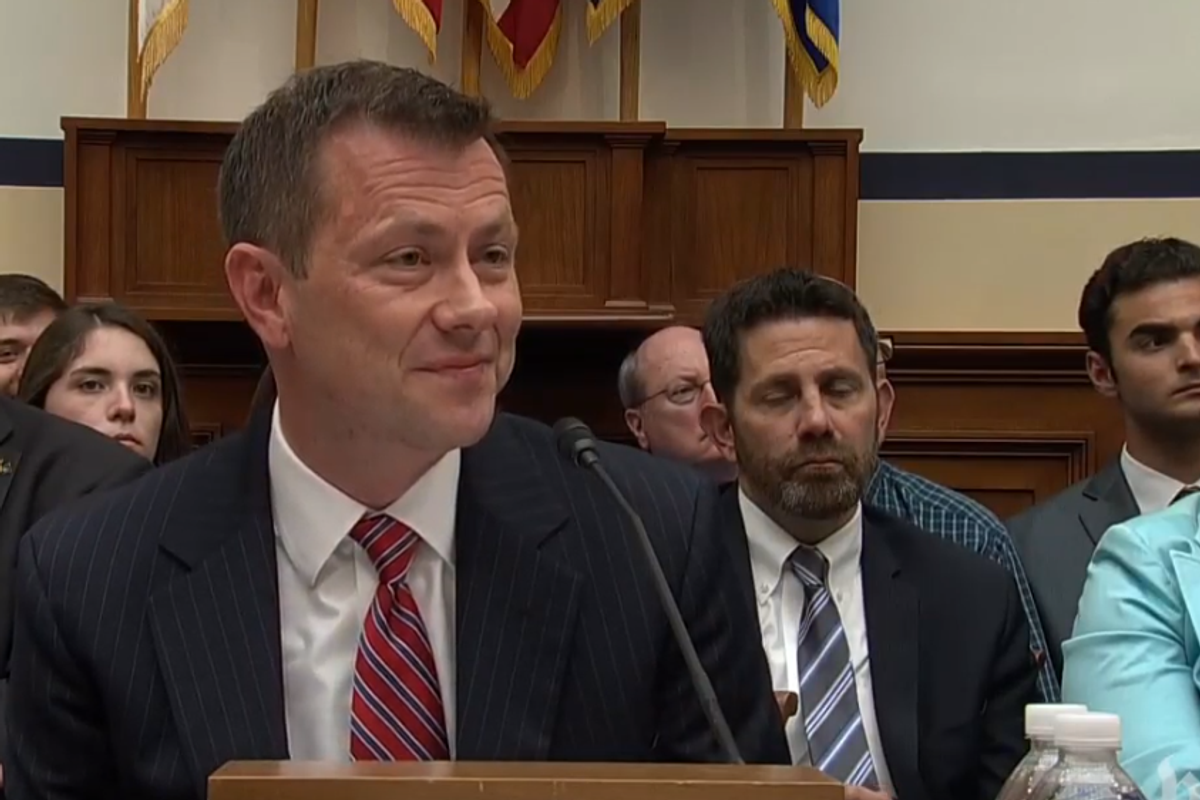 He's baaaaaaaaack! He's been keeping his head down for a year, but now former FBI super agent Peter Strzok is back in DC, and he's suing the FBI and DOJ for wrongful termination and violation of his First Amendment rights. Calling it "indisputable that his termination was the result of President Trump's unrelenting retaliatory campaign of false information, attacks, and direct appeals to top officials," Strzok's lawyer Aitan Goelman demanded that his client be reinstated with back pay or compensated for lost income. If he survives a motion to dismiss and gets to discovery, this one's going to be a hot mess.
In August of 2018, after eleventy hundred harassing Trump tweets ordering the FBI to fire "the lying lovers" for investigating his campaign's ties to Russia, the FBI terminated Strzok -- despite the finding of the DOJ's own Inspector General that there had been no inappropriate bias in the investigation. On August 8, Strzok had accepted the "last chance agreement" offered by Assistant Director Candace Will of the FBI's Office of Professional Responsibility recommending that he be suspended for 60 days and bumped down a pay grade. But on August 9, Deputy FBI Director David Bowdich overruled Will and booted the 21-year employee anyway. He was even denied access to the normal appeals channels in apparent violation of his due process rights as a federal employee.
Naturally, Donald Trump wasted no time taking credit for the decision.
---
Just fired Agent Strzok, formerly of the FBI, was in charge of the Crooked Hillary Clinton sham investigation. It w… https://t.co/CdF4u5mu61

— Donald J. Trump (@Donald J. Trump) 1534176581.0
But as with most of Trump's tweets, this one has the potential to come back around and bite him in the ass. Because civil servants aren't supposed to be fired because they scare the shit out of Donald Trump and make him worried that people will figure out he only got elected with a massive Russian boost. No, not even if those civil servants really dislike Donald Trump and send personal texts calling him mean names. Because that's not how the First Amendment works.
The DOJ can have fun 'splaining to the Judge how there was absolutely no pressure at all from the White House to disregard Strzok's civil service protections and fire him to placate the lunatic in the White House, even though the three infractions he was cited for called only for a five-day suspension each.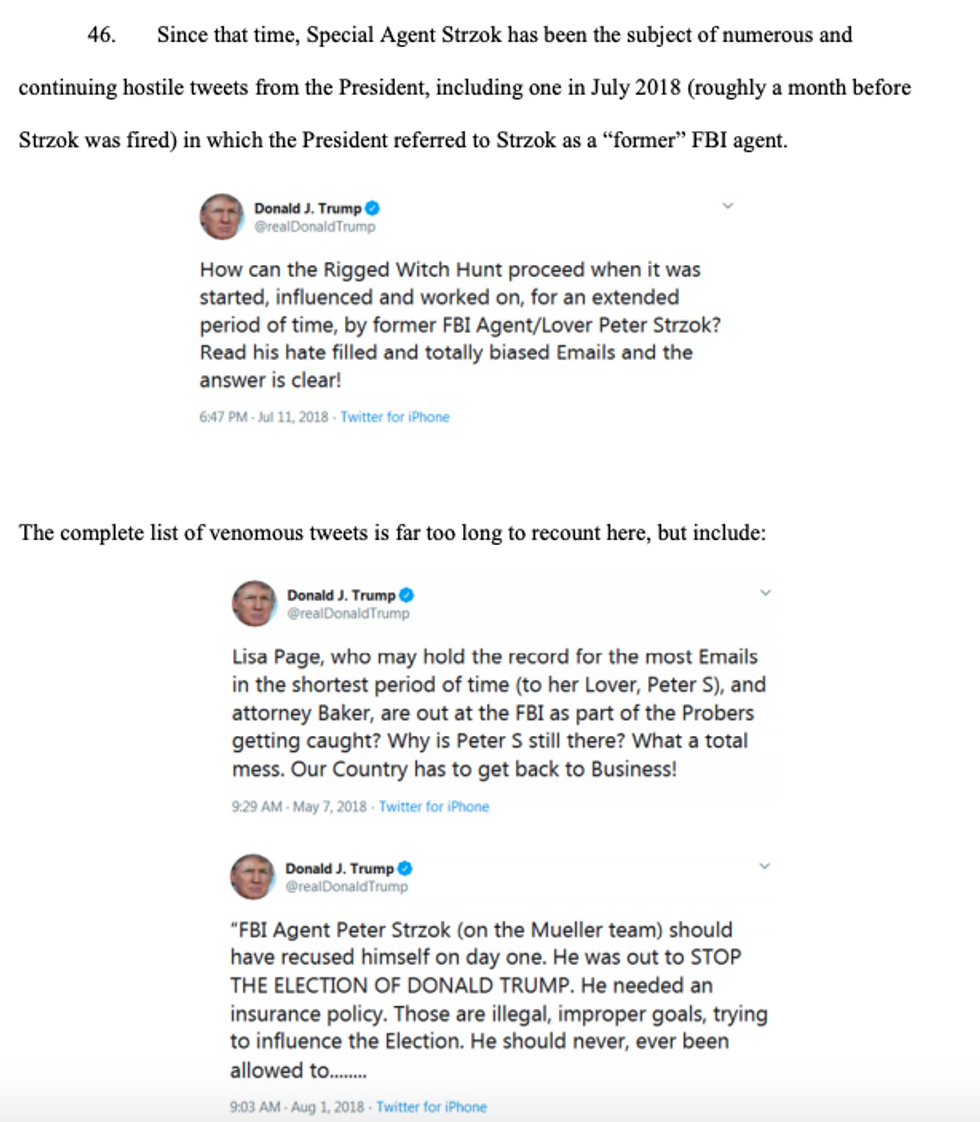 And while the First Amendment isn't absolute, the Hatch Act, which regulates political speech by government employees, does not apply to personal texts even when Uncle Sam is paying the phone bill. Besides which, as Strzok's case points out, the Trump administration seems to care a lot more about violations of the Hatch Act by opponents of the president than by Kellyanne Conway trashing Trump's political rivals.

The Trump Administration has consistently tolerated and even encouraged partisan political speech by federal employees, as long as this speech praises President Trump and attacks his political adversaries. For example, President Trump rejected the recommendation of his own Office of Special Counsel that advisor Kellyanne Conway be removed from her job for repeatedly violating the Hatch Act by attacking former Vice President Biden and publicly advocating for and against various U.S. Senate candidates. When asked about the OSC's recommendation, Mrs. Conway responded "blah, blah, blah…If you're trying to silence me through the Hatch Act, it's not going to work. Let me know when the jail sentence starts."
And speaking of viewpoint discrimination, Peter Strzok is just wondering why "no actions have been taken against agents who expressed harsh criticism of Secretary Clinton during the 2016 campaign, or those in the New York Field Office who leaked negative information about Secretary Clinton to the Trump campaign in the weeks before the election." Indeed, Your Wonkette has wondered that very same thing for the past three years!
Strzok also claims that his rights under the Privacy Act were violated when the DOJ authorized the release of his personal texts with Lisa Page to journalists on December 12, 2017, before they were handed over to the Senate Judiciary Committee. And while leaks in DC aren't exactly rare, it's pretty brazen for the DOJ to describe one as a "public release," as Strzok claims the Department did in 2017.
E-mails between DOJ employees, including [former DOJ spokeswoman Sarah Isgur] Flores, indicate that she and others are aware of the individuals who authorized these disclosures, and that they were or are high-ranking officials within DOJ. These e-mails indicate that the Inspector General, Deputy Attorney General, and others within DOJ were apprised of the impending disclosure. Furthermore, several reporters cited unnamed DOJ sources as individuals with knowledge about the decision to disclose these records unlawfully.
If he gets his discovery, Strzok is going to dig up a whole heap of ugly skeletons. And lest we forget, Andy McCabe, who was supposedly fired for unauthorized disclosures to the press, is also suing the government for wrongful termination. God only knows why House Democrats haven't gotten off their asses and litigated Trump's facially ridiculous claims of executive privilege when it comes to testimony by executive branch employees. But it doesn't look like Strzok is going to mumble something about filing sometime soon and slink off if they try that shit with him.
GO, PETE, GO!
Follow Liz (AKA your FDF) on Twitter!
Love your Wonkette? Then show us your love. WITH MONEY!
Liz Dye
Liz Dye lives in Baltimore with her wonderful husband and a houseful of teenagers. When she isn't being mad about a thing on the internet, she's hiding in plain sight in the carpool line. She's the one wearing yoga pants glaring at her phone.