Kellyanne Conway Knows Who Is An Idiot, And It Is Her Husband
Russia
November 13, 2018 11:10 AM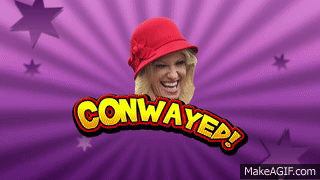 Hello Wonks! With cabinet members getting terminated by Trump faster than his likely (ALLEGED!) unprotected sex induced pregnancies, we figured we'd check in with Kellyanne Conway, who will never leave, to see what she's been up to the past couple of days. Spoiler: she thinks her husband is an idiot.
Conway made multiple appearance on the Sunday shows to spin the "truth" on Trump's replacement of Confederate Keebler Elf Jeff Sessions ...

---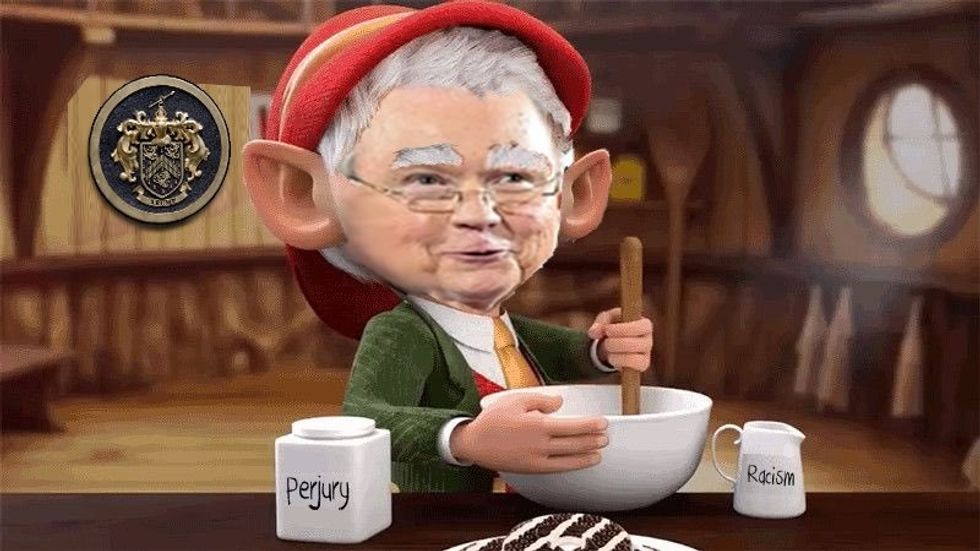 Now who's gonna let police keep killing people of color?
...with Wilson Fisk lookalike and Sessions's former chief of staff, Matt Whitaker.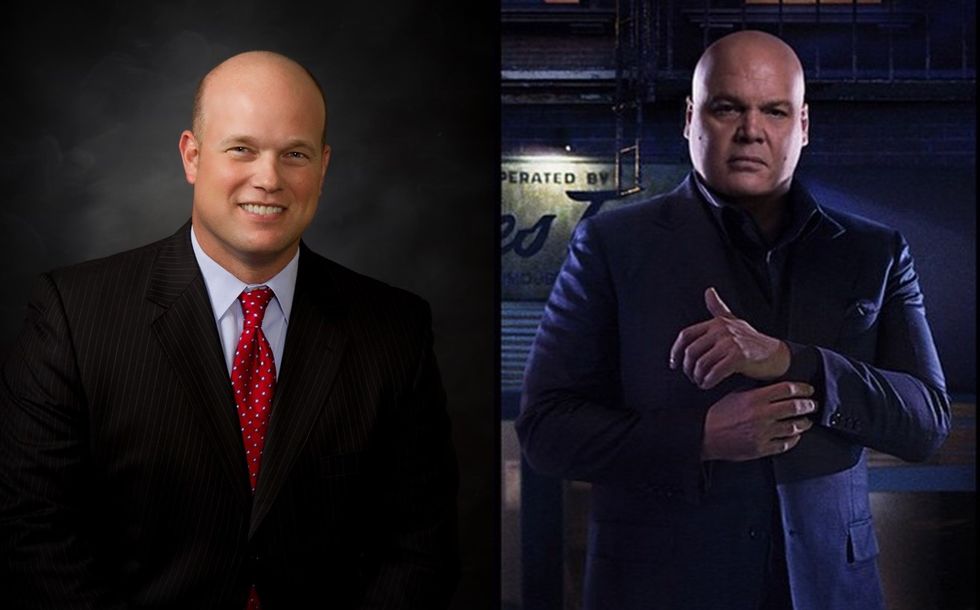 I'm sure its a coincidence he looks like The Kingpin...
---
On ABC's "This Week," Conway was confronted with a clip of Trump saying. "I can tell you Matt Whitaker's a great guy. I mean, I know Matt Whitaker," after denying he knew the stooge he appointed as acting AG. Conway, as usual, brought her trademarked "charm":
CONWAY: The president is saying he didn't know him before. I mean, he's not slotting in just an old friend of his. He's actually elevating --

STEPHANOPOULOS: But I don't know -- twice, just what we just showed.

CONWAY:...What the president means is he's not slotting in somebody that's an old friend or somebody he thinks that he's discussed the Mueller investigation with at length. There's actually no -- no evidence to me that Mr. Whitaker knows anything about the ongoing Mueller investigation...
Stephanopoulos pressed Conway on the absurdity of this but she did not let that stop her:
CONWAY: Well he's saying -- no, no, he's saying I don't know him, he's saying I don't him well or I didn't know him before. He said in your last part of the clip I didn't know him before except that he was the chief of staff and that he's highly respected. That's all he means.
So Trump just looked at the Justice Department and picked a guy at random? Here we all thought he was "evading the requirement to seek the Senate's advice and consent for the nation's chief law enforcement officer and the person who will oversee the Mueller investigation." At least that's what it said in that New York Times op-ed on the subject by Neal K. Katyal and ... George T. Conway, husband of Kellyanne Conway!
Stephanopoulos of course brought up the op-ed, which stated that "Trump's installation of Matthew Whitaker as acting attorney general of the United States after forcing the resignation of Jeff Sessions is unconstitutional, it's illegal, and it means that anything Mr. Whitaker does or tries to do in that position is invalid."
Kellyanne Conway repudiated her husband and stated the pecking order:
CONWAY: So, a few things, people disagree -- spouses disagree every day. I'm sure you can appreciate.

STEPHANOPOULOS: So, you don't agree with your husband's argument?

CONWAY : No, I don't. But it's also not relevant. In other words, people disagree on the Constitution, that's why we have a U.S. circuit court system and indeed a United States Supreme Court...But more to this point, the journalist asking the president of the United States the question referred to him as Kellyanne's husband. And he is referred to [as] Kellyanne Conway's husband, or Kellyanne's husband far more often than he's referred to even by his first name.
Then she threw some shade:
STEPHANOPOULOS: So, the president makes that Mr. Kellyanne Conway.

CONWAY: ...I offer my advice and opinion to the president in private. I don't need to put on the op-ed pages of any -- and by the way, none of this will be litigated in newspapers, or on TV.
And concluded with the most unintentionally hilarious lines of the whole interview:

CONWAY: He (Trump) is really great to the womenwho work for him and he also is pointing out that I – that he – again, my – my husband's known as me. I'll keep that – I'll keep the rest of the question private. I don't think it's nice and I think people questioning publicly aspects of our marriage and the rest of our life is very inappropriate because I stay out of other people's lives.
Yes, I'm sure Mrs "Noun, Verb and Bill/Hillary Clinton" deserves the same respect she gives others' personal lives.

Conway also appeared on "Fox News Sunday" where Chris Wallace asked about the White House revoking the press pass of CNN's Jim Acosta over the supposed "assault" of a White House intern, as seen below in a dramatic recreation.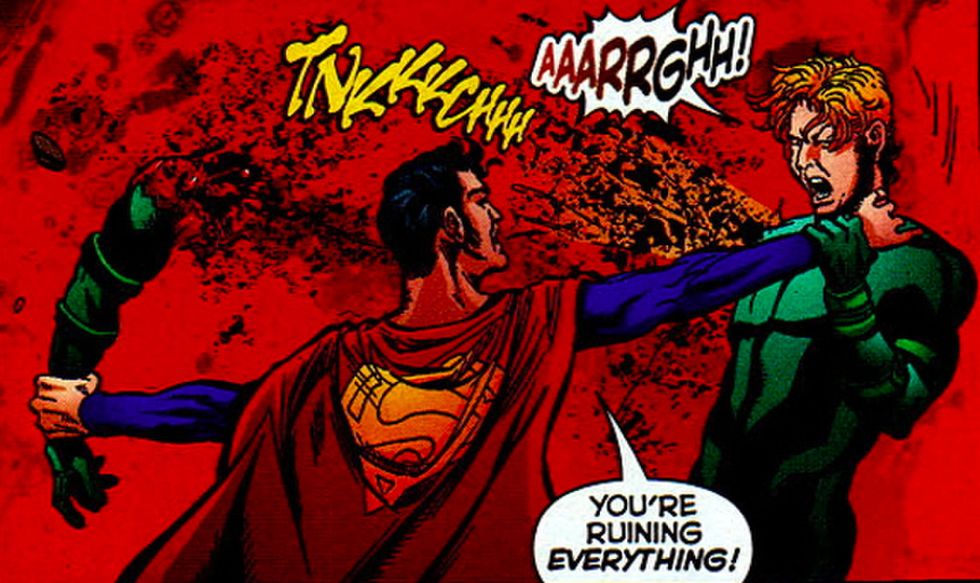 Why Jim?? Why???!!!DC Comics
Wallace brought up the fact that Sarah Sanders shared an altered video of the encounter. One that appears borrowed from InfoWars fuckboi Paul Joseph Watson:
This was roundly condemned by others:
Question for @PressSec: Where'd you obtain the distorted @Acosta video you posted? InfoWars personality… https://t.co/EAotoytqkD

— Brian Stelter (@Brian Stelter) 1541656361.0
Conway, of course, had a different interpretation:
CONWAY: Well, Chris, first of all, what do you mean by edited or, as others are saying, quote, doctored video? He either put his hands on her and grabbed the mic back, or he did not. And he clearly did.

WALLACE: No. He -- he really did -- but the video was altered and there are experts who have looked at it -- to make it --

CONWAY: By that do you mean sped up?

WALLACE: -- speed it up to make it look -- pardon?

CONWAY: Oh, well, that's not altered. That's sped up.

But alternative facts, amirite?
This has been a nice visit with Kellyanne Conway, just kidding no it hasn't.
Wonkette is the ONLY NEWS ON THE INTERNET. Please give us money RIGHT THERE BELOW if you want us to live FOREVER.
Michael Mora
Your friendly neighborhood Puerto Rican Political Freelance Writer for @wonkette. Pop Culture observer, Amateur Movie reviewer & Comics fan. Former Active Duty Marine. All opinions are mine only.