Sundays With The Christianists: Comics To Scare Your Teen Away From Porn!
News
July 23, 2017 12:08 PM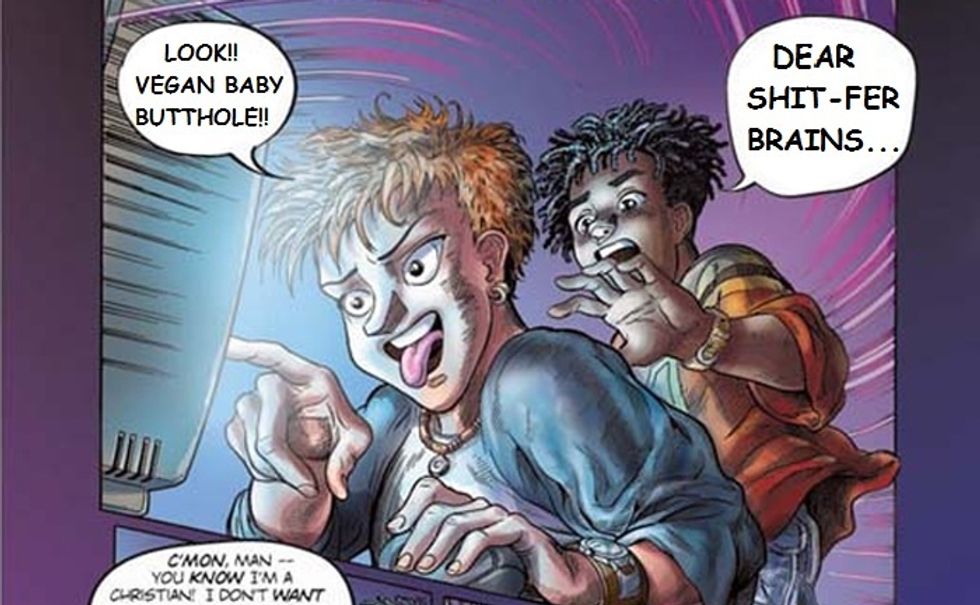 No vegan baby butthole for you, young man!
---
Time for some good old fundagelical sex paranoia today, with an excitingly bad comic from the "Truth For Youth" free half-a-Bible and comix collection we received a while back. We previously looked at why "safe sex" is anything but (because HELL), and this time around, we're going to learn why good Christian kids stay far away from porn and are delighted that their parents include porn-blocking software on their computers. (Answer: HELL, also you'll become a porn addict, child sexer, and rapist -- which are all the same thing.) The "Truth For Youth" series of comics have been around since the early 2000s though the earliest titles were updated with new manga-style art (but the same dialogue) some time after the series first came out. The book is a production of some evangelist goober named Tim Todd, who we'd never heard of, and is designed for mass orders, so that your church or synagogue can send cadres from the youth ministry off to distribute them to their friends and classmates, perhaps during Bring Your Bible To School Day.
The comics are all penned by Rev. Todd, with art by some anonymous person who may well have wanted it that way. Todd has high hopes for his crappy comics: he wants nothing less than to "bring the message of the Gospel to America's youth and counter the ill effect of the liberal agenda being promoted aggressively in America's public schools," by getting as many copies of his crappy comix to America's youth as possible. Since the comics look like the Japanese mangas the kids are all into these days, they're certain to appeal to all the youngsters, or at least the ones who aren't too critical. Also, the back cover has all sorts of important information about how the evil secularist schools cannot take away your Bible, so you can be properly confrontational about it.
Our example today, "Parental Controls," is all about the perils of pornography, and why even a single glance at nekkid human bodies can lead you into a life of lust, depravity, and possibly even voting for Democrats. You can read the whole sorry mess here. Let's meet our protagonists, Marty and Jesse, as Marty tries to lead Jesse into temptation: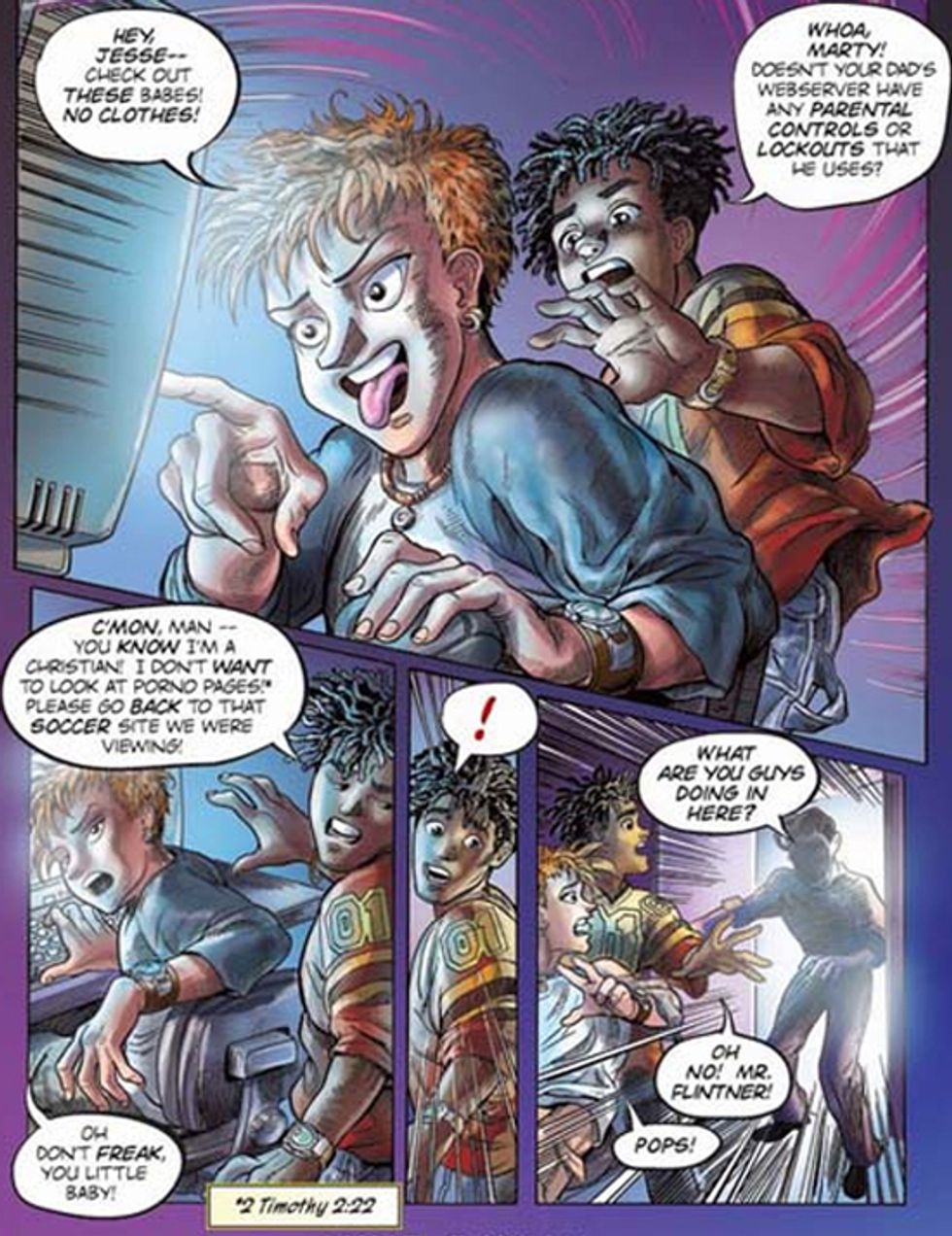 Is not that the face of every boy in the world when they see naked ladies? We're actually pretty impressed by the way Jesse physically recoils from the screen in the second panel, as if he's being burned, poor lad. And the sudden appearance of Marty's dad in the doorway is nice 'n' dramatic, though it's not clear why Marty looks so distressed, since we learn on the next page that Mr. Flintner is totally cool with his son looking at "porno pages." Maybe Marty's just embarrassed to be seen with Jesse, the killjoy.
Mr. Flintner explains -- these comix are WAY wordier than the
works of the late Jack Chick
-- why he's perfectly fine with his son looking at porn: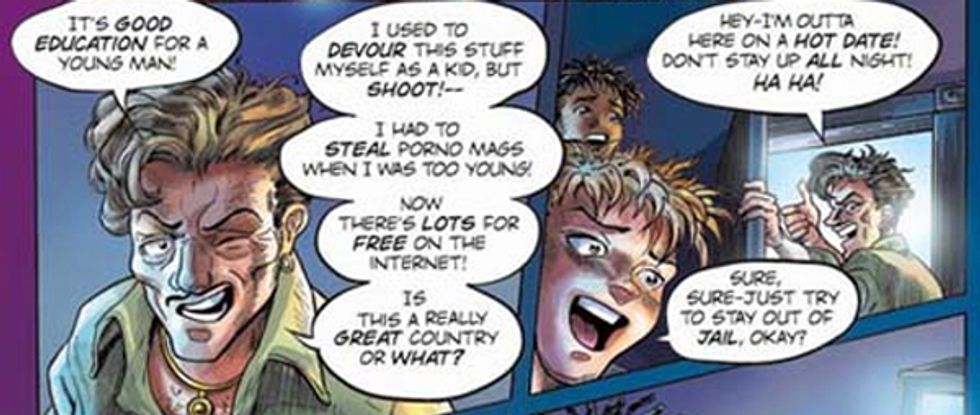 Check out Dad's necklace and that pencil-thin mustache -- as in any good didactic comic, you just need one look to know he's sleazy. But wait -- jail? Oh, sure, Marty explains nonchalantly -- dear old Dad has been arrested for being with a 16-year old girl, but he only had to stay in jail overnight, and another time he was accused of date rape, but beat that rap, too (no doubt because of lenient liberal judges, although the comic doesn't say). Also, he's had two failed marriages, and never has any luck with women, either, Marty trails off, on the verge of awareness of the Horrible Effects Of Porn On Men. But he quickly goes back to the sex computer, telling Jesse, "You'll like this page, Bible-Boy! It's called 'Eve's Garden of Eden Girlies!'"
Poor Jesse is distraught, and prays for guidance, because you see, the only reason he's hanging out with Marty is that he thought it would be "a great wtinessing opportunity" -- and suddenly, inspiration strikes! He can use porn as a metaphor for all that is wrong with our Sick Sad World! Or at least hit Marty over the head with some Bible Truth! Let's see how that goes!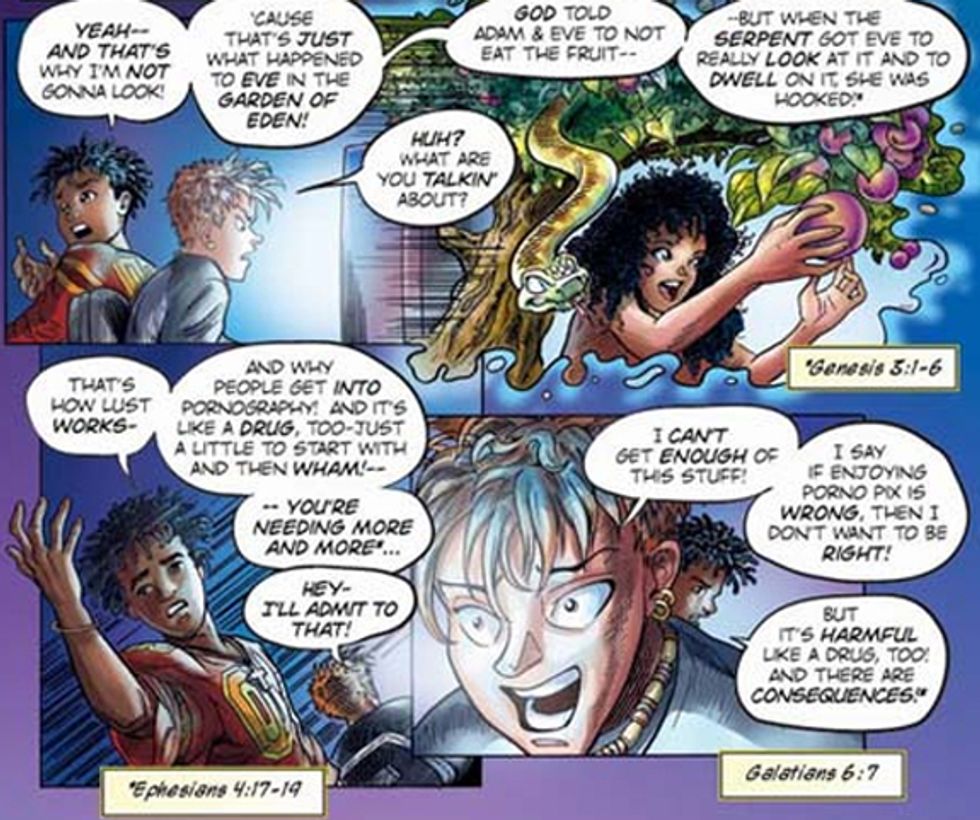 Oh, heck! He made the point all eloquent-like, but Jesse simply isn't getting through to Marty, who is already so deep in the grip of his porn addiction that he doesn't see the obvious point: Porn will make you realize you are a sinner and you'll have to wear leaves alla time. Poor Marty. He's going to end up a date-rapist like his dad.
But let's just pause a minute for the best damn drawing in the comic: Clearly frustrated by the banality of the whole project, the unnamed artist decided to at least make the snake interesting to look at. Dang ol' snake is far more engaging than frizzy-haired Veronica there: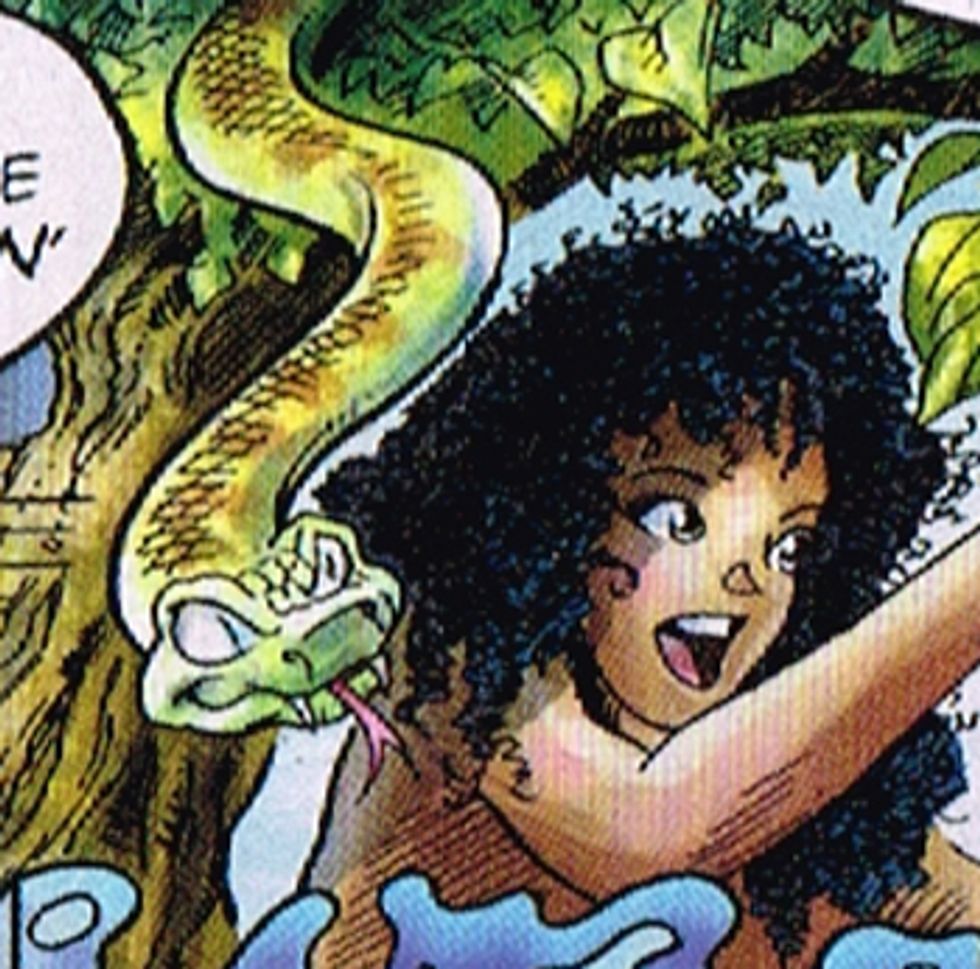 'I sing whenever I sing whenever I sing...'
Jesse tries again, with the story of David and Bathsheba as an example of how lust can Ruin Your Life, but Marty remains clueless, exclaiming that he typed "Bathsheba" into an "X-rated search engine" and found a site called "Bathsheba's Bad Bathing Babes" (sadly, the only results we got searching for "Bathsheba's Bad Bathing Babes" were reviews of this comic. But we weren't using one of those X-rated search engines). Jesse has had it with Marty's refusal to take these Bible stories serious, and shouts, "Marty! This is serious! (* Galatians 5:19, 21)" Well heck, we had to check that out:
19 The acts of the flesh are obvious: sexual immorality, impurity and debauchery; 20 idolatry and witchcraft; hatred, discord, jealousy, fits of rage, selfish ambition, dissensions, factions 21 and envy; drunkenness, orgies, and the like. I warn you, as I did before, that those who live like this will not inherit the kingdom of God.
We'll readily admit we hadn't given much thought to the nexus between porn and witchcraft, at least outside of really bad Harry Potter fanfiction. (Speaking of which, Truth For Youth has a very long, tedious Harry Potter parody that has no porn, but warns that J.K. Rowling's books are a gateway to actual witchcraft and Satanism.)
Jesse doesn't get into all the evils of porn, though, because he's on an Afterschool Witnessing Mission: He explains that Lust messed up King David super bad, and "it affected his whole family for years afterward!" Marty, like a lot of antagonists in these comics, is a lousy debater, failing to note that if David had only had a broadband connection and a box of Kleenex, a lot of trouble might have been avoided. Instead, he just hands Jesse another conveniently weak argument to demolish:

It's true -- if you fill your head and heart with garbage like these comics, the consequences could be dire, and lifelong. Even worse, you could read Ayn Rand and become a real jerk, or worse, a Republican senator.
Marty has had enough of Jesse's "whiny preaching," which makes him all the more sympathetic, though nowhere near as lovable as that snake a couple pages back. He throws Jesse out, and we have to say the dialogue here is a truly impressive reflection of how teenaged boys actually talk:
I never should have invited you over, you jerk! Nothing you can say will ever make me believe that some simple porno pix will ruin my life!

GO HOME!!
Ah, but at that very moment, Marty's dad stumbles in the door, fresh from more porn-induced sexual assaulting, just like every man who ever looks at nekkid ladies: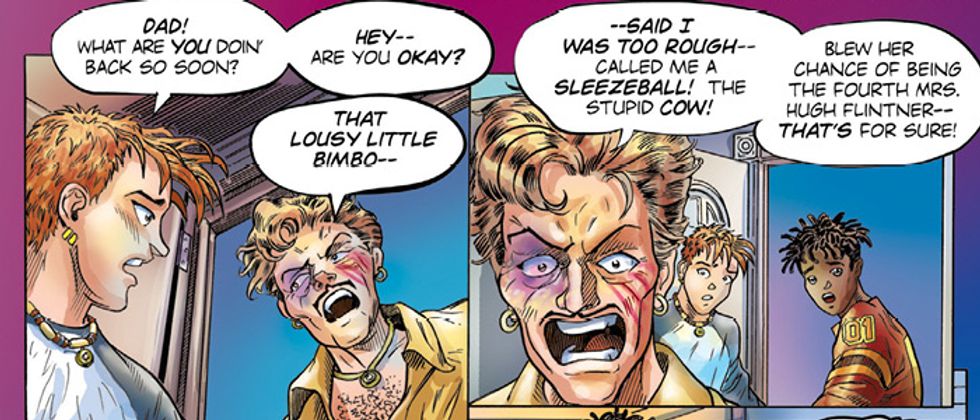 As Mr. Hugh Flintner (that's not even a pun -- talk about disappointing) heads into the house, carrying a six-pack of beer and muttering "All women are worthless," Jesse makes his way home, deeply troubled by what a terrible date night this has been for everyone and hoping his parents are still up. It is probably about 8:30, after all.
Fortunately, they're awake, though in their jammies -- lucky thing Jesse didn't walk in on them trying to become more Quiverfull -- and they're there to give Jesse the Parental Guidance he needs. Dad explains, "Marty's involvement with pornography is just a symptom, Jesse --" but before he can explain what dread disease Marty suffers from (demonic possession, onanism, or maybe dropsy), Mom breaks in: "That's right! He needs Jesus!" But is Jesus really enough? Jesse's not sure! He admits he knows kids who say they're Christian, but are also "secretly hooked on pornography, too -- they're just ashamed to admit it!" Thank goodness his parents have the answers, complete with footnotes: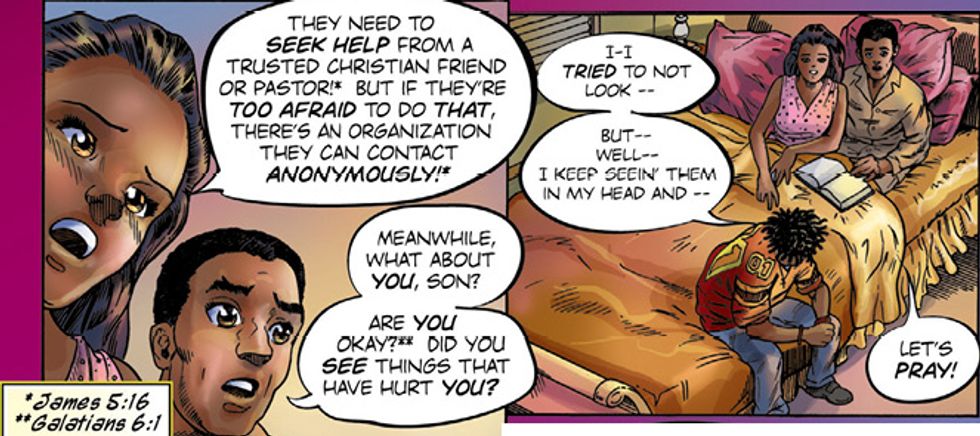 Sadly, the web version of the comic no longer has the URL or phone number of the organization (The Hopeline) kids can contact anonymously, which seems a bit of an oversight, or maybe the folks at the Junior Anti-Sex League asked Rev. Todd to remove it, since they had already taken enough calls from smartasses saying their problem with porn was that they couldn't find enough that catered to their interests.
Also, we love Dad's distressed face as he asks, "Son... did you see boobies? Are you traumatized by all that Biblical-themed Brazilian fart porn Marty showed you?" and poor Jesse admits that he cannot get the insidious boobies out of his head; the poor kid is having flashbacks: "Can you not hear it? It is the beat-off of the hideous tart!" Fortunately, Mom and Dad are Jesse's very own Parental Controls -- given to them by THEIR ultimate Authority: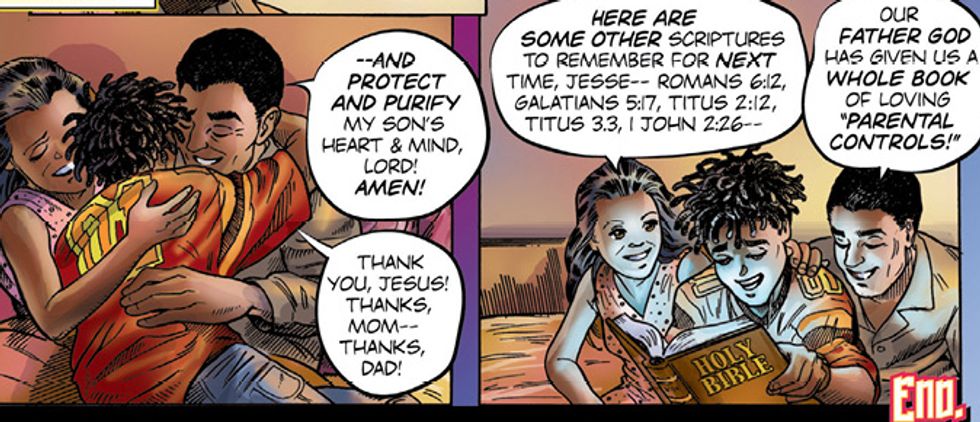 Just look at how excited and relieved they are to find all those terrific Bible verses to help their son stop touching himself -- surely now, with a strict fundamentalist upbringing, he will respect and honor women every bit as much as Jimmy Swaggart, Jim Bakker, Todd Akin, and that great big fan of the Bible, Donald Trump.
Also, we should mention that this is actually the second edition of "Parental Controls;" while we were researching this post (yes, we do research. How else are we going to steal jokes or let you, the reader, know whether there's an "Eve's Garden of Eden Girlies" out there? [There isn't, sadface :( ]), we came across this earlier version of the comic's first page, and just look at the major change they made when they ran it through the Mangarizor: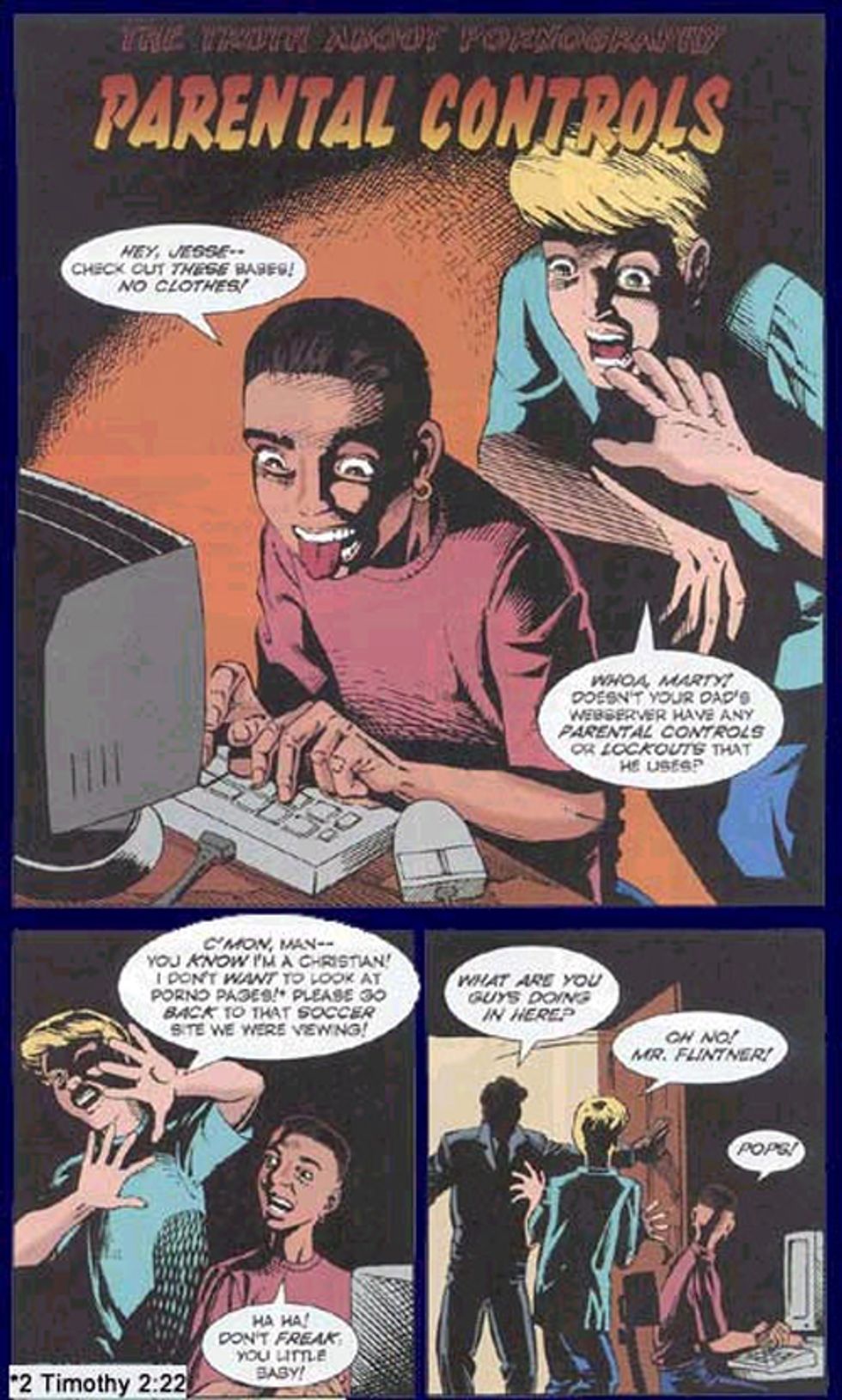 Believe it or not, we came across that at a 2002 thread on wingnut hub Free Republic; several people actually thought it was indeed a crappy comic, although once someone brought up Chick tracts and evolution, the thread devolved into 361 pages of arguments about why evolution is a dirty satanic lie that no real scientists accept anymore. Also, the Freepers were disgusted when someone said making the father and son team of sicko, woman-abusing, sexual-assaulting porn addicts black was somehow racist, because in today's sick Politically Correct media, everyone is too damn touchy. Excellent point -- there is nothing at all objectionable about the original version of Marty's dad: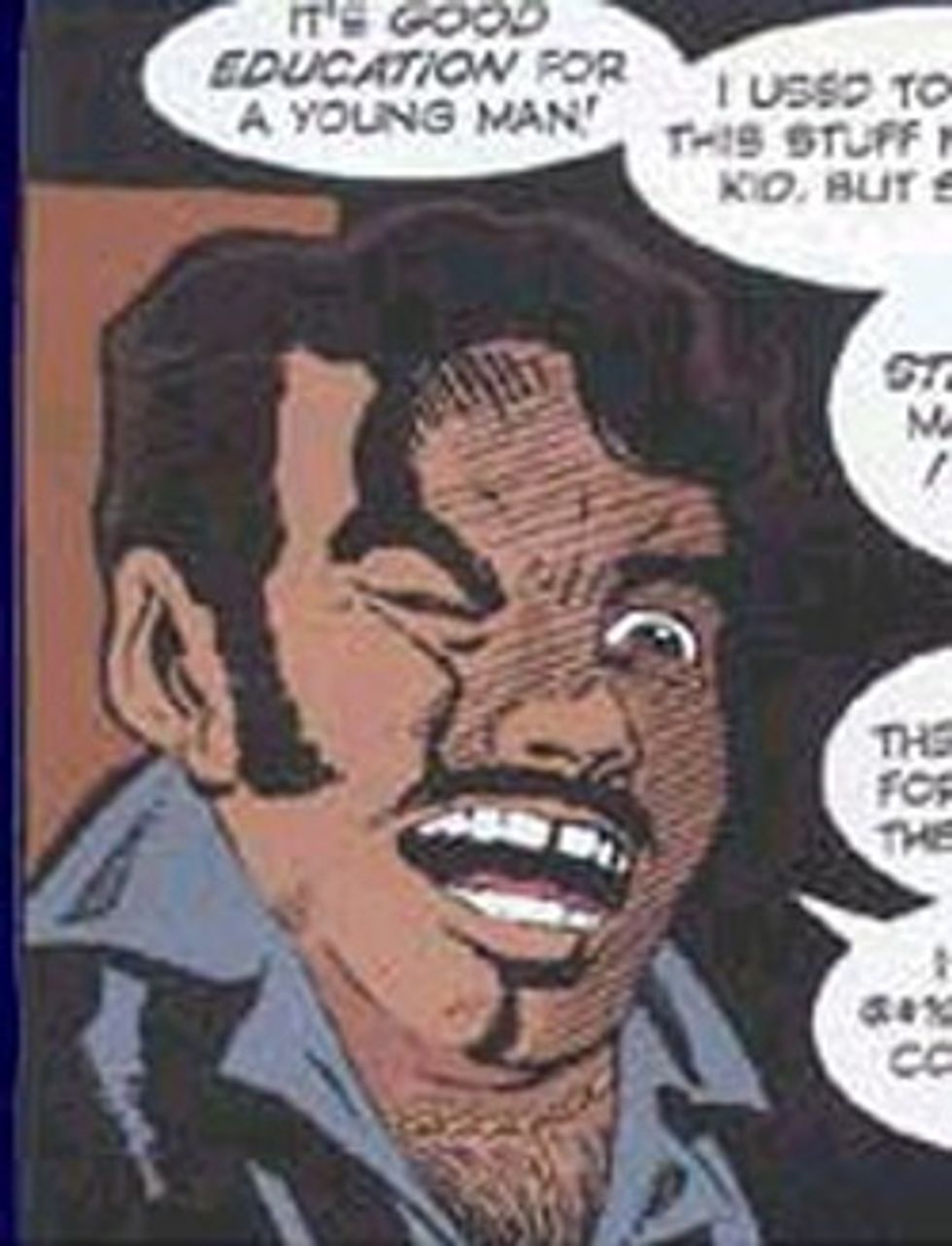 We think he's supposed to be salaciously winking (the manga version of dad is), or maybe he lost an eye in a knife fight, as Those People do.
Have yourselves a lovely Sunday, Wonkers, and please try to stay pure for a while, will you? Also, whaddya want next time our Deleted Comments are too lame to bother doing a Shitferbrains: a comic about the dangers of Ouija boards, or one about how The Gays are definitely not "Born That Way"?
Yr Wonkette is supported by reader donations. Click the "Donate" clicky and maybe we can find some nice crazy-ass Christianist textbooks for you!