SuperMichelle's White House is Your Hot New Performance Arts Space
News
December 13, 2010 10:46 AM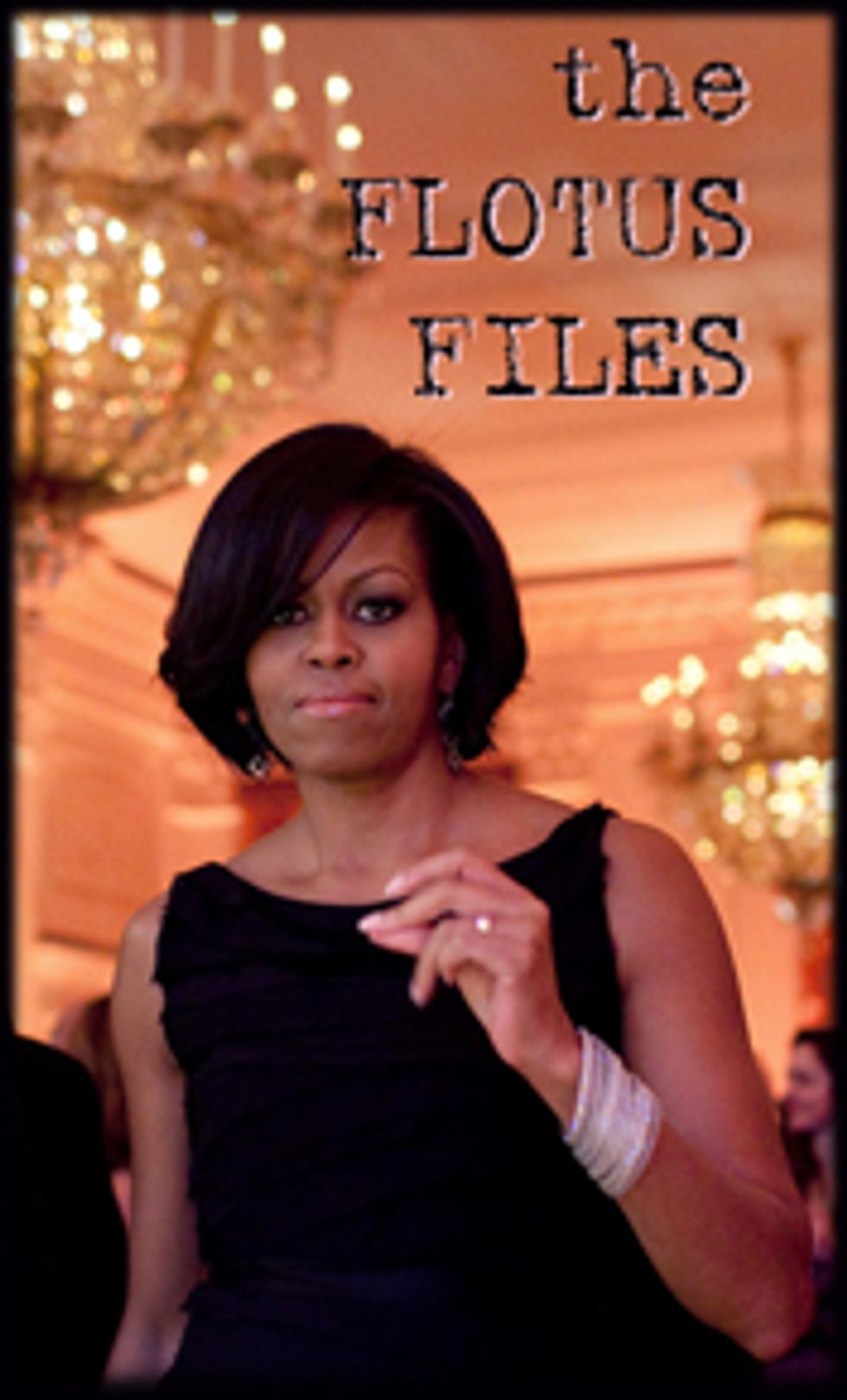 Michelle Obama is so bored right now. Last week, she completelyeradicated obesity, forever, and now there's nothing to do but hide out in the East Wing, where she doesn't have to hear the constant whine of the Garden State soundtrack coming from Emo Obama's side of the house. But our FLOTUS is not one to sit around waiting for action to come to her, so instead of taking up knitting or Zumba classes to pass her remaining time as First Lady, our FLOTUS has decided to begin her next mission as our Great Nation's newest superhero. And her first order of superhero business is to turn the boring old White House into the world's largest poetry slam venue.
---
Our FLOTUS appears on the December cover of DC magazine sporting a blue bodysuit with gold detail that brings out her perfectly toned arms and sassy "I know you were just looking at my arms" smile.
Fashion plate. Good gardener. Hula-hoop expert. Michelle Obama is used to plenty of accolades. How about "superwoman"? That's the honor that DC magazine, a local society and fashion glossy, has bestowed on the first lady in its December issue.
Yes, being a "hula-hoop expert" is the greatest achievement of Michelle Obama's life. Her undergraduate degree from Princeton, law degree from Harvard and career accomplishments were mere stepping stones on the Cheez Whiz-paved road to teaching second graders how to play with simple toys that require the absolute lowest levels of hand-eye coordination. But that's what it takes to be a superhero these days.
Calling Michelle Obama "a superhero saving the D.C. arts scene," the magazine not only features a flattering superhero image of Obama on its cover but also highlights and praises her efforts to bring music and dance performance to the White House, which has "given the arts a powerful new platform.
Before Michelle came into the picture, the arts scene was a sad place where children of the fabled upper middle class drank punch bowls of PBR in someone's loft while comparing stories about the weekends they spent photographing abandoned buildings. But, like eating vegetables, Michelle has managed to turn something inherently awful into something groovy and fun.
From the first installment of the series, launched a month after the meeting, the jazz, classical, country, Broadway, Latino and civil-rights-focused music and dance events have paired celebrity talent with schoolchildren for daylong workshops and evening performances. The efforts have garnered coast-to-coast coverage. Diplomatic efforts with countries such as Russia have grown from relationships established through these East Wing undertakings.
Only a true superhero would be able to come up with a jazz-meets-country Broadway-style musical romp about Latino civil rights powerful enough to heal the ever-present wounds of the Cold War. It could only be the work of our SuperFLOTUS. [Politico]
Blair Burke (blairelinor@gmail.com) obsessively follows Michelle Obama's every move for "The FLOTUS Files," which appears every Monday here at your Wonkette.