Syrians Are Just Dying To Tell You Something! Wonkagenda for Wednesday, December 14, 2016
Post-Racial America
December 14, 2016 09:17 AM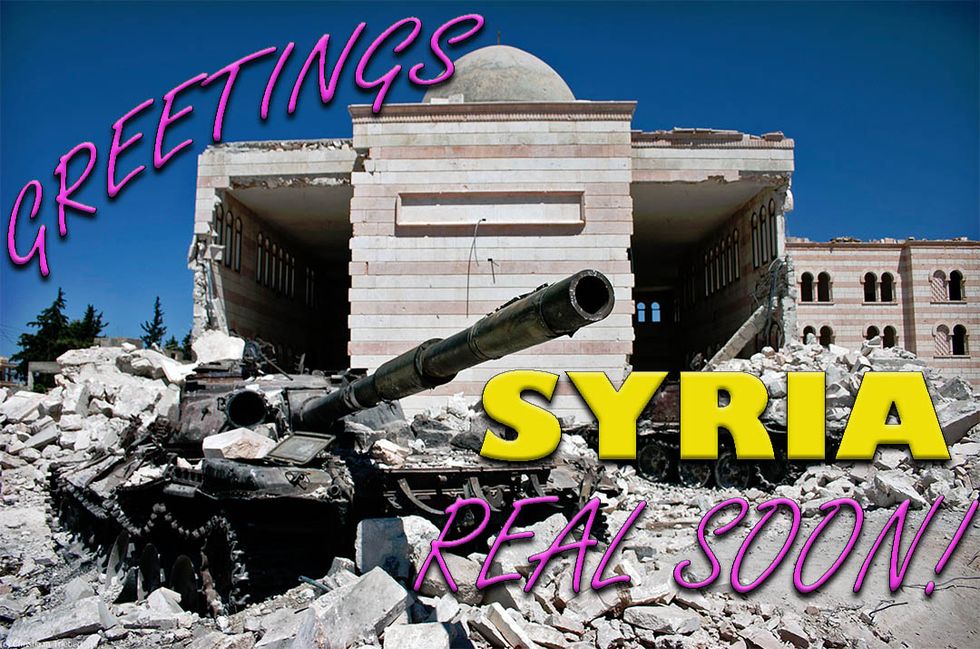 You can't die before you see Syria!
---
You'll be very sad when you find out that the DNC hacks succeeded because of bumbling, inefficiencies, and laziness at various levels of government in handling those newfangled Interweb computing machines. SMH, olds. #Nochill. Poop emoji. Sad face.
A new ceasefire in Syria's war-torn Aleppo has collapsed after shelling resumed while U.S.-backed rebels withdraw from the city. In addition to all the death and human misery in Syria, ignorant, pompous, butthurt talking heads in cozy cable news studios are losing their minds and tooting their wee war horns.
Larry Lessig is claiming that 20 Republicans in the Electoral college may not vote despite a number of reports that say Trump is apparently threatening electors who vote against him.
While on his Victory LapThank You Tour in Wisconsin, Donald Trump had to calm his mad, frothing crowds ready to rip the head off Paul Ryan by reminding them that if Paul Ryan crosses Donald Trump, doesn't build the wall or tries to screw him, his career is over bigly.
Labor Secretary Tom Perez is expected to challenge Keith Ellison for chair of the DNC, as are Pete Buttigieg, the gaymo-sexual mayor of South Bend, Indiana, and Adam Parkhomenko, a former Clinton campaign staffer. Typical liberals, choosing between a nerd, a Muslin, a loser, and a sexxxy gay war vet.
Tucked deep inside of the 2017 National Defense Authorization Act is a provision to combat Russian propaganda seeing as how they've been using their bland beet soup flavored tendrils to influence stupid people through their own state-owned media. However, Trump's team could use U.S. media operations overseas as its own state-owned propaganda tool thanks to a potential new law.
Big banks are bitching about their liability and legal costs over law suits from that 2008 financial crisis they created when they sold big wads of horseshit in pretty boxes to millions of of people around the world.
We're willing to bet you can't guess why a reporter from a Fox affiliate in New York City is suing Roger Ailes after she applied for a job at Fox News. Go on, take a guess! (Hint: it starts with "harass" and ends with "ment".)
ISIL/IS/Daesh/ISIS (or whatever they're called today) has figured out how to manufacture armored cars as they dig into their remaining strongholds in Syria and Iraq, but there's still no word on just how large the zombie hoards have become.
China is reminding Donald Trump that he doesn't have the option to avoid them because China controls U.S. debt and trade interests, and also because a nuclear-capable North Korea doesn't really care who is president, pretending to be president, or secretly president.
Tom Delay has slithered out of his snake pile to decree from atop of a mountaintop on some religious wingnut's teevee show that America has "gotten over slavery and Jim Crow" except for professional racist like our B. Barry Bamz because "they're totally irrelevant." Wow, thanks, Obama!
And here's your morning Nice Time: KITTENS! Specifically kittens nom-nom-noming on a bean bag!
Dominic Gwinn
Dominic is a broke journalist in Chicago. You can find him in a dirty bar talking to weirdos, or in a gutter taking photos.