Eat This And That, But Never That And This! Tabs, Fri., Jan. 21, 2022
News
January 21, 2022 07:01 AM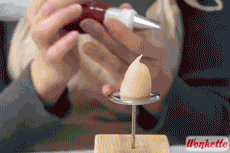 Good Morning! It's a tire fire. Let's discuss!
The Supreme Court continues to be partisan garbage. Remember a couple days ago when the Fifth Circuit found a nifty way to get around letting the District Court adjudicate the Texas abortion ban? The Supreme Court held that state licensing officials were appropriate defendants, so the case could go forward. But then the Fifth Circuit decided that it would give Texas state judges a chance to answer the exact same question again, effectively parking the case in Siberia until SCOTUS can get around to officially overruling Roe v. Wade. And yesterday the Supreme Court let them get away with it, refusing to intercede and say "Yo, assholes, we already answered this question and told you to send it back to the trial judge." You can read about it, along with Justice Sotomayor's furious dissent, at Law & Crime.
CNN and the Post each have a rundown of the Trump campaign's effort to coordinate the fake slates of electors. Turns out Rudy Giuliani was right in the middle of this shit pile. Surprise!
---
Madison Cawthorn and Lauren Boebert are mudwrestling to see who can be the most vile member of congress. Cawthorn cleaned his gun during a livestream with veterans discussing burn pit injuries, while Boebert asked a group of Orthodox Jews visiting the Capitol if they were there to do "reconnaissance" on her. [Daily Beast, BuzzFeed]
Although Team Blue is having a bad hair day, too, if we're being honest. Just one day after inaugurating the Congressional Caucus for the Advancement of Torah Values with Republican Rep. Don Bacon (can you just not!), Democratic Rep. Henry Cuellar's Texas home was raided by the FBI. ABC says it's got something to do with Azerbaijan. Progressives such as AOC and Julián Castro are already lining up behind Jessica Cisneros, who lost a primary challenge to the conservative Democrat in 2020.
The January 6 Select Committee invited Vanky in for a chat. But just in case she says no, they took advantage of the opportunity to air some of Sean Hannity's dirty laundry. [Me, Here, Later]
In Georgia, Fulton County District Attorney Fani Willis is empaneling a grand jury to investigate Donald Trump's interference in the 2020 election. She says multiple witnesses, including Secretary of State Brad Raffensperger, won't cooperate without a subpoena. [AJC]
Axios called up some of Trump's buddies, and they said that maybe his real problem is bad lawyering, particularly by Alina Habba, who is representing him in that LOLsuit against Mary Trump and the New York Times. As someone who writes about Habba a lot, can confirm that she is indeed, hilariously awful. But Clarence Darrow himself couldn't win these cases, which are ridiculous, so it seems kinda shitty to point to this young female lawyer and pretend that she's what's wrong here.
And speaking of stuff that I write about a lot, Sidney Powell says she'll comply with a subpoena to appear before the January 6 Select Committee, and there is no amount of money I would not pay to be in the room for that deposition. [Above the Law]
Remember last year when the Belarussian government called in a fake bomb threat on a Ryanair flight so it could force the plane to land and yank off an opposition journalist to arrest him? Federal prosecutors in New York announced charges against four Belarussian nationals yesterday. [Politico]
Yesterday was a rough one for the Infowars crew, with host Owen Shroyer losing his motion to dismiss charges against him for his role in the Capitol riot. Apparently US District Judge Timothy Kelly was not convinced by the argument that handing over the whole video of him doing crimes, as opposed to highlighting the relevant section, counted as withholding evidence. [Law&Crime]
And Alex Jones was Alex Jones-ing hard at a hearing in family court, presumably relating to his wife's arrest on charges of domestic violence on Christmas Eve.
This hearing really looks to be taking its toll on Alex Jones as he continues to place his hands over his face, wiping his face, and picks his nose.

— Zachary Petrizzo (@Zachary Petrizzo) 1642694843
And with that lovely visual, you're ready to start your day!
Follow Liz Dye on Twitter!

Click the widget to keep your Wonkette ad-free and feisty. And if you're ordering from Amazon, use this link, because reasons.
Liz Dye
Liz Dye lives in Baltimore with her wonderful husband and a houseful of teenagers. When she isn't being mad about a thing on the internet, she's hiding in plain sight in the carpool line. She's the one wearing yoga pants glaring at her phone.