This One Trick Will Make Your Tuesday Less Manic Than Monday. Tabs, Tues., April 20, 2021
Culture Wars
April 20, 2021 07:00 AM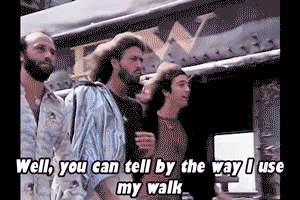 Tabs gif by your friend Martini Ambassador!
Jury deliberations have begun in former Minneapolis cop Derek Chauvin's trial for murdering George Floyd. He's obviously guilty but it's not like he passed a counterfeit $20. This could go either way. (NPR)
The judge in Chauvin's trial warned that Rep. Maxine Waters saying mean things about Chauvin could lead a bad court thingy (or a mistrial) if she doesn't shut up. Yes, you're not mistaken. Politicians frequently talk about murder trials when a cop killer's the defendant. Shouldn't he have sequestered the jury if he was afraid of Auntie Maxine getting to them? (NBC News)
Whether Black people comply with the police or not, there's still a good chance we won't survive the encounter. (The Atlantic)
Elie Mystal breaks down the 1989 Supreme Court ruling that arguably gave cops a license to kill. (The Nation)
State troopers in Brooklyn Center, Minnesota, arrested CNN producer Carolyn Sung during last week's unrest. Sung, who is Asian American, was zip-tied and asked if she spoke English. (She does.) She was taken to the country jail, where she "patted down and searched by a female officer who put her hands down Sung's pants and in her bra, fingerprinted, electronically body-scanned, and ordered to strip and put on an orange uniform before attorneys working on her behalf were able to locate her and secure her release, a process that took more than two hours." (New York Daily News)
Former Vice President Walter Mondale died Monday at 93. His crushing 1984 presidential loss is the first election I remember. (The New Yorker)
There was no real drama on election night 1984
---
Why are so many vaccinated people still fearful of COVID-19? I dunno. Maybe they understand how herd immunity works. (The New York Times)
The Pacific Island country, Vanuatu, has banned outward travel from its main island after a body washed ashore that later tested positive for COVID-19. That's both scary and a solid start to psychological thriller film. (CNN)
In the age of COVID-19, content creators have become the new mental health providers. It's less stranger than it sounds ... wait, no, it's exactly as strange as it sounds. (Washington Post)
Those sweet stimmy checks Uncle Joe sent you helped increased retail sales by almost 10 percent in March. (Associated Press)
Matthew McConaughey is running ahead of Greg Abbott in polls for the next governor's race. (Austin American-Statesman)
Firefighters in Clark County, Washington, found a serval, a large cat native to Africa, while putting out a house fire. The cat bit one of the firefighters because cats are ingrates. (The Oregonian)
Stephen Broderick, the Texas ex-cop who killed his wife and daughter before going on a killing spree, reportedly spent time on misogynistic online forums ... of course. (The Daily Beast)
Restaurants in Washington state are still open for indoor dining despite a potential fourth COVID-19 wave. However, state officials are pushing the slogan, "Take It Outside." (Eater)
I was going to leave you with a clip from that recurring "Saturday Night Live" sketch where Dana Carvey would say, "Take it outside," but I couldn't find it. So, here's Olivia Colman from The Crown being hilarious. She's currently in negotiations to join Marvel's new Secret Invasion show with Samuel L. Jackson. Hey, that's another tab! (Hollywood Reporter)
Follow Stephen Robinson on Twitter.
Looking for someone to give that cash to? Why not us?
Stephen Robinson
Stephen Robinson is a writer and social kibbitzer based in Portland, Oregon. He writes make believe for Cafe Nordo, an immersive theatre space in Seattle. Once, he wrote a novel called "Mahogany Slade," which you should read or at least buy. He's also on the board of the Portland Playhouse theatre. His son describes him as a "play typer guy."