Ted Cruz Investigating Bud Light For Felony Nice To Trans Lady
Culture Wars
May 18, 2023 04:20 PM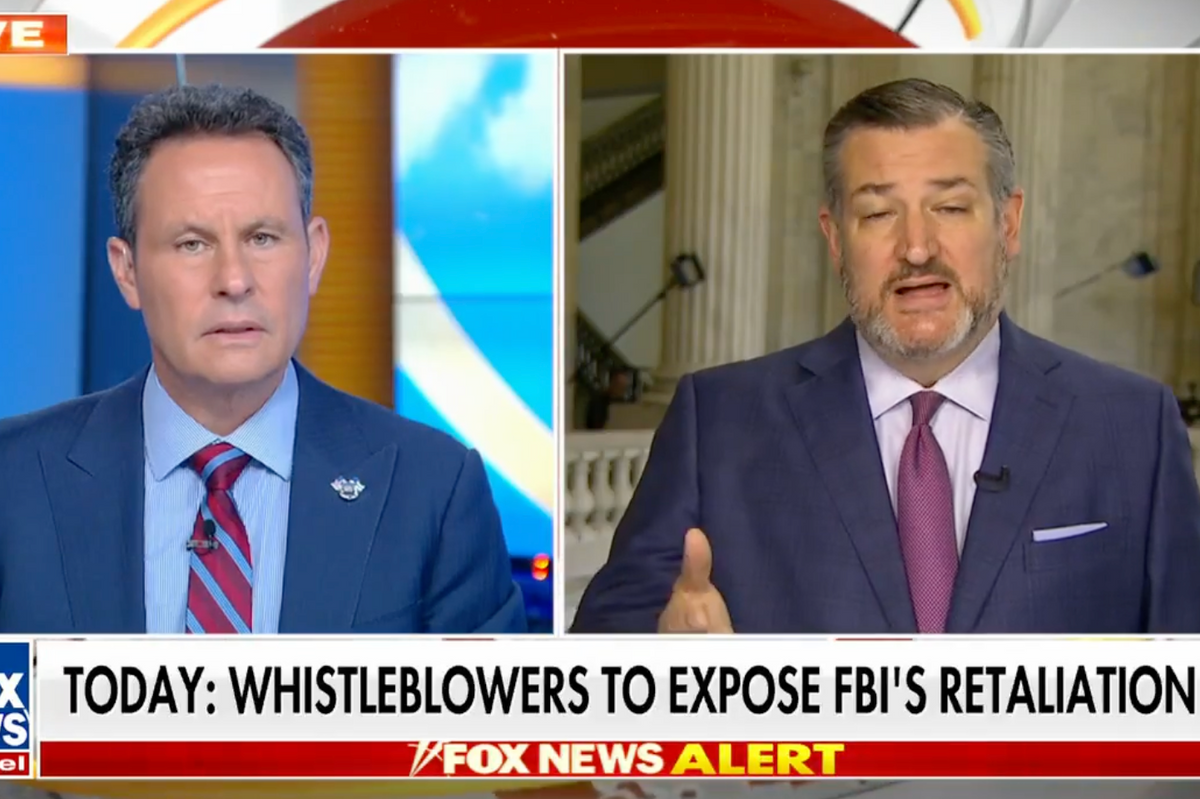 Well, it's been a month, and Ted Cruz is still mad at beer.
On April 1, Bud Light did a 20-second sponsored post with trans actress Dylan Mulvaney, and the wingers have not stopped howling about it since. Here's the Instagram post that has them all soiling their Underoos in shock and horror.
Cute, huh?
Like, drink Bud Light or don't — Your Wonkette does not care, and neither should anyone else! But the wingers are getting a jump on Hot Trans Bash Summer, so they've been screaming bloody murder about this grievous 20-second assault on Jesus and America and apple pie for weeks now.
---
But podcaster Ted Cruz is going one better, thanks to his side hustle as a US senator. So he and Senator Marsha "Klan Granny" Blackburn are launching a federal investigation of this dastardly brand affiliation crime. Here he is telling Fox's Brian Kilmeade about it this morning.
\u201cBud Light owes the American people answers about why they targeted kids and teenagers by partnering with Dylan Mulvaney.\u201d

— Ted Cruz (@Ted Cruz) 1684431420
"One of the rules that beer companies are supposed to follow is they're not supposed to market to kids," Cruz blarped. "Remember the whole 'Joe the Camel' thing? This is the same thing here."
Yes, he really did say "Joe THE Camel." And no, it's not remotely the "same thing" as a years-long marketing campaign specifically targeted at kids.
Continuing the exercise in trollwankery, Cruz and Blackburn fired off a letter to Brendan Whitworth, the Chairman of the Beer Institute and the CEO of Anheuser-Busch Companies, LLC demanding an explanation. Naturally they misgender Mulvaney throughout — rancid rat dicks gonna rancid rat dick, right?
First, we write to ask that the Beer Institute's Code Compliance Review Board open an investigation to review Anheuser-Busch's recent and ongoing marketing partnership with Dylan Mulvaney. The Beer Institute must examine whether your company violated the Beer Institute's Advertising/Marketing Code and Buying Guidelines prohibiting marketing to individuals younger than the legal drinking age.
There is no "ongoing marketing partnership." It was a one-off promo, and the company fired the executives responsible for it after it became the latest rightwing freakout excuse. But good to know that senators are policing the Beer Institute's Code Compliance Review Board now.
The evidence detailed below overwhelmingly shows that Dylan Mulvaney's audience skews significantly younger than the legal drinking age and violates the Beer Institute's Advertising/Marketing Code and Buying Guidelines. We would urge you, in your capacity at Anheuser-Busch, to avoid a lengthy investigation by the Beer Institute by instead having Anheuser-Busch publicly sever its relationship with Dylan Mulvaney, publicly apologize to the American people for marketing alcoholic beverages to minors, and direct Dylan Mulvaney to remove any Anheuser-Busch content from [her] social media platforms.
Cancel culture strikes again! But what evidence are Ted and Marsha talking about?
Hootsuite noted that "overall, Instagram is Gen[eration] Z's favorite social media platform. Global internet users aged 16 to 24 prefer Instagram to other social platforms. . . even ranking it above TikTok." For marketing professionals seeking to reach the age 16 to 24 year old cohort, Instagram is an ideal platform. TikTok users also skew equally young. A leaked presentation about TikTok user demographics showed that 17% of the TikTok user base is 13 to 17 years old and 42% of the audience is between the ages of 18 and 24 years of age. While Anheuser-Busch appears to have targeted its rollout of the Mulvaney/Bud Light partnership on Instagram, it is obvious, given Dylan Mulvaney's significant social media following on TikTok, that this influencer campaign would spill over to TikTok as well.
That doesn't even make sense based on the stat some staffer Googled up about the Beer board's bylaws requiring that ads can only run where the anticipated audience is 73.6% of legal drinking age. And it's not US law, not that Dumb-n-Dumber are particularly concerned about the First Amendment. Although holding Anheuser-Busch responsible for the ads on TikTok that they didn't place is a nice touch.
These two goobers close with a demand that the beer company turn over all its marketing materials. Then presumably they celebrated another successful news cycle with a couple of cold bottles of Stella.
WHAT. EVER.
Oh, and PS: If you want a yardstick for how hard the Durham report flopped, note that Cruz is screaming about beer and not this supposed bombshell that just dropped a couple days ago.
And now, time to peace out and enjoy the NO HOMO frosty beverage of your choice, in this, your OPEN THREAD!
Catch Liz Dye on Opening Arguments podcast.
Click the widget to keep your Wonkette ad-free and feisty. And if you're ordering from Amazon, use this link, because reasons.
Liz Dye
Liz Dye lives in Baltimore with her wonderful husband and a houseful of teenagers. When she isn't being mad about a thing on the internet, she's hiding in plain sight in the carpool line. She's the one wearing yoga pants glaring at her phone.